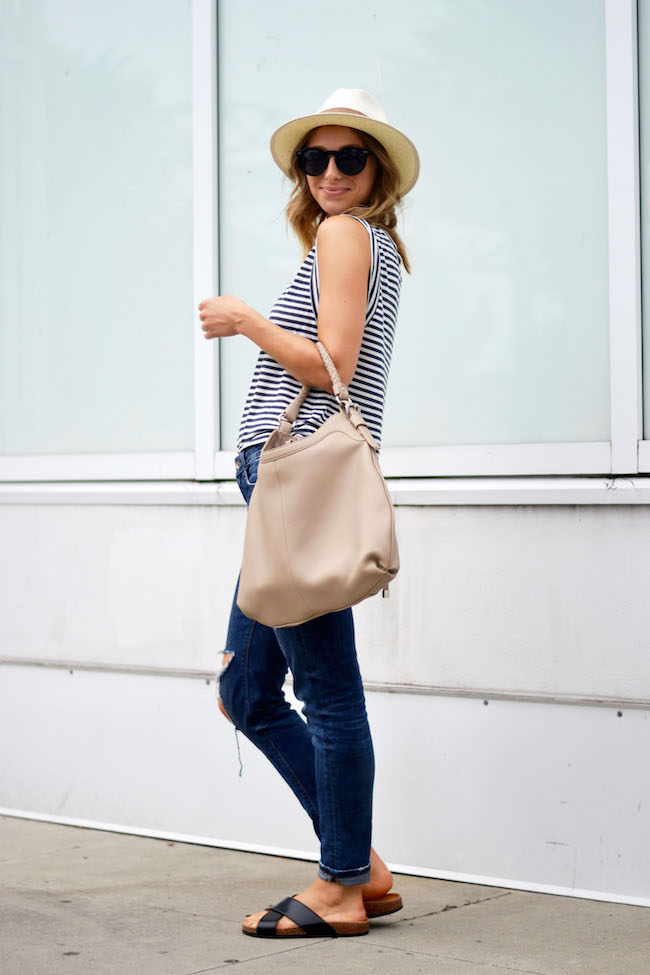 This is, to me, the quintessential summer outfit: it's got straw, stripes, ripped denim, a roomy tote and super comfy shoes. You can basically wear it anywhere and be good to go, which is probably my number one concern in the summer (as seen here).
tank: J.Crew (ON SALE) | jeans: Zara | slides: H&M | hat: Saks Fifth Avenue (similar) | sunnies (c/o): Forever 21 | bag (c/o): Soprano | rings: Eye of the Stone, Roberto Fioravanti
Life is busy and slightly stressful. Sometimes I wonder what it would be like to live in Europe where they have wine with lunch and a siesta in the afternoon. I fear the North American way to working/stressing til you drop is oh so unhealthy and that we could perhaps follow the lead of those on the other side of the Atlantic. We seem to take pride in working until midnight, rarely taking time off, and even comparing these tendencies with others. Perhaps I am exaggerating the European lifestyle, but it seems their point is to have a good time, no matter what you are doing.
Anyway, food for thought. Happy Wednesday.
PS Take 25% off at Soprano handbags with code: augustdiaries25!