It's been a while since I've posted on the blog, and this one has been a long time coming. I actually started this process almost a year ago, when I serendipitously met Ally of 1807 Design while at a coffee shop. She recognized me, we chatted and struck up a friendship!
I asked Ally to help me redesign my office/guest room. I was looking for an office refresh that would feel modern but comfortable and could function as both an office, a place to film content, and a guest bedroom. My office had basically become a dumping ground for anything we didn't want to deal with – packages, laundry, whatever. It was not a place where I felt I could get work done or be creative, and while we had a sofa bed, it looked pretty out of place and random. Since I needed to do lots of filming in the office, I wanted a mid-century modern space that was both stylish and functional.
*Before and After photos below!*
BEFORE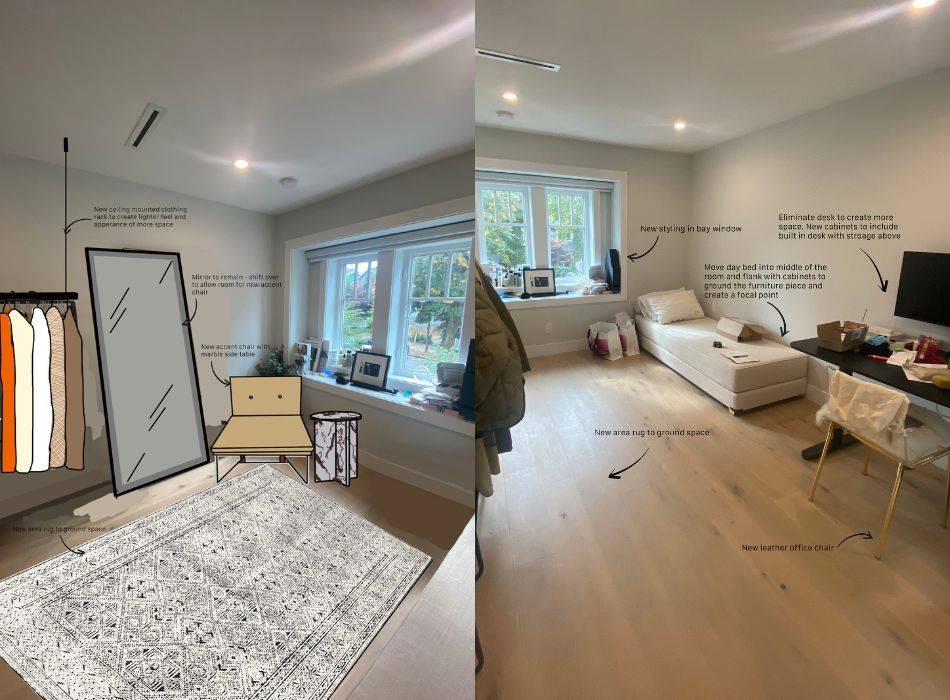 The first thing Ally did was put together some concepts boards. Right away, I was so happy with what she did and impressed with the built-in cabinet design. We then got in touch with Stor-x, who Ally had worked with before, and decided on the final design and materials. They were absolutely wonderful to work with and I really feel like that built-in completely changed the room. It anchors the sofa bed, and gives me so much storage that I never had before.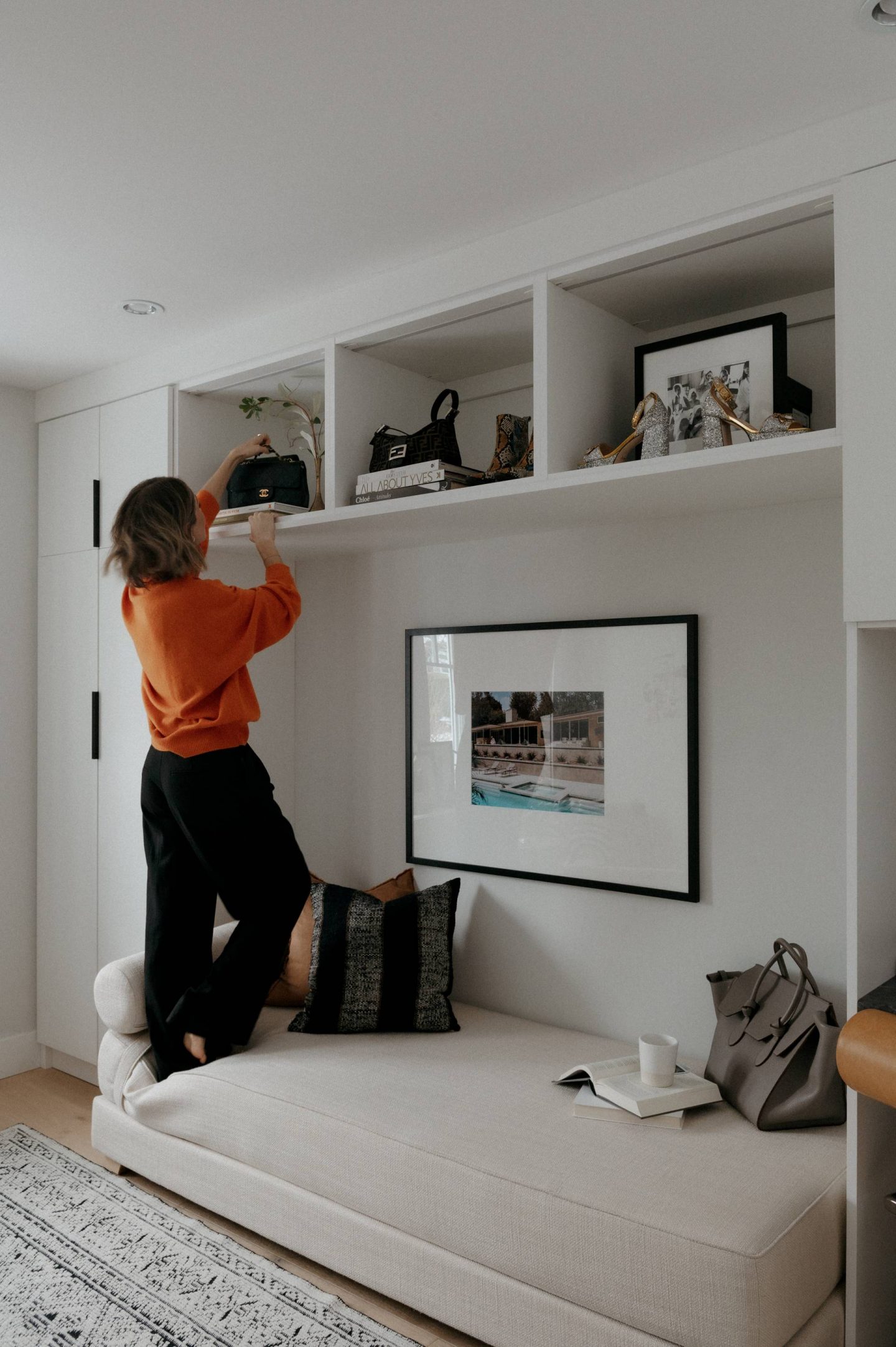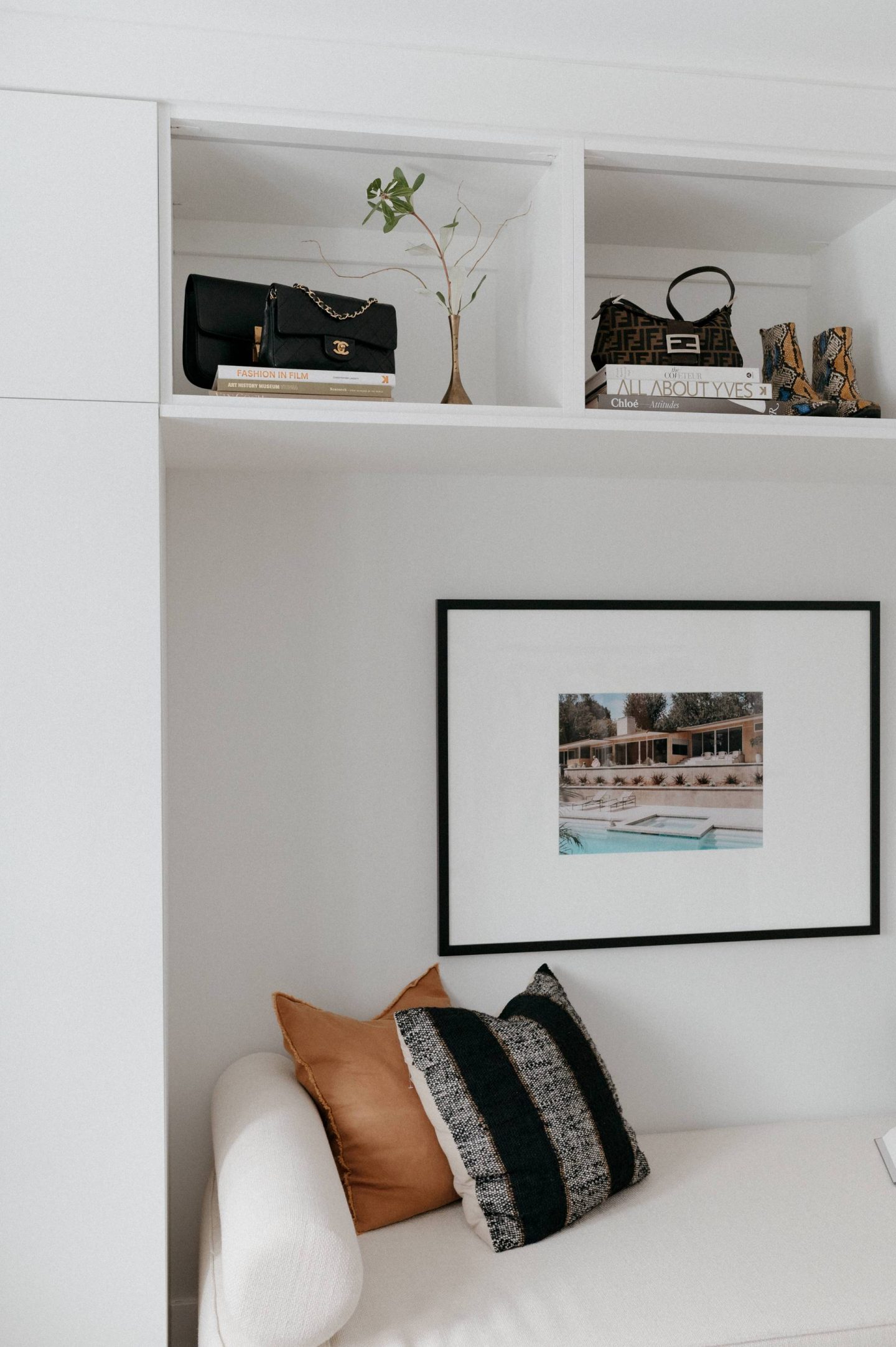 The built-in desk is a favourite of mine, as we ended up using a laminate to differentiate it from the rest of the cabinet. I think it gives it such a luxurious feel.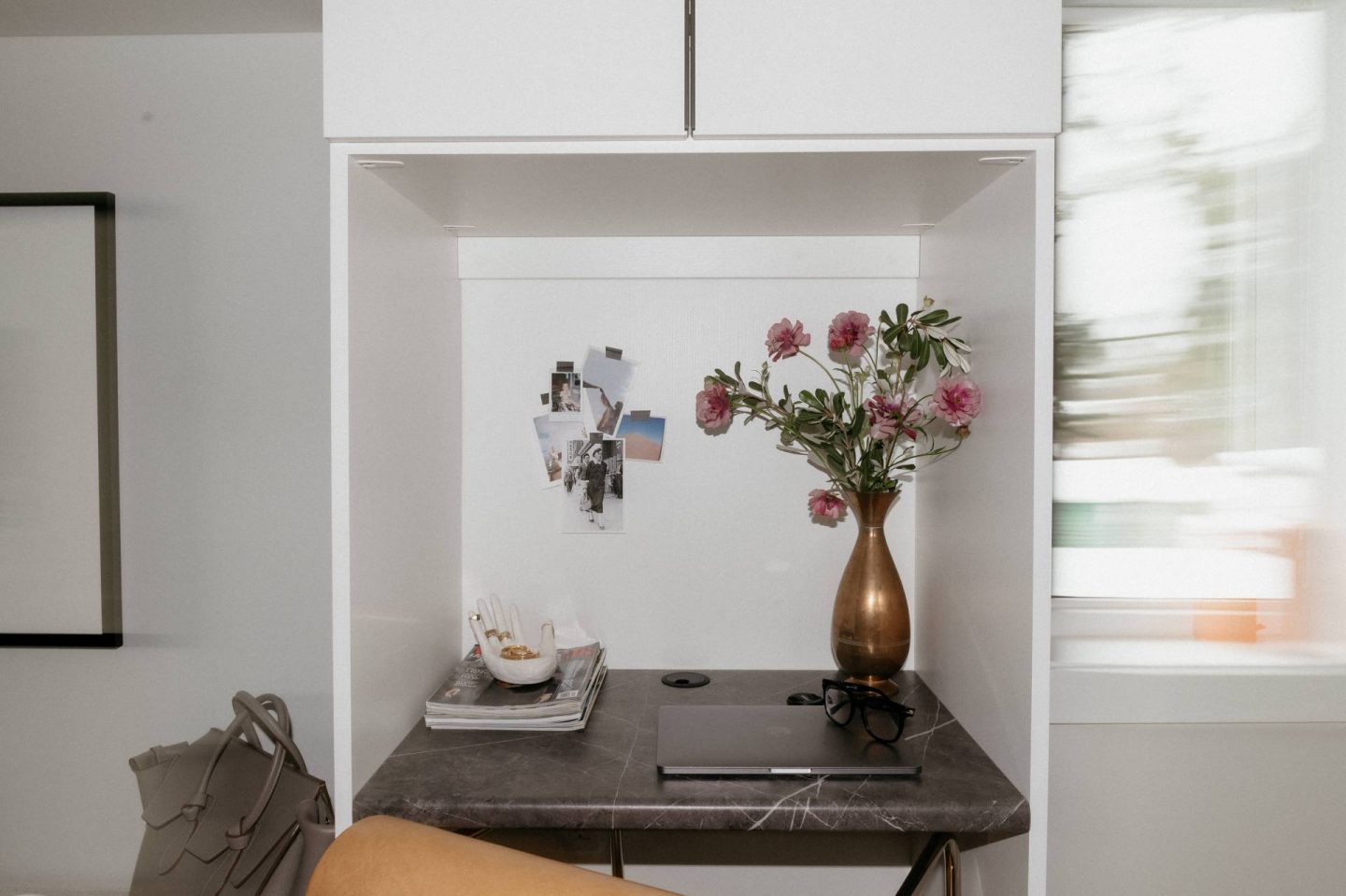 I wanted to use what I had as much as I could, and so we kept the paint, sofa bed, and some accessories, and used a rug from a different room in our house (which has now been switched to one from Parliament Interiors, as our dog Theo threw up all over the original one you see in photos).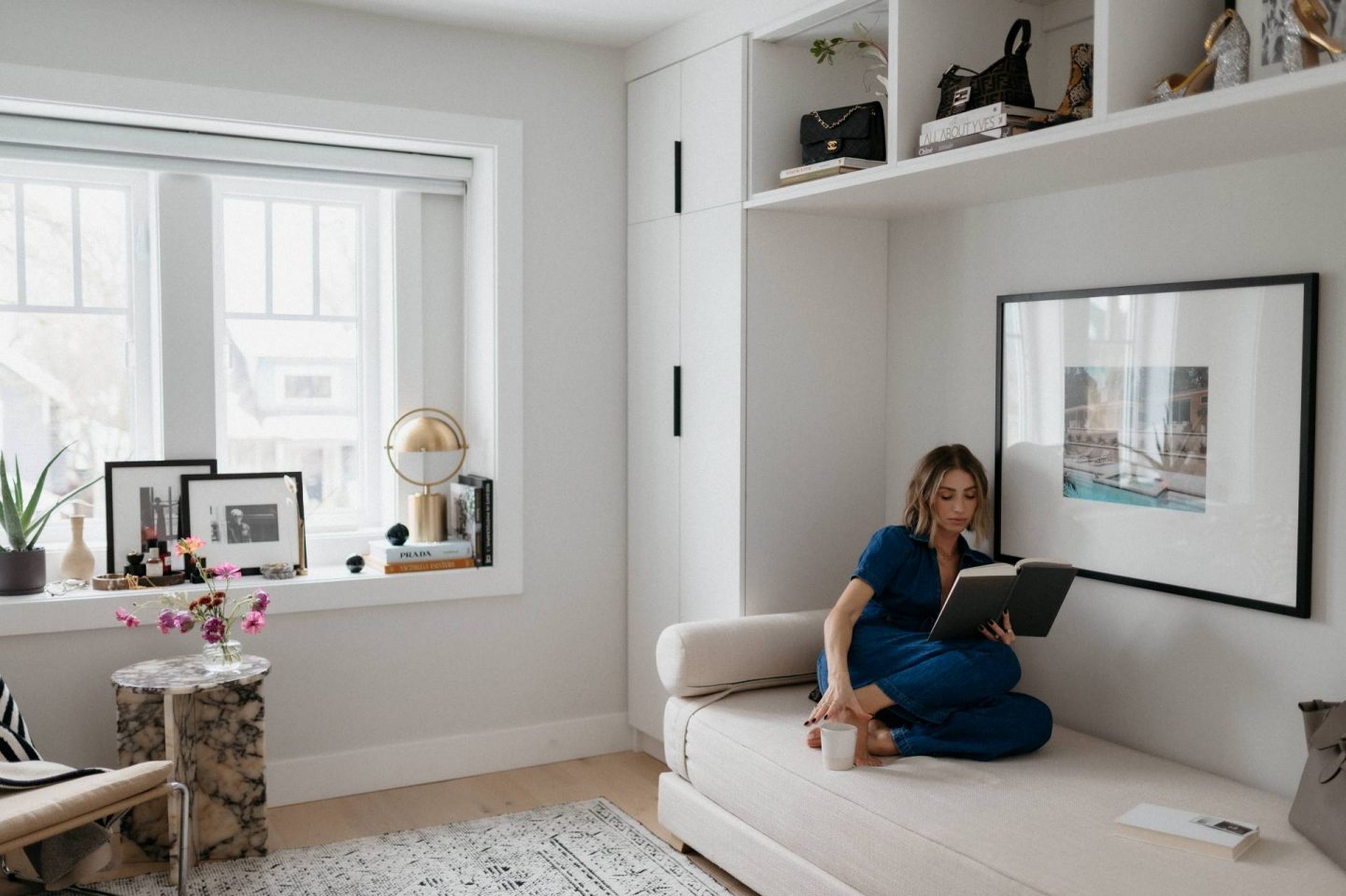 As all of this design was happening, I decided to have Crescent Living Co. come in and help with my office and closet organization. They basically started from scratch, removing everything, and then optimizing organization space, while making sure every single item had a place. I also had Jamie and her team do our kitchen and I cannot recommend these ladies enough – they were lovely, efficient, and even took any donations with them to drop off.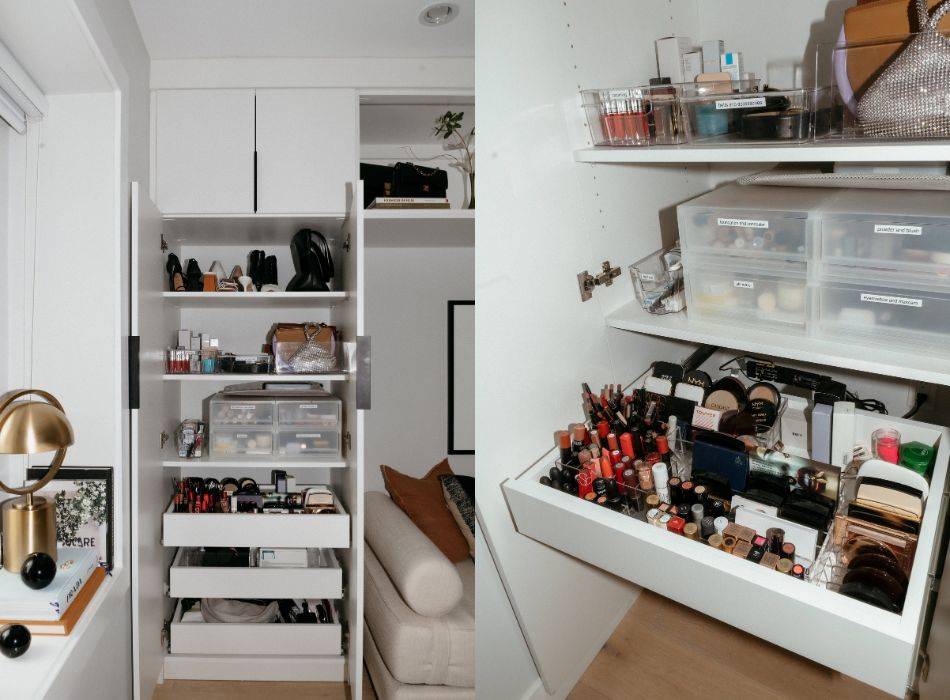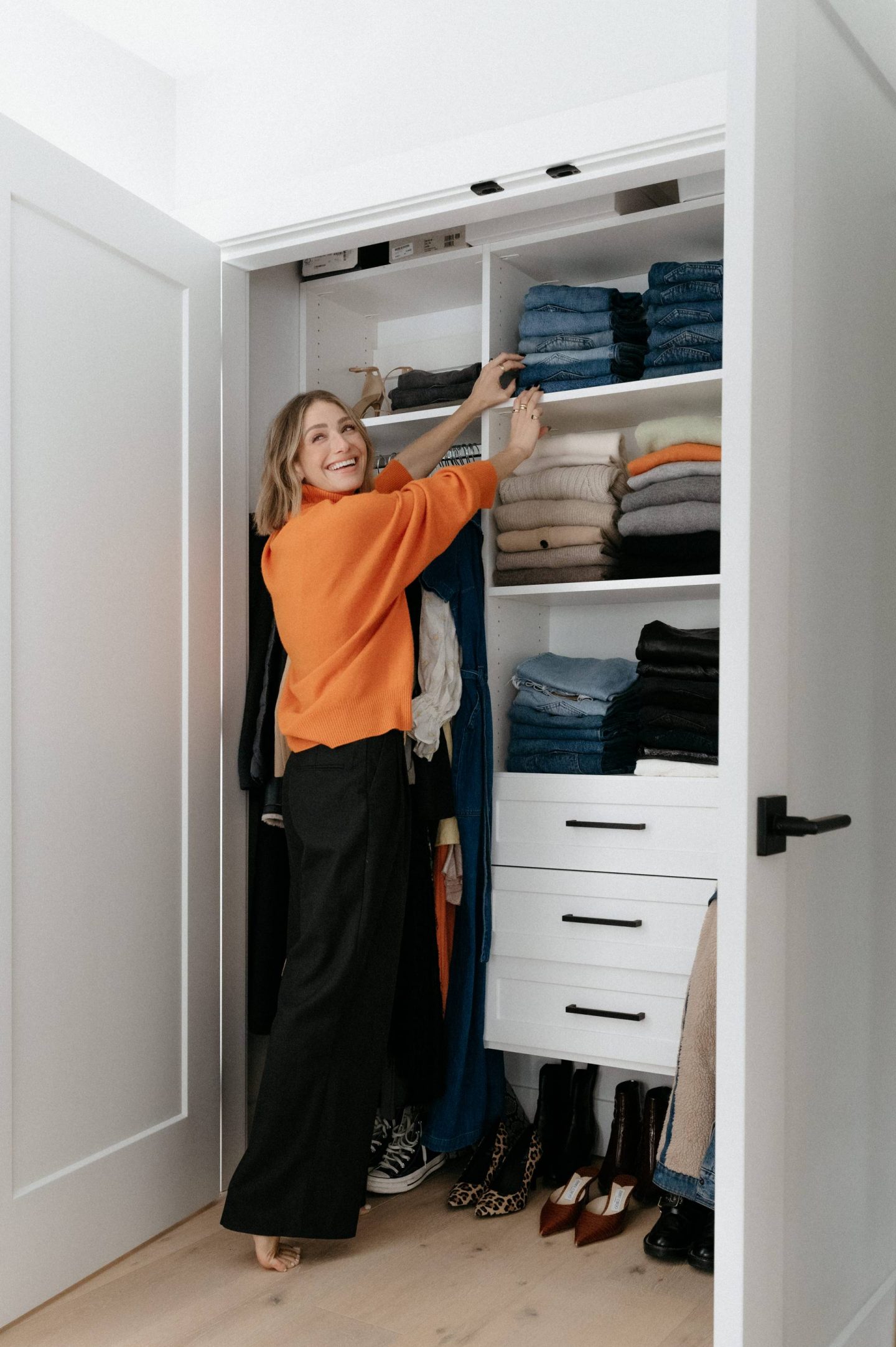 Ally also found this hanging rack from Kroft, a Canadian company that made the rack look much, much sleeker. It gave a kind of showroom vibe, which I really love.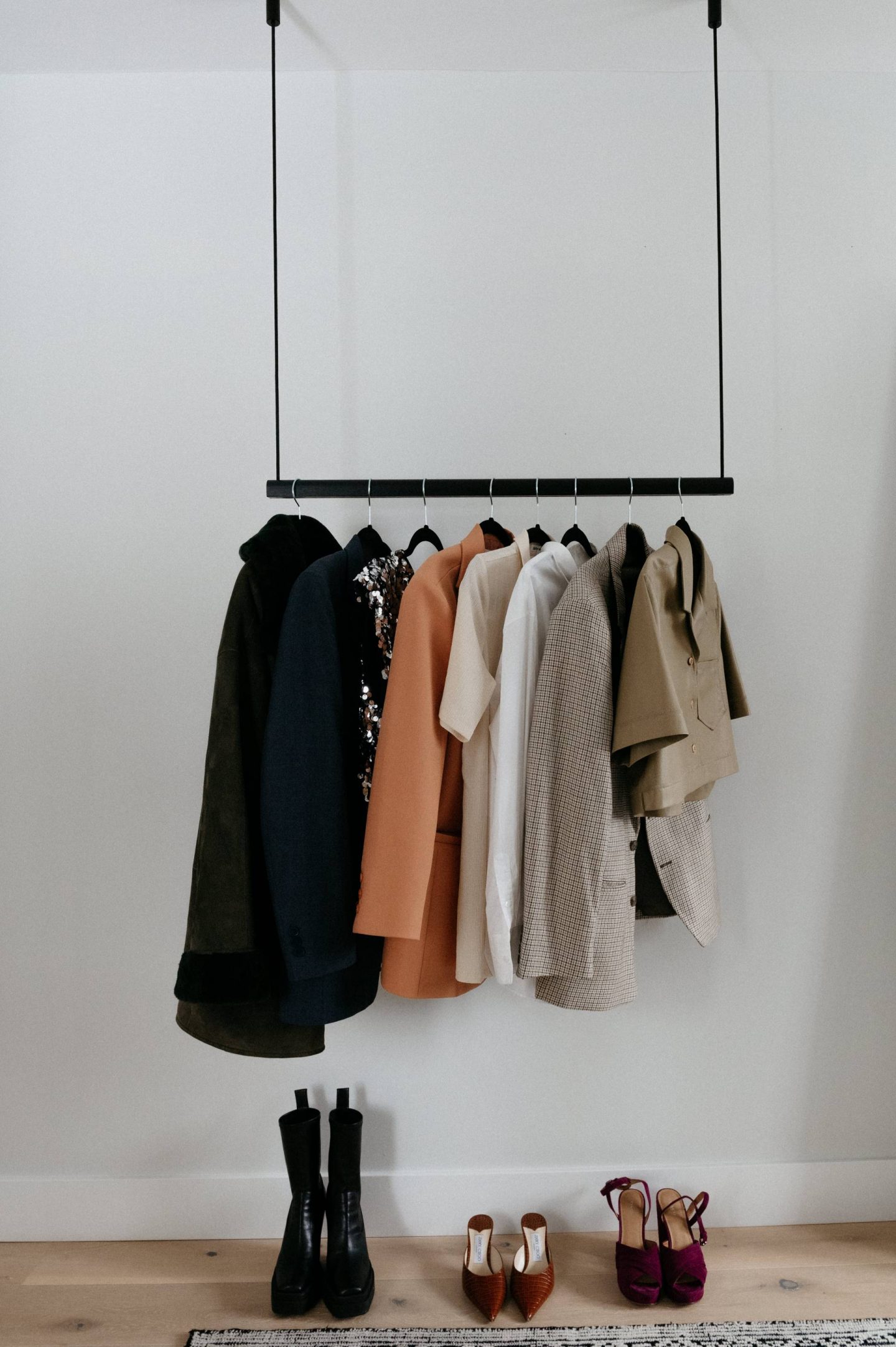 We worked with Parliment Interiors as well as Lumas and Kollection by Irie vintage studio to get a mid-century modern look but with vintage touches that added warmth. The sleek vintage chair in the corner, the brass vintage vase on the desk, and the candle holders on the shelf all add character. The overall effect is a professional yet comfortable environment, where creativity and productivity can thrive. I am so, so happy with the results!
A huge thank you to Henny who took such amazing photos as well!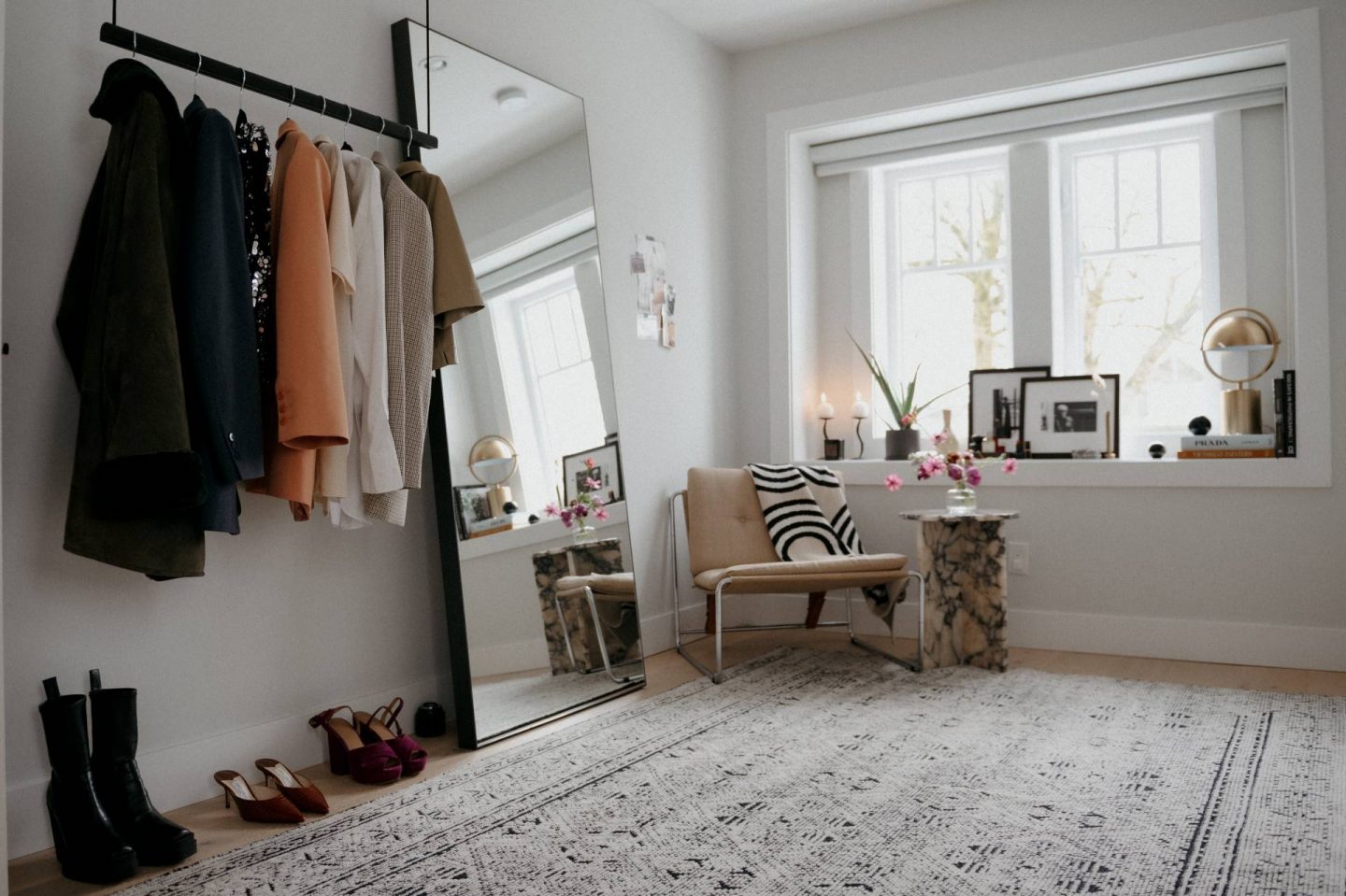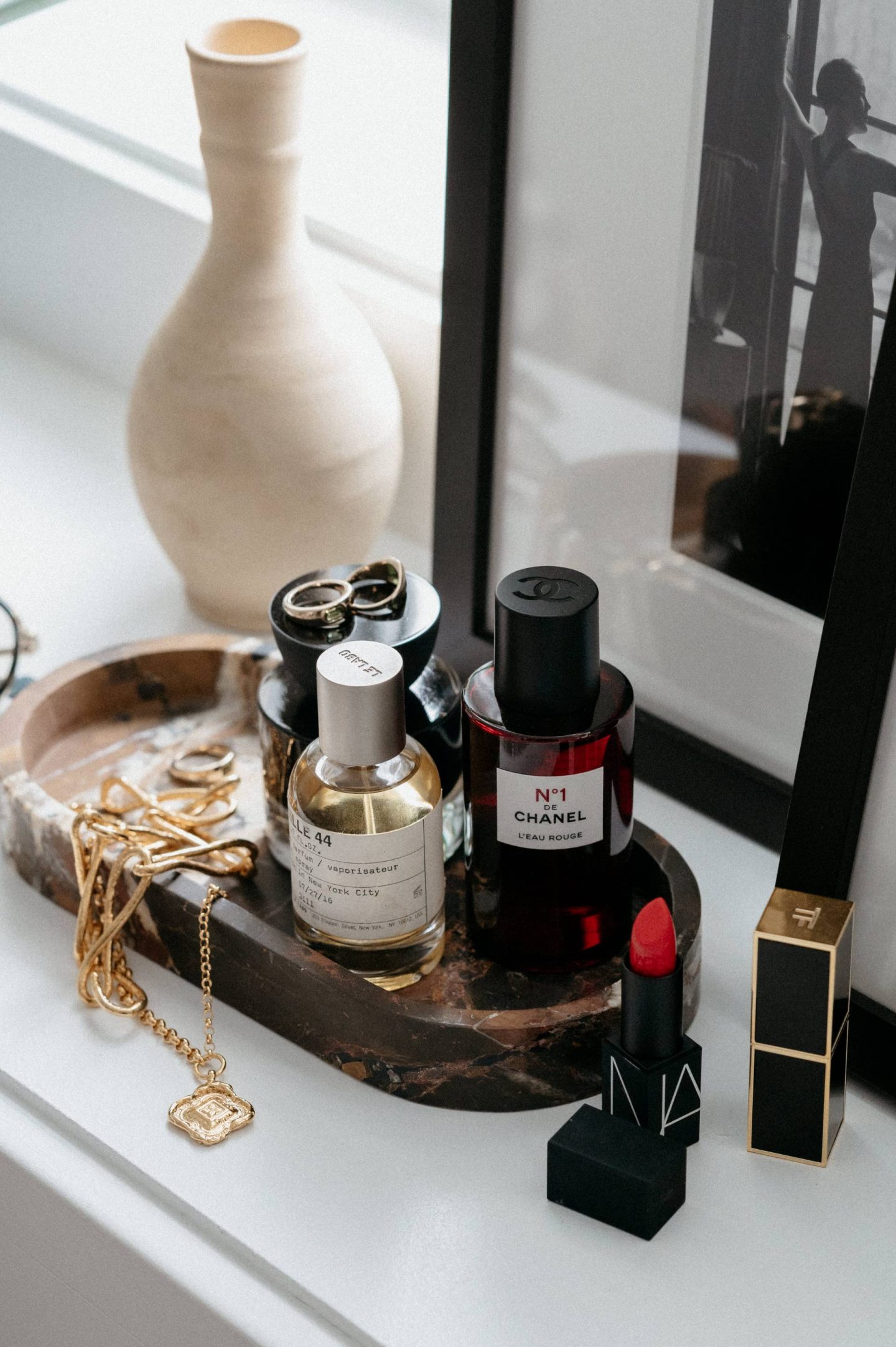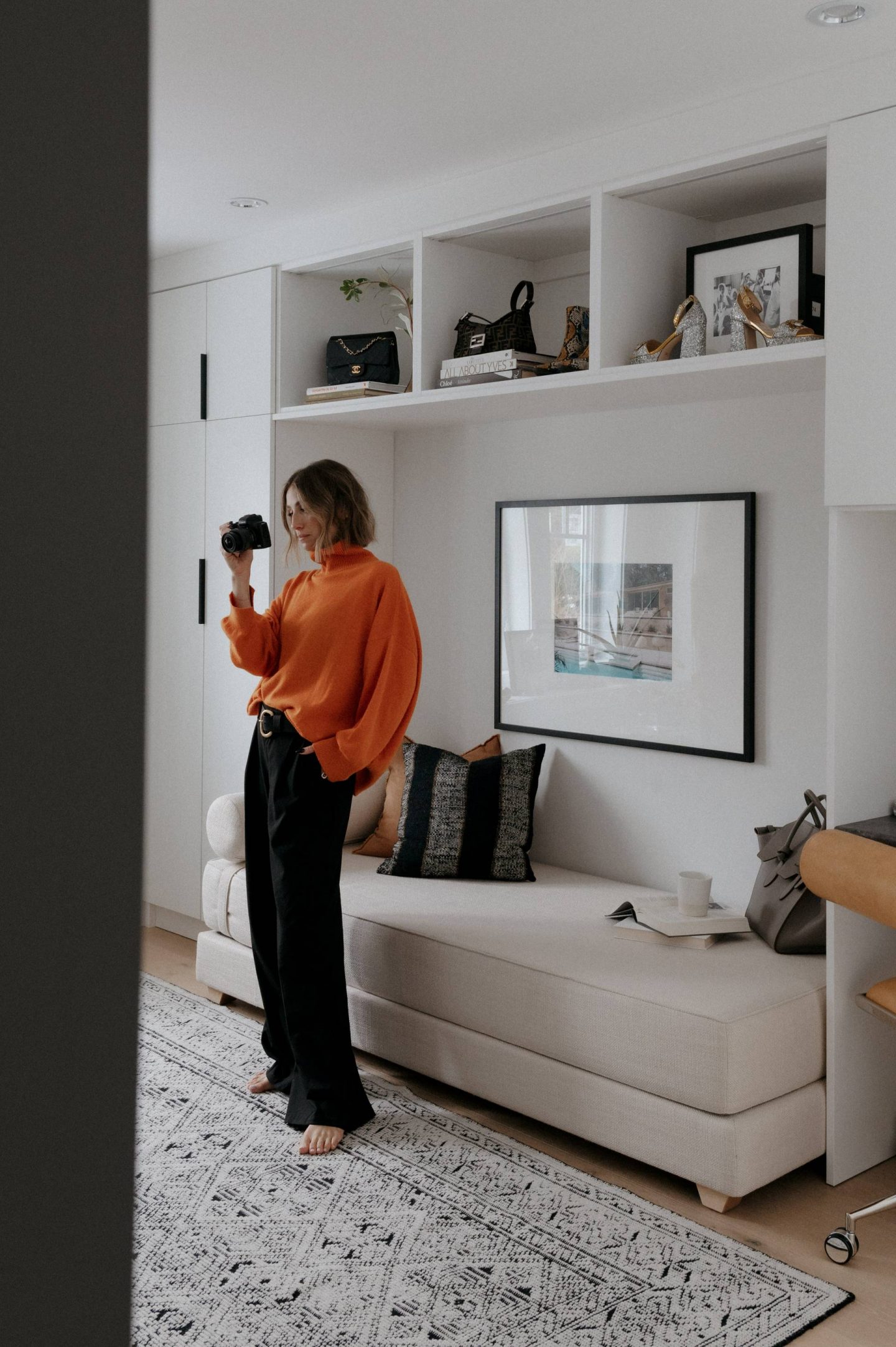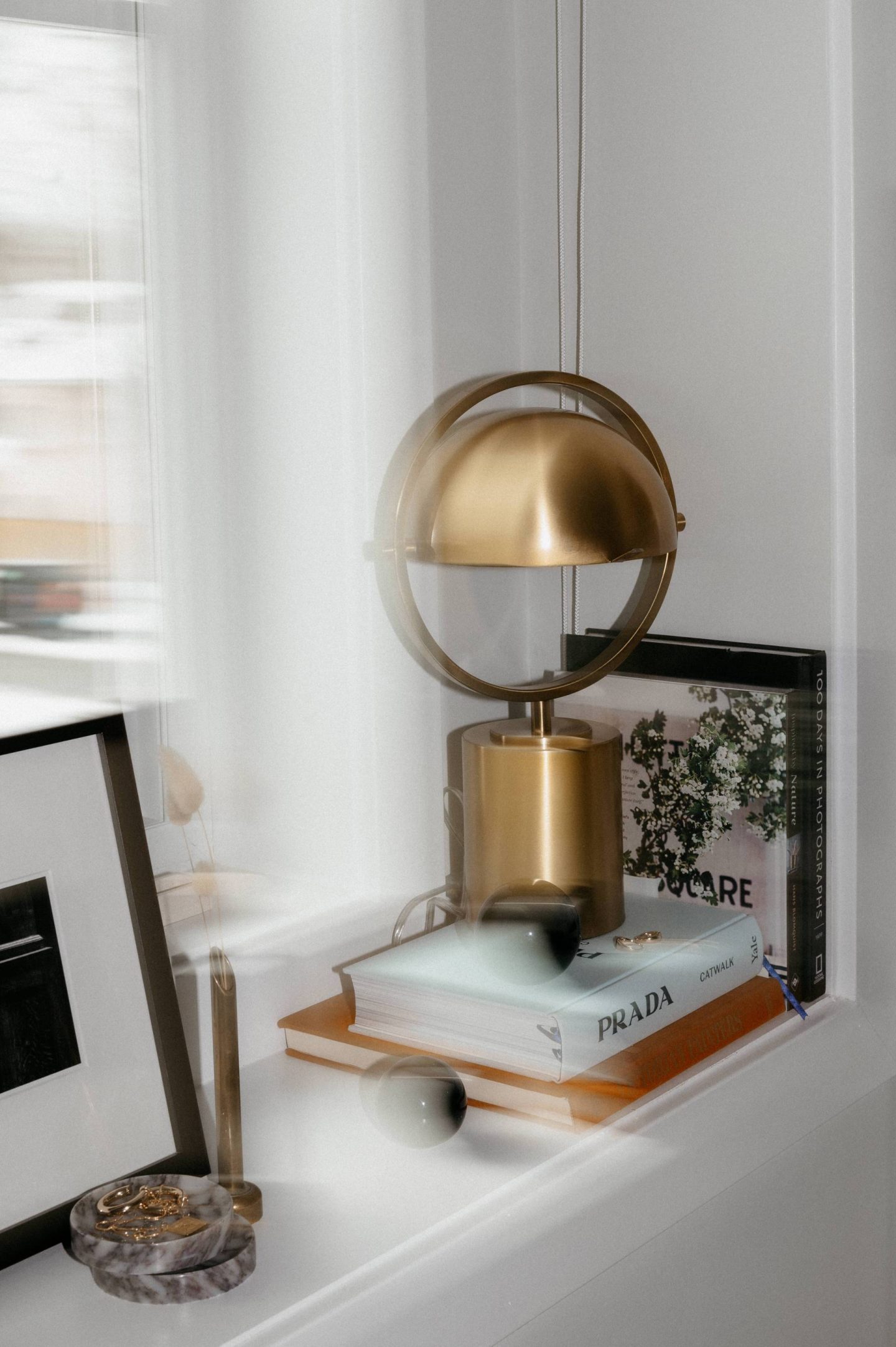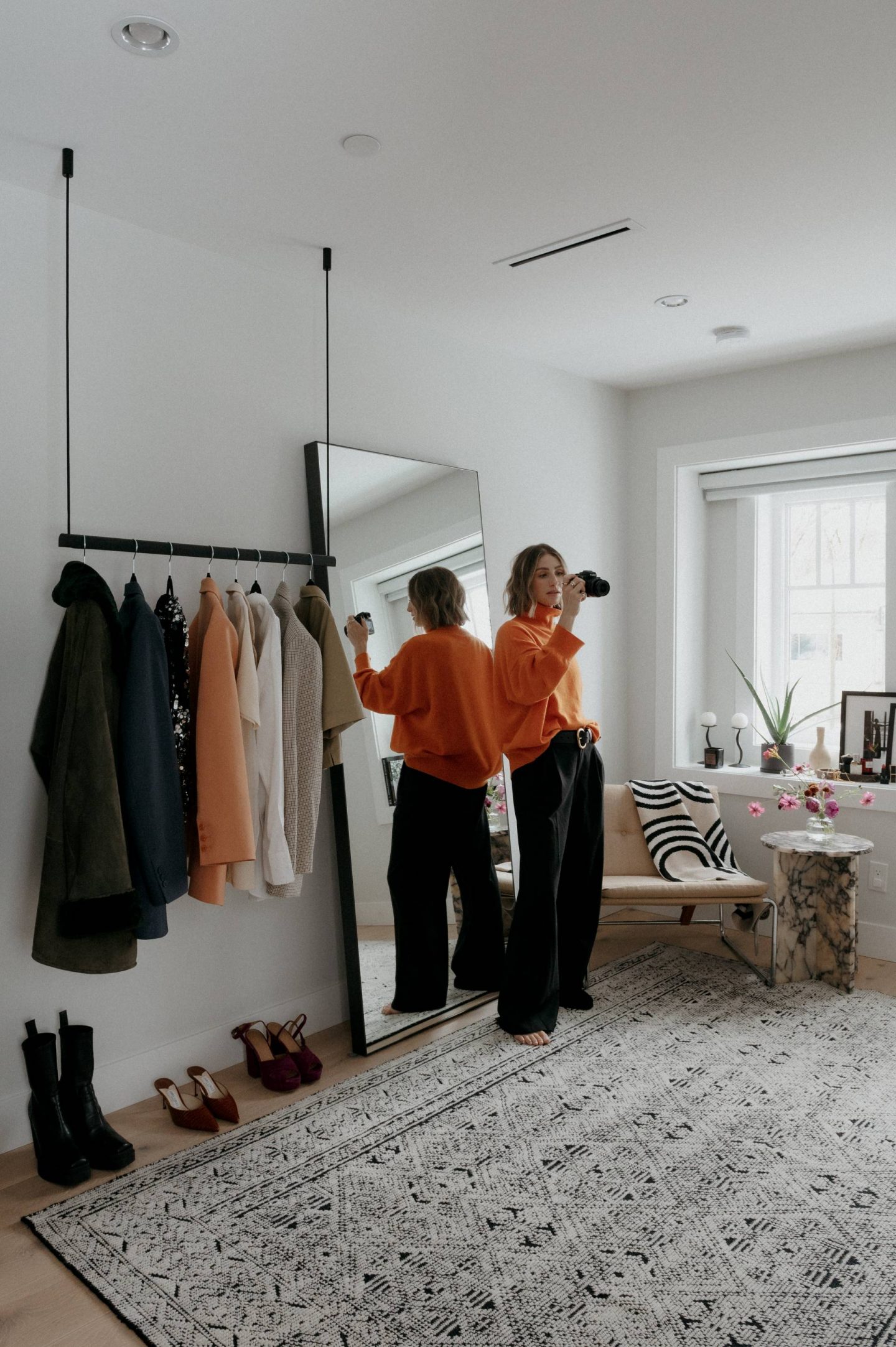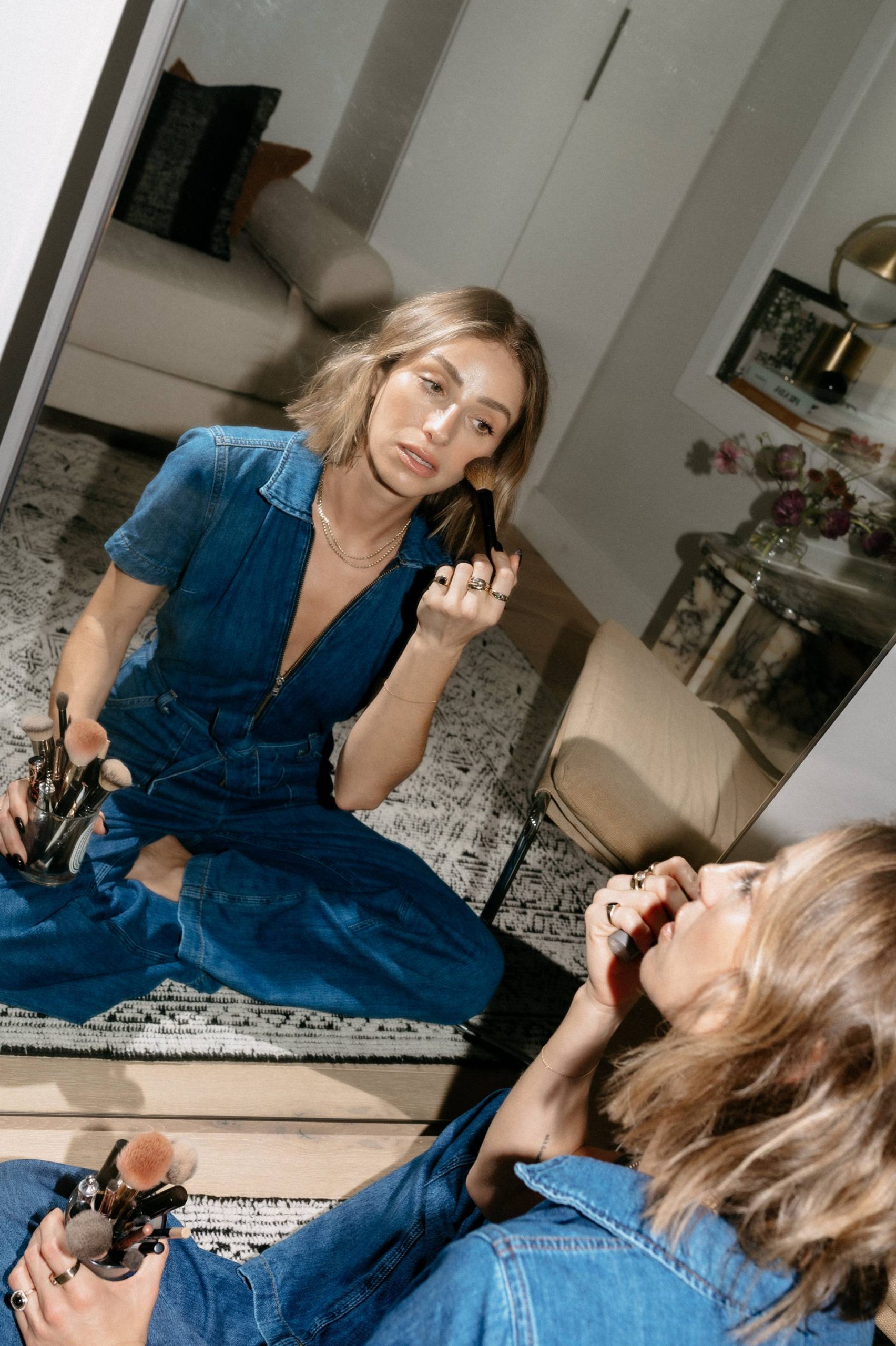 Concept and design: 1807 Designs
Photography: Hennygraphy
Custom built-in: Stor-x
Home organization: Crescent Living Co.
Florals: Ivy Room
Gold lamp, vintage vases, pillows, blanket: Parliment Interiors
Artwork: Lumas
Vintage candle holders, vases, black glass balls: Kollection by Irie
Vintage chair: Mid Age Vintage
Marble side table: Merci Design Home
Hanging rack: Kroft
Plant: Kermodi
Sofa bed, mirror, rug: CB2
Orange sweater, belt: preloved from Gather the Shop
Similar black pants
Denim jumpsuit: Reformation
Beachy waves hair tutorial
Everyday glowing makeup tutorial