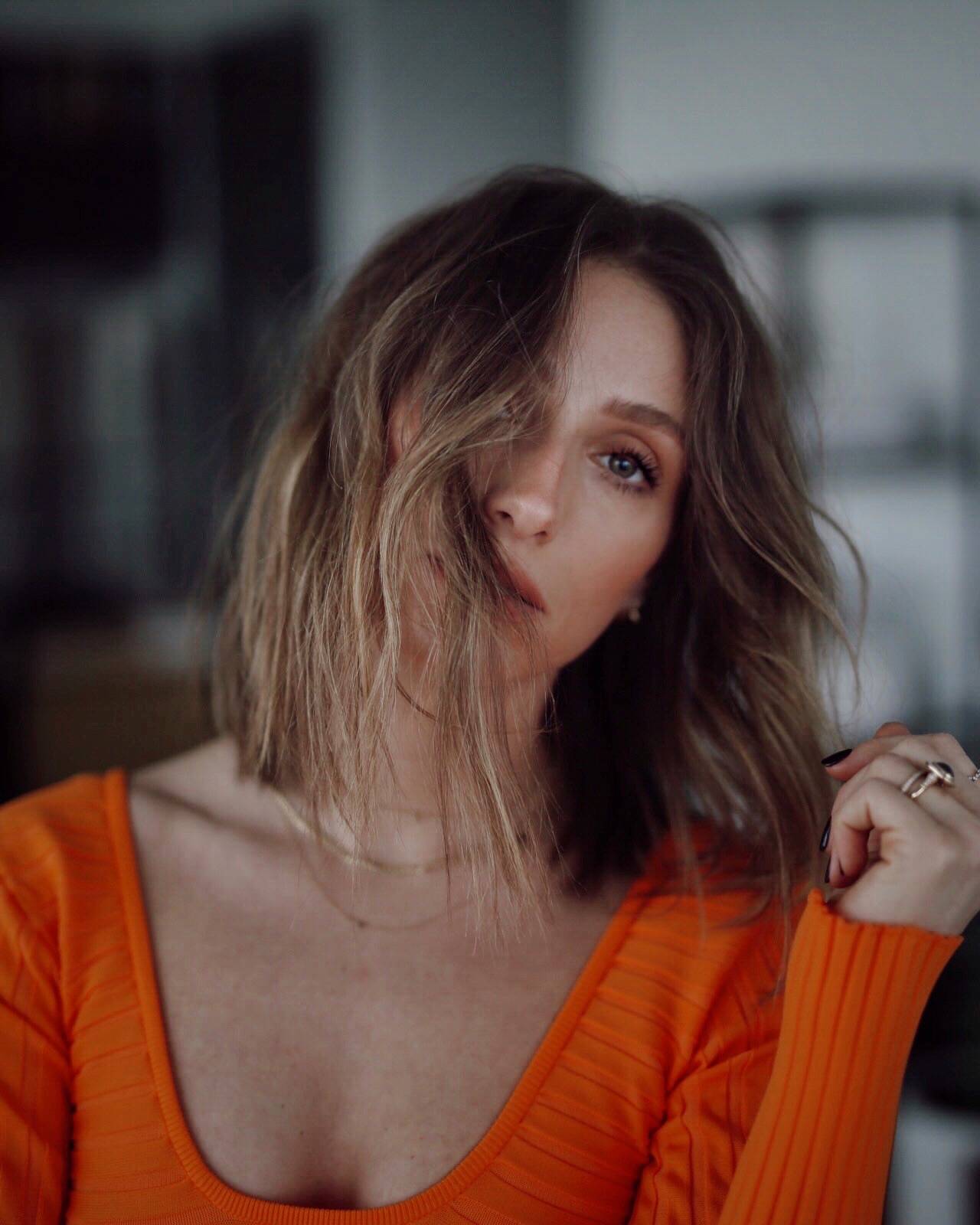 1. START WITH SHAMPOO + CONDITIONER
This is something a lot of people skip or forget about – starting with a thickening shampoo and conditioner is key. I've been using Viviscal Gorgeous Growth Densifying Range for over 4 months now. It includes a shampoo, conditioner + elixir that is formulated with biotin, keratin, and zinc to promote healthier, thicker looking hair. I use the range in combination with Vivscal Extra Strength hair supplements in a dual-action system as well (which I'll talk about below).
2. USE THE RIGHT STYLING PRODUCTS
My hair is fine and I don't have a lot of it so boosting it with products is so important before I start styling. I start with Viviscal Gorgeous Growth Densifying Elixir right out of the shower. For styling products, I use Big Sexy Hair root boost (many people forget about a roost boost mousse) and then use bumble + bumble surf spray or Bb. Texture creme to give my hair grit + volume.
I finish with a dry texture spray like Navy Haircare Pebble Beach spray or IGK Beach Club texture spray to give my hair some oomph. You can also use dry shampoo when your hair is clean to give some extra volume.
3. MAKE WAVES
Styling your hair with texture, whether it's waves or curls will automatically make it appear so much thicker. I almost never let my hair dry straight and flat.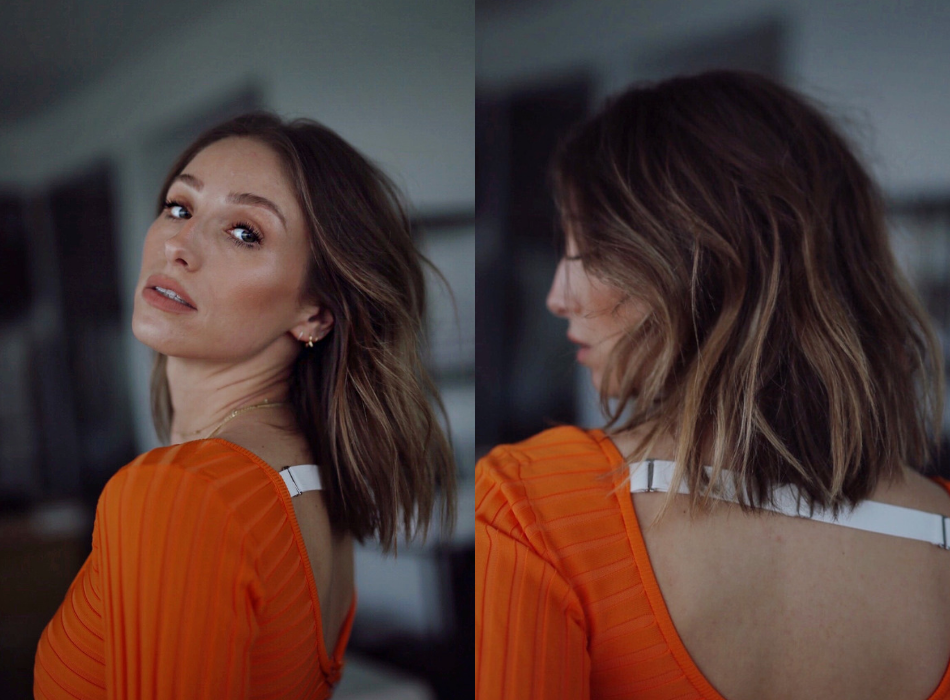 4. USE HAIR BUILDING FIBRES
This was a tip I got from celeb stylist Jen Atkin. Celebrities have done this for years and it's a great way to make your hair look thicker immediately. My favorite hair building fibre is from Toppik – its natural, colored keratin fibres blend in so well with your hair. I use it on my part lines and to disguise my scalp when putting my hair up. You can also use it to cover extension tracks. It comes with a "hairline optimizer" which is super helpful to mimic a natural-looking hairline and is available in 9 shades (I use Light Brown) from Shoppers Drug Mart or online at toppikcanada.ca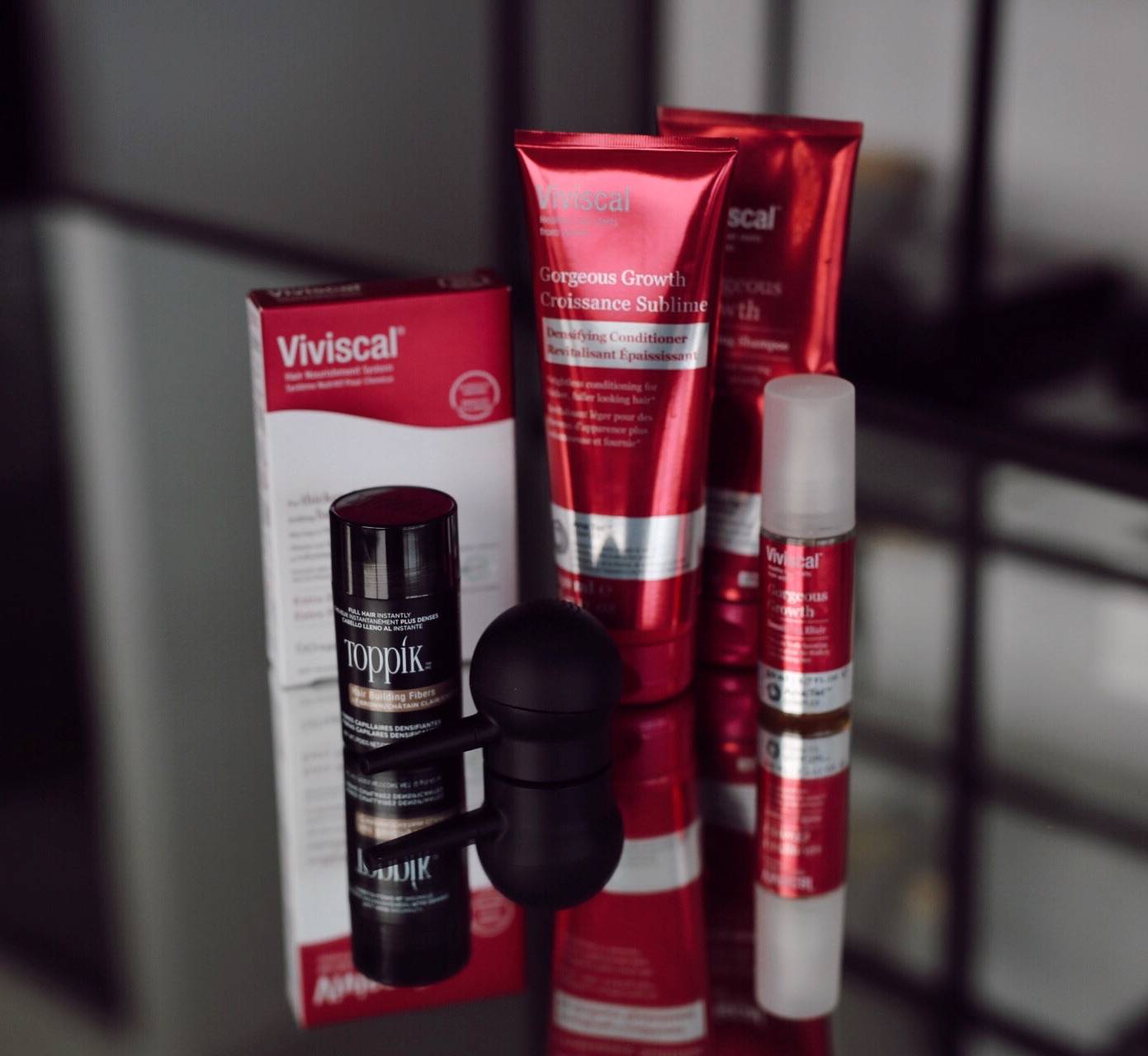 5. GET HIGHLIGHTS
Highlights naturally give much needed dimension to fine hair. You want to make sure you have light and darker colours as the darker hair (espeically when underneath the lighter highlights) creates a thicker-looking optical illusion.
6. TAKE SUPPLEMENTS
Hair supplements are something I've long been curious about but never tried until recently. Some of you may have seen that I announced a partnership with Viviscal late last fall and I've had many questions since then. I wanted to wait and actually try the Viviscal Extra Strength supplements for a while before reporting back as you need to use them for at least 3 months before seeing results (the instructions say to take tablets 2x daily for 3-6 months for best results).
I am happy to say that my hair is definitely looking fuller, thicker and longer (a few followers have actually commented on how quickly my hair has grown – see below for before + after). The tablets are formulated with AminoMar C™, which is clinically proven to nourish thinning hair and promote hair growth from within. They also reduce hair shedding, which obviously makes your hair look thicker.
They are available at Shoppers Drug Mart or online at vivscal.ca and are only $59.99/month (I was surprised at how reasonably priced they are).
Note: make coffee at home for 2 weeks and you'll easily have enough to afford them!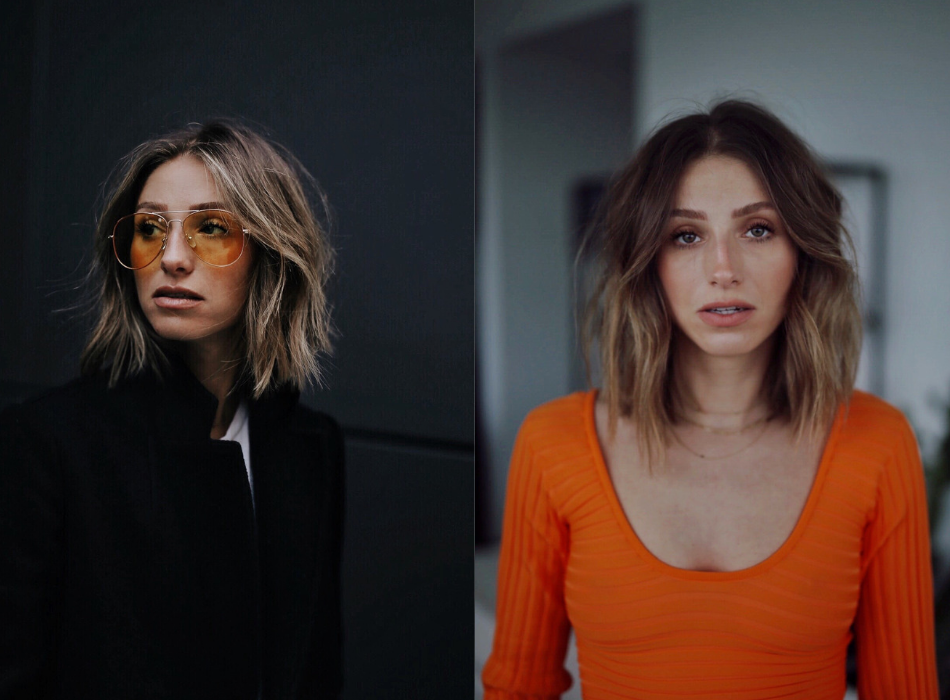 7. MAKE THE CHOP
You may not want to hear it, but fine, thin haired women look better with shorter hair. Long hair weights itself down, which can result in stringy, thinner looking hair. I made an initial chop to my own hair before starting my Viviscal journey, which did help to give it some extra volume while waiting to see results.
Shot on Canon 6D with Sigma 50mm Art lens in collaboration with Viviscal