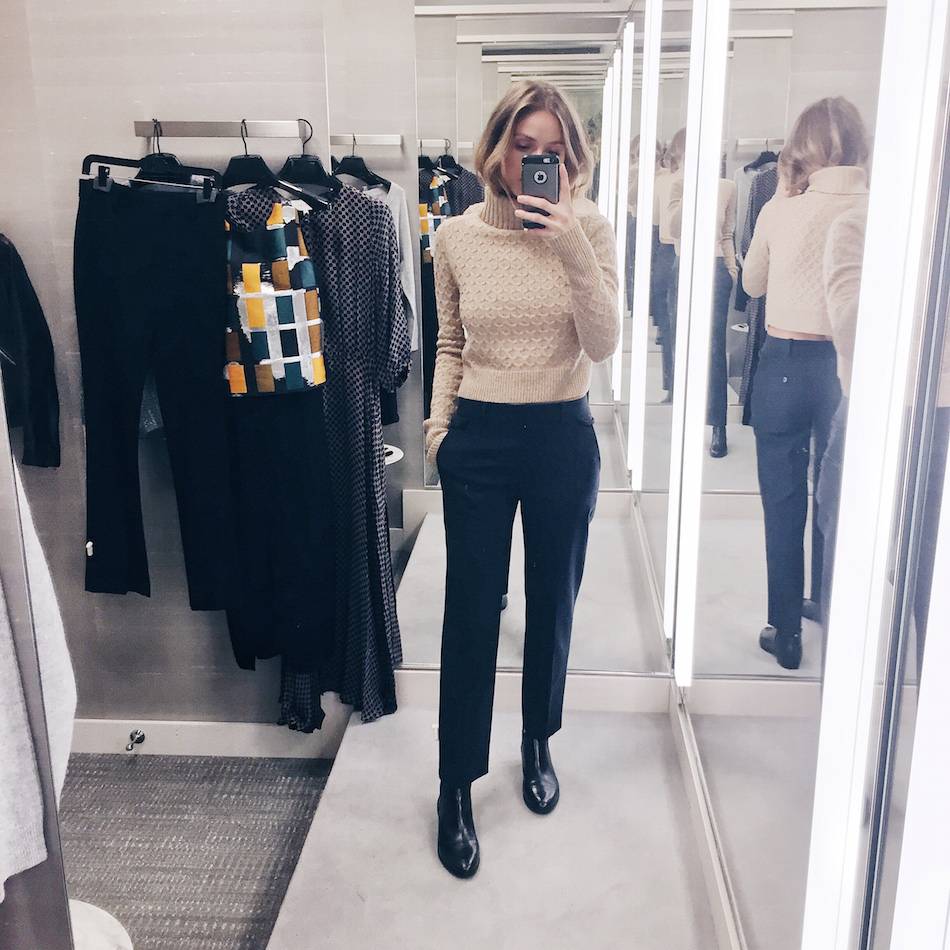 First of all, let me start off by saying that there are no do's and don'ts in fashion. Just mere guidelines that can loosely navigate you through the terrifying world of stores and magazines and runways and TV shows and blogs that now make up what we call the fashion industry. You are hit with models, clothes, ads at all times of the day, and let me tell you, I know how overwhelming it can be. So. Let's outline a few key ideas to keep in mind:
1. Don't wear anything you feel uncomfortable in
This is the first point because, in my eyes, it is the most important. If you don't like what you're wearing, believe me, it will show. And there's nothing worse than someone who's lacking confidence in themselves and their outfit. If short skirts are "in" but you don't care for them? Don't wear them. One of my girlfriends refuses to wear heels. And she still looks great with flats when we go out (it doesn't hurt that she has killer legs…) It's her thing and it works. Trends come and go, but don't be a slave to them. Which brings me to my next point…
2. Wear what flatters your body type.
Yes, I know every magazine out there is throwing that at you, but seriously, it makes a huge difference. And sometimes you don't even notice. For example, I love wearing larger t-shirts, but sometimes they can make me look pregnant. And like we outlined before, not actually a good look unless you are actually with child. So, stick to your what looks good on your body.
3. Show one piece of skin at a time.
Legs OR chest. Not both. Seriously, it's much sexier to leave some to the imagination. As Miuccia Prada would say "I tell my young assistants that the more they dress for sex, the less sex they will have."
4. Invest in a few classic pieces.
A perfectly fit pair of dark jeans, black blazer, classic pair of nude pumps or flats, an amazing colorful bag and a great white blouse can go miles. Trendy pieces can be picked up at great stores like H&M and Forever 21. Honestly, it's better to wear the same outfits over and over when they look and fit well than pick up ill-fitting and cheap items.
5. Don't do sweatpants (outside the house).
I could not love sweatpants more. Every time I come home, I put my sweats on. But I don't wear them out of the house. I think comfort is foremost, but it is possible without looking like a slob. Comfy boots, flats or Converse can substitute Uggs (which are really slippers) and leggings or comfy jeans are a great alternative to sweatpants.
6. And, if all else fails, go simple.
Put on your favorite shirt, pair of jeans, flats or heels. Or your favorite dress. Make sure your comfortable. Then add a couple extra pieces like a watch or bracelets and a great bag that makes you happy.
7. Have fun.
Yes, this is sooooo cliche, but honestly, fashion is supposed to be something you enjoy. It's a great way to step out of your comfort zone in a temporary way (after all, you can come home and take off your clothes). Fashion is an extension of your personality that is visible to the world at all times. So make a good first impression.
What are your own personal do's and don'ts of style? Let me know in here or in the comments!
PS Speaking of do's and don'ts, I DO recommend investing in classic pieces. I just bought these newly restocked Acne booties. If you're even thinking about taking the plunge, get them before they sell out again!