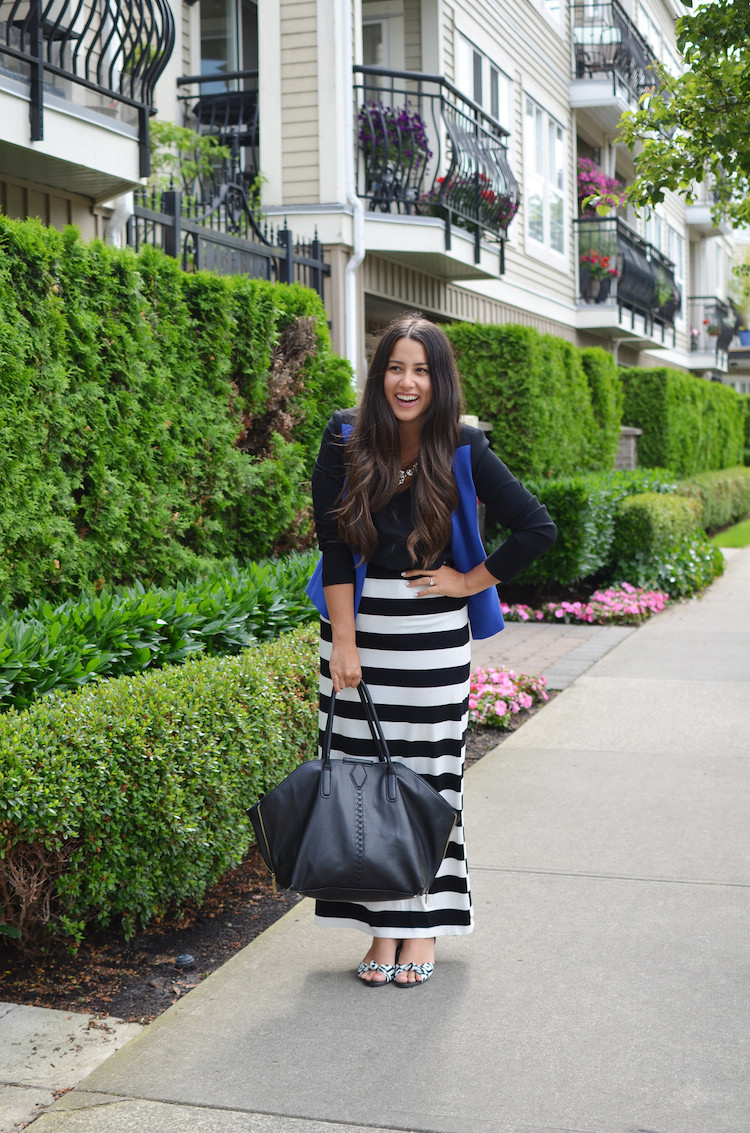 Here is the second in the guest blogging series while I'm away in Chicago (follow along here)… I've had the pleasure of meeting Alicia numerous times out and about in Vancouver and she is even more beautiful and sweet in person than on her blog. Enjoy and stay tuned this week for yet another giveaway! (Here's a hint).
Outfit Details // Photos by Alexandra
Black Tank: Joe Fresh | Colour Block Blazer: Judith & Charles | Striped Skirt: Joe Fresh | Shoes: Le Chateau | Bag: Phillip Lim for Target | Necklace: J.Crew
Hello fellow readers of The August Diaries! I'm Alicia of aliciafashionista.com, here to guest post while Jill is away on a fabulous mini vacation. It's so great to e-meet you!
I don't know about you, but the end of August is quite possibly my favourite time of year. I've always been a sucker for the back-to-school hype, despite the fact that I haven't been enrolled in classes for some time. Which, of course, certainly doesn't stop me from participating in any back-to-school shopping! I may or may not currently have a couple of online carts filled with sweaters and boots…
Largely because of this excitement, I've already started transitioning some of my go to summer pieces into fall-ready looks (no matter what the weather conditions are). A maxi skirt with a statement necklace and structured blazer is easily dressed up for an in between season style, and I love being able to easily mix and match pieces.
Hope you all enjoy the last bit of summer and happy almost autumn to you all xo