I'm so, so excited to finally show you guys some photos from our outdoor modern wedding! I've been trying to write this blog post for a while (ahem, almost two years) and every time I try, it just doesn't do that wonderful day justice. But with Valentine's Day coming up, I thought it would be a good time to share some photos (see our wedding video here!). There were so many people (and family and friends) who made our day so incredibly memorable. Here are a few details:
THE DRESS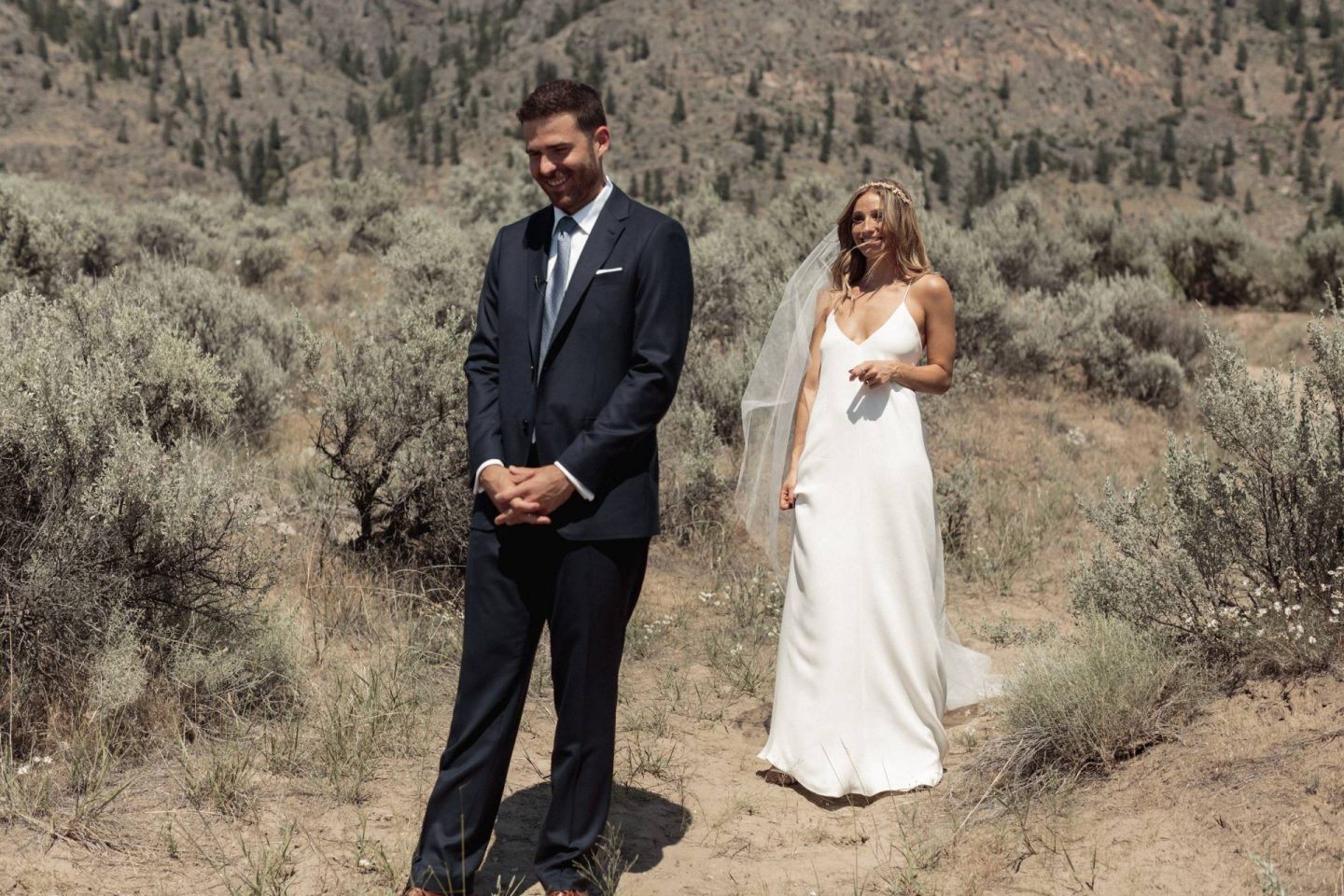 I actually got my wedding dress about a month after we got engaged (almost two years before we got married). I found it online at Net-a-Porter and bought it right away. I think because I work in fashion I knew exactly what I wanted and what looks good on me, so the dress was easy. I still love it so much. It wasn't an actual wedding dress, just a white gown, which I loved and is something I now recommend to brides. The price increase with the name "wedding dress" is insane, so I always say to look at white gowns and dresses online. The actual Calvin Klein dress is no longer available, but I've linked lots of similar options below.
Note: Park & Fifth, who did my bridesmaid dresses, have now come out with an amazing and affordable bridal line!
The veil came much later – I originally wasn't going to have a veil! A few weeks before the wedding I decided I wanted to try some veils on. Andrea at White Toronto was so helpful and lovely and I ended up getting a super simple, long veil. I'm so glad I did because the photos with it are amazing! Sidenote: When my dad and I were starting to walk down the aisle, my veil flew off (it was super windy that day)! I just continued on without it (after a pretty loud "F*@k!").
I also wasn't going to do a second dress, but found a relatively affordable dress right before and decided I wanted a dress I could really dance in. Again, it wasn't a wedding dress, but a just a white dress and was much more affordable (and less "traditional bridal") for it. The exact dress is no longer available, but I've linked similar options below.
THE HAIR + MAKEUP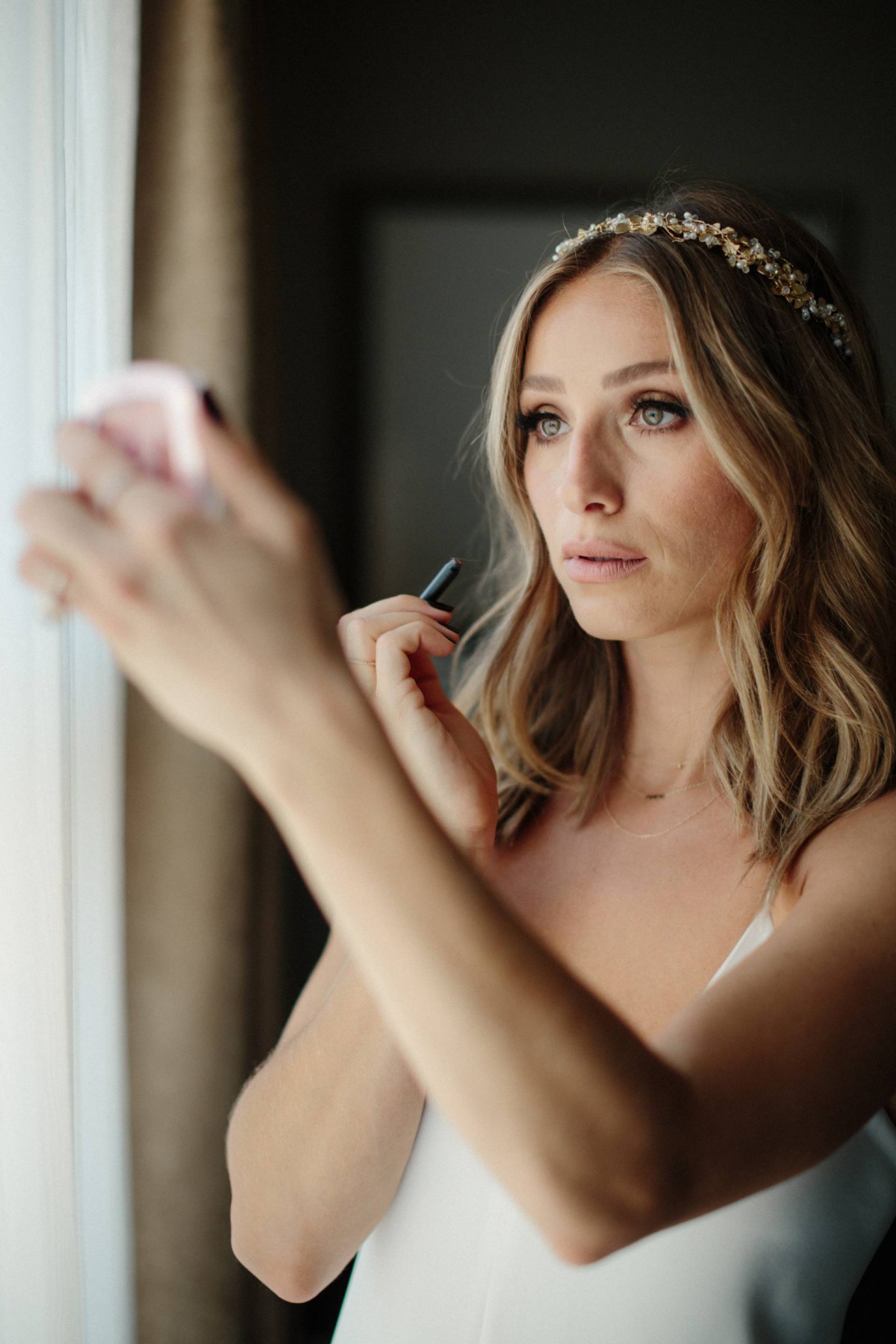 I was originally going to do my own hair, but decided to wear extensions the day of (which I would recommend if you have fine hair like me). I brought in Nicole from Pomme Salon in Kelowna and she did an amazing job with my extensions, custom headpiece from Morgan Lovely, and my veil.
I did do my own makeup up, though, and I'm glad I did because I really enjoy it. It was fun to have a glass of champagne and get ready – I find it therapeutic. My wedding makeup video has a full breakdown of everything I used.
Instead of going with the traditional soft pink nails, I went for my signature super dark purple (CND Dark Dahlia). I'm glad I did, it felt more like me!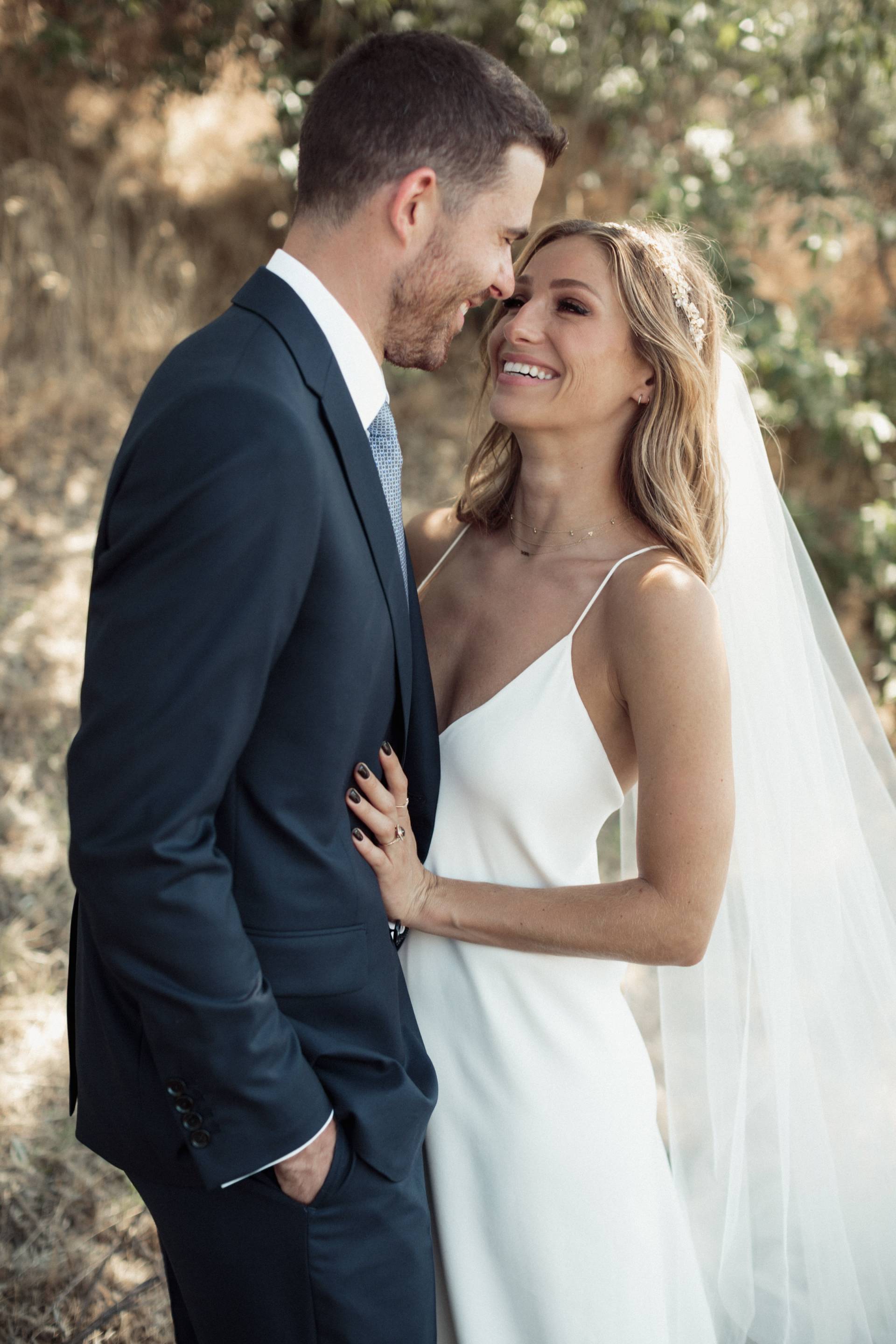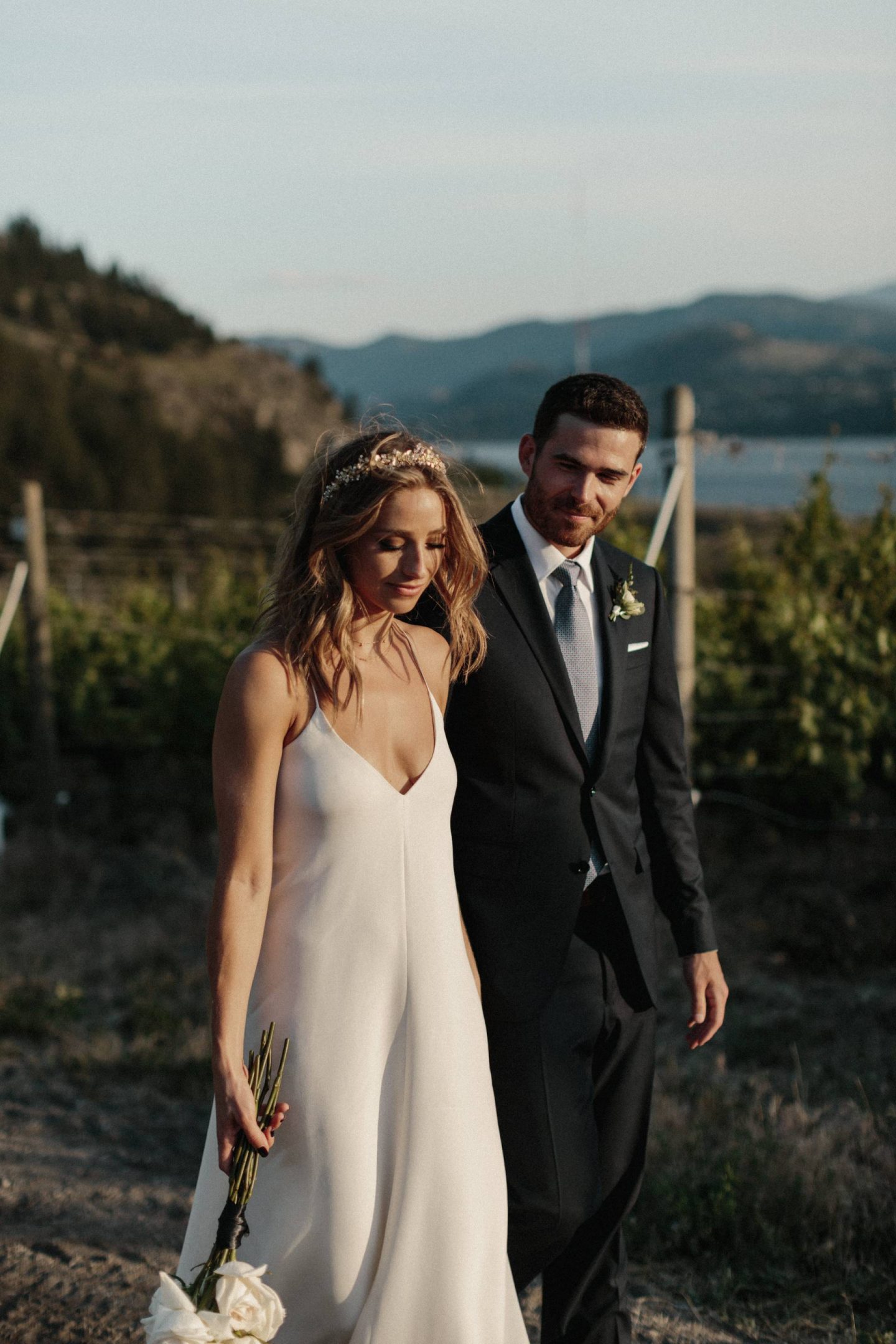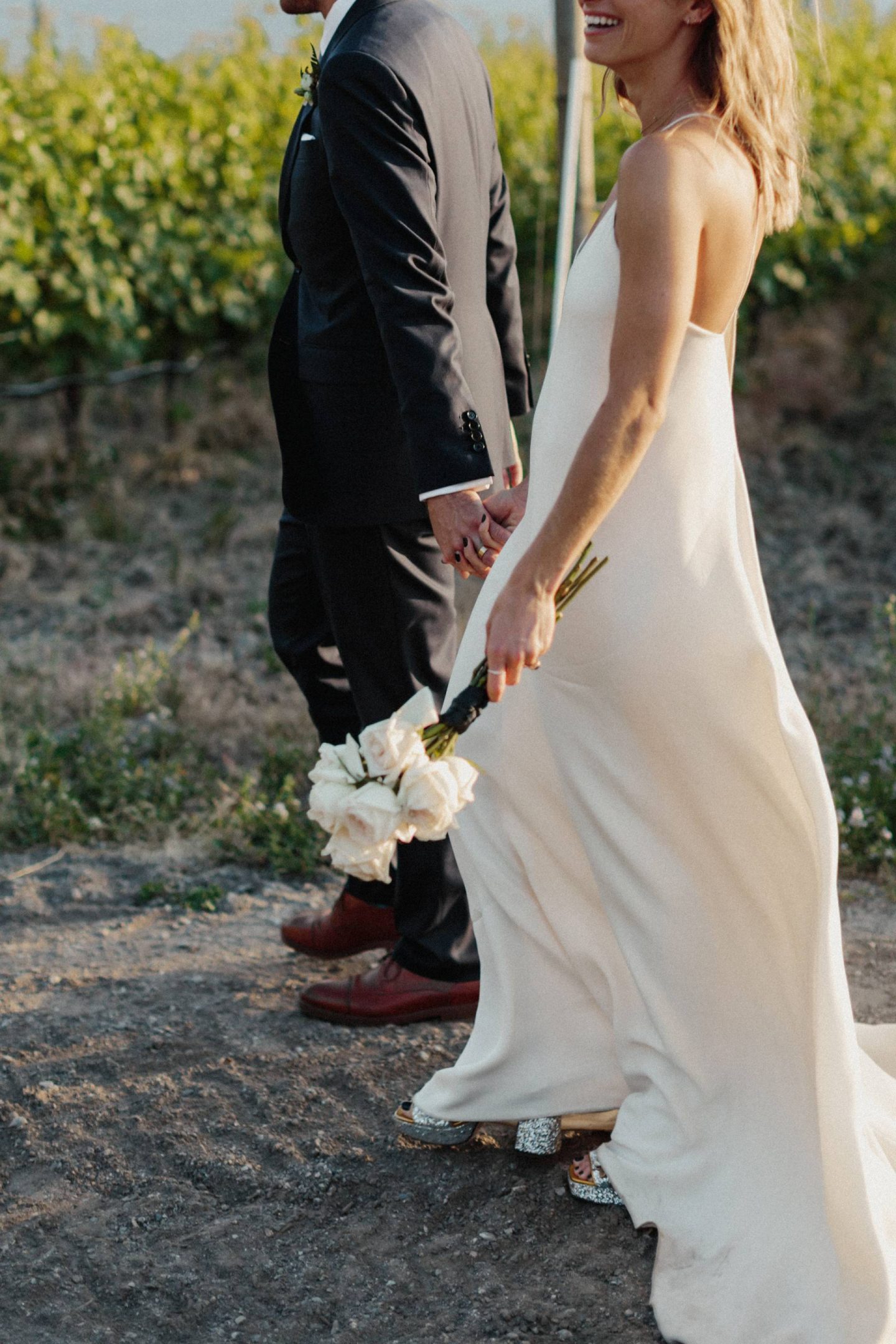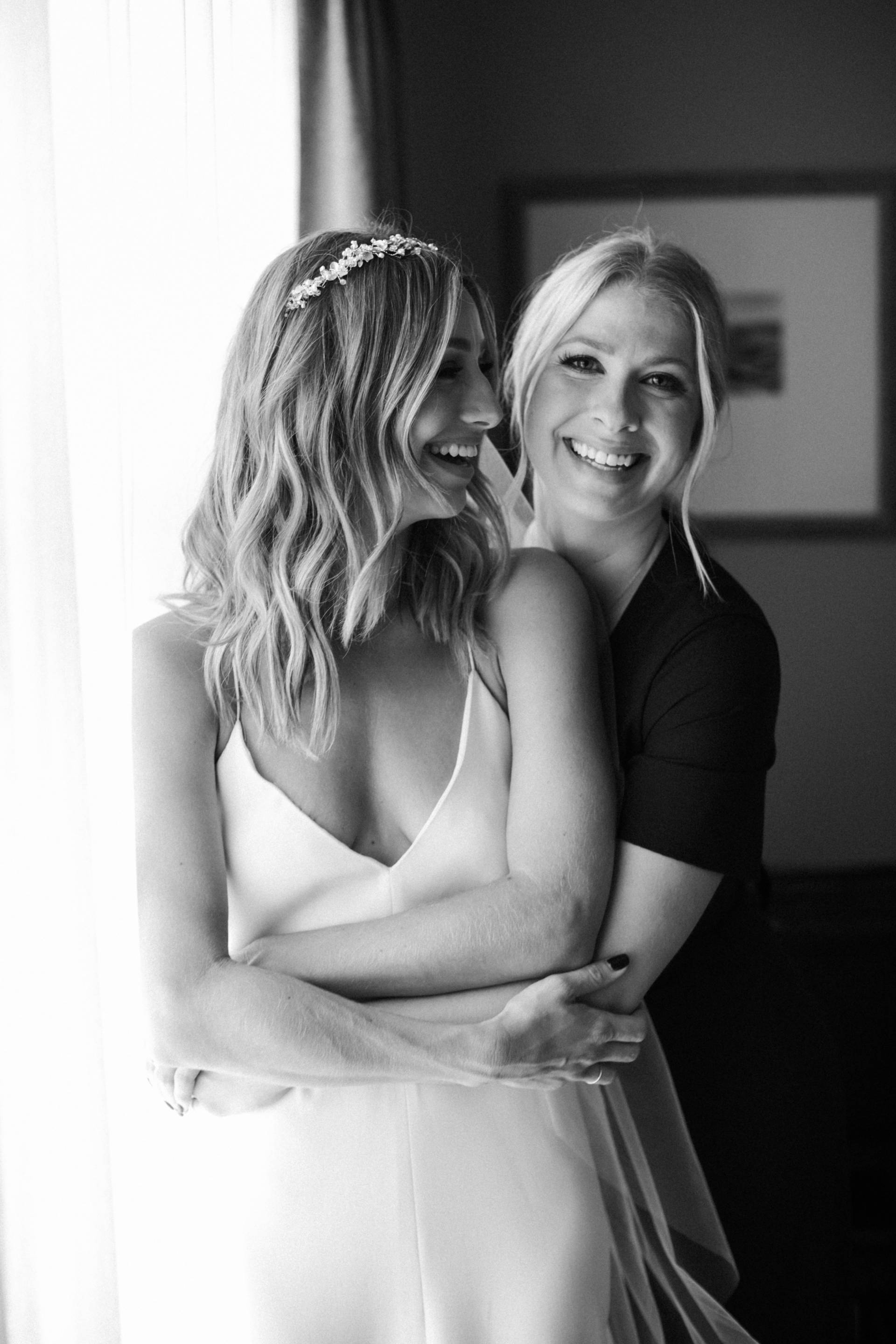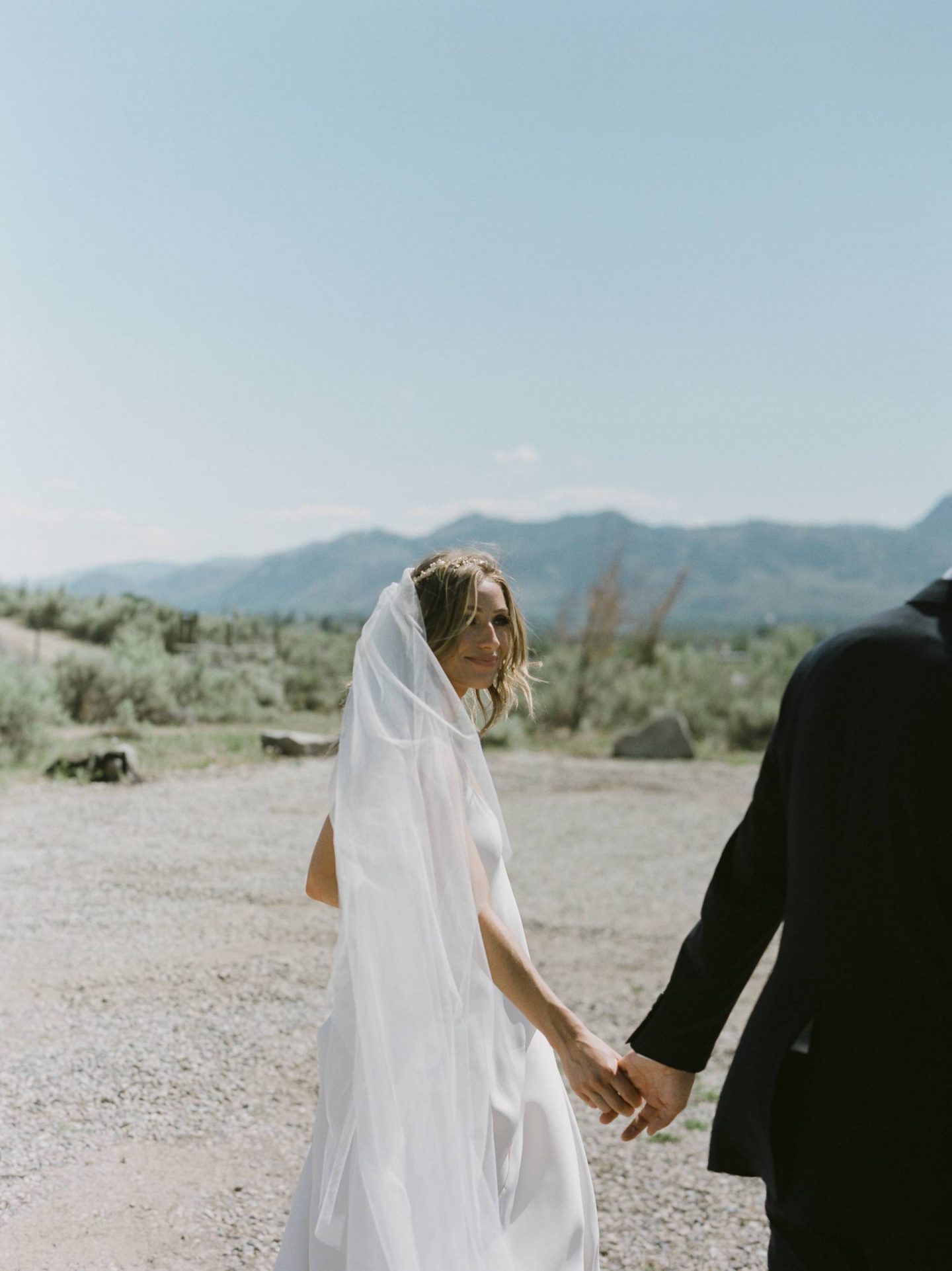 THE GROOM
First of all, can we talk about how handsome my husband looked? He wore a custom suit from Indochino in dark navy blue. There were so many details we could customize with this suit and he really loved it. He still does and still wears it.
We decided on brown accessories for a bit more of a casual look, and he added Alexander McQueen skull cufflinks (I love this man) and a patterned Ferragamo tie.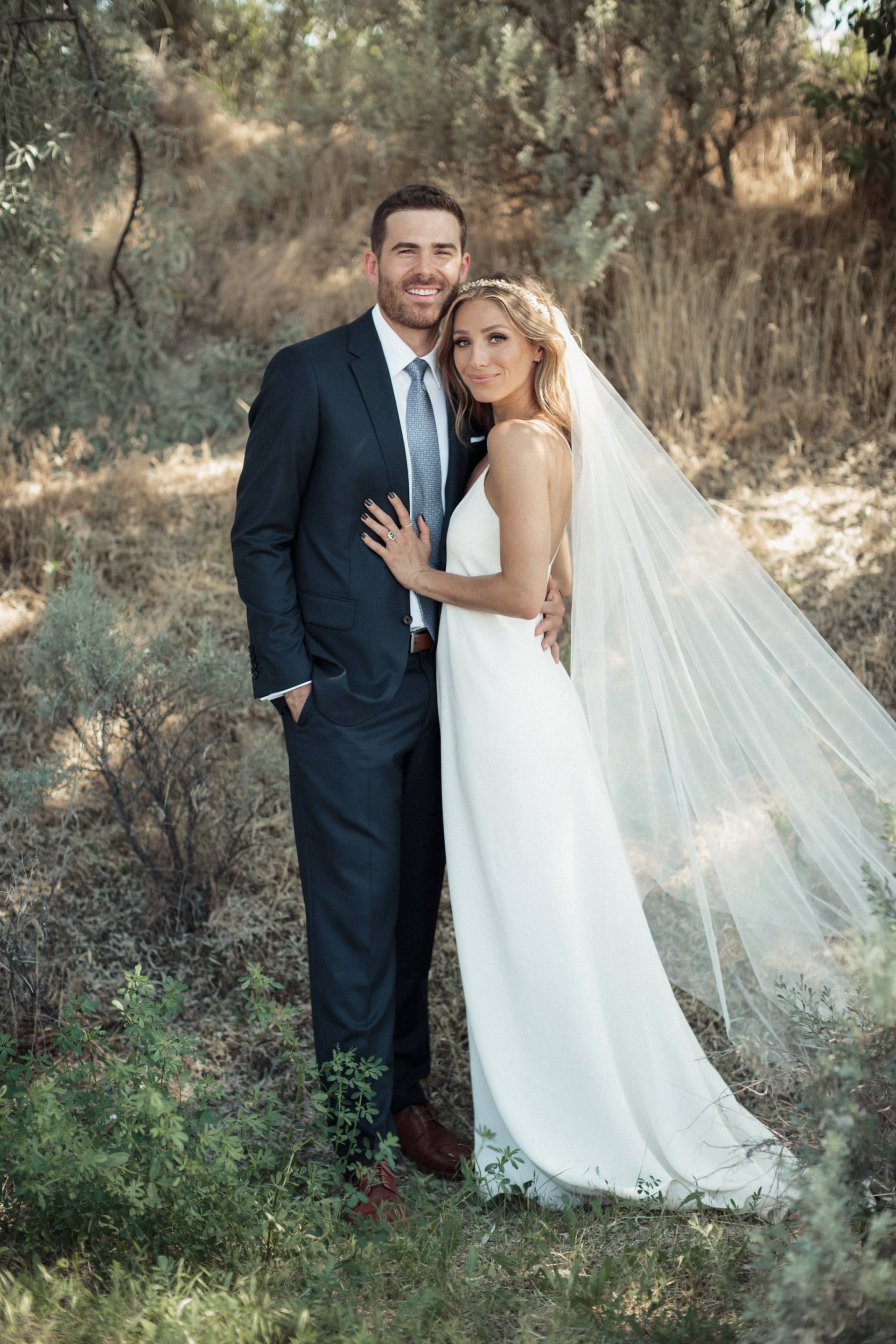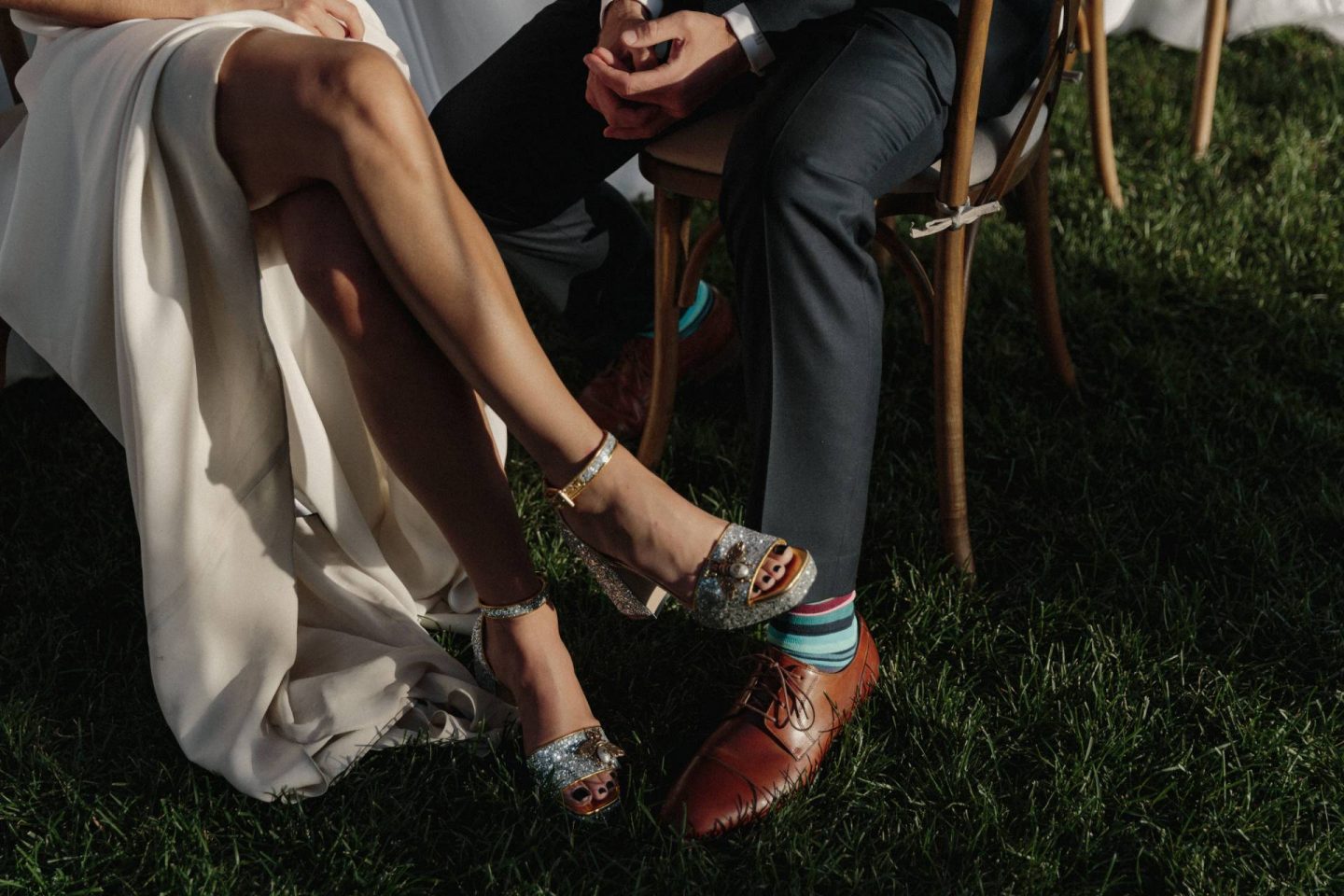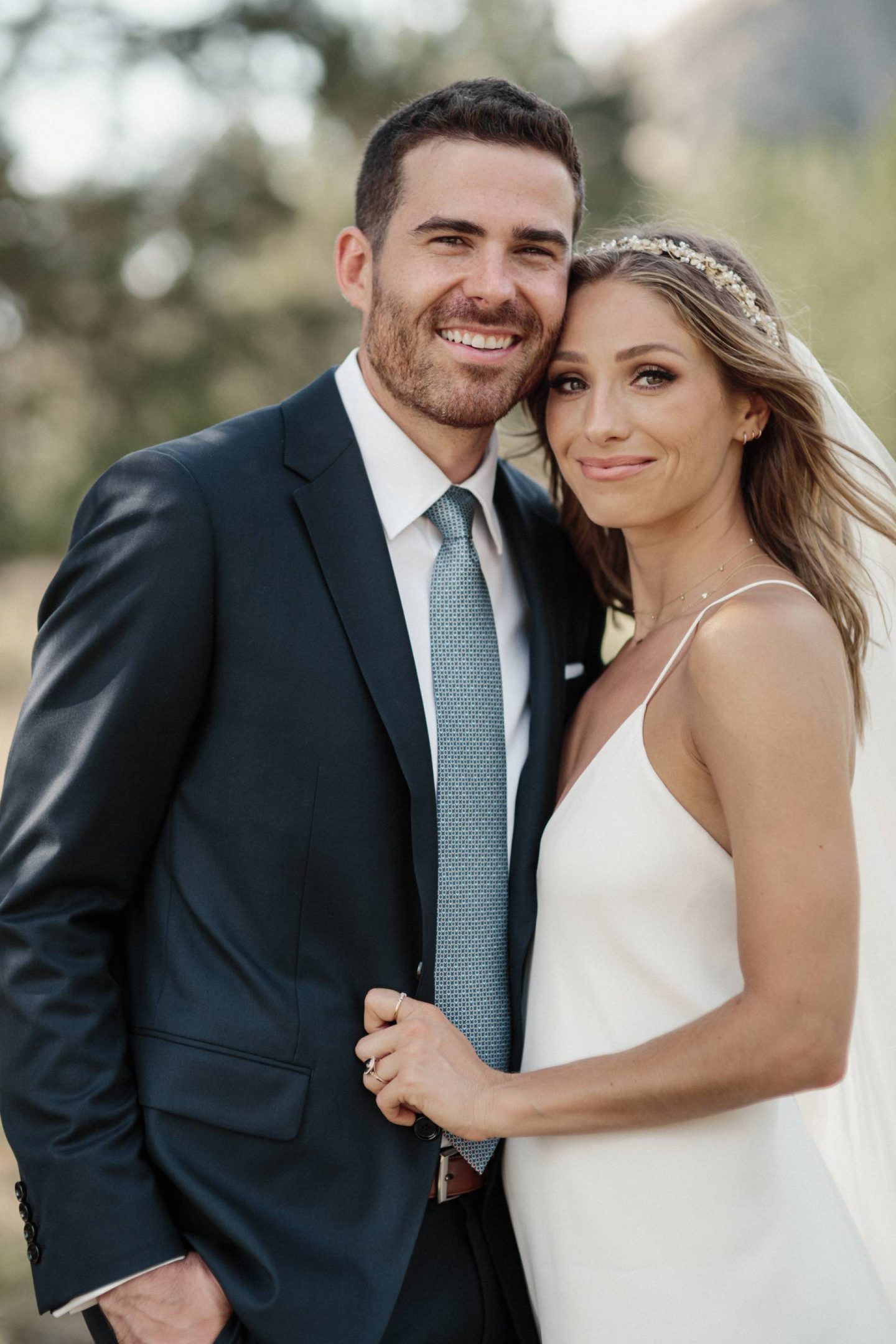 THE BRIDAL PARTY
Neither of us particularly liked the "traditional" bridesmaids and groomsmen look and we wanted something that our party could actually wear after the wedding. I had seen Park + Fifth dresses before and especially liked their "Un-bridesmaid" collection – I loved how the black looked against my white dress and that the girls could potentially wear their dresses after! I also loved that the colour tied all of the dresses together but each girl could choose the style of dress – there's no dress that looks good on everyone, and I wanted my girls to feel beautiful.
I am a massive fan of Zoe Chicco Jewelry and we have struck up a bit of an online friendship. I wear her necklaces every day and I was thrilled to give my bridesmaids personalized initial necklaces as a reminder of the day and a thank you for being there for me. I also got one with mine and Andrew's initials, which I wore for the wedding.
Andrew's groomsmen went for dark grey Indochino suits. I thought they looked so handsome and chic without being overdone. Andrew is a sneaker head (or shoe dog :)) and wanted to get his groomsmen sneakers that they could wear at the reception, so we ordered them each a pair of Nike shoes for them to wear at the reception!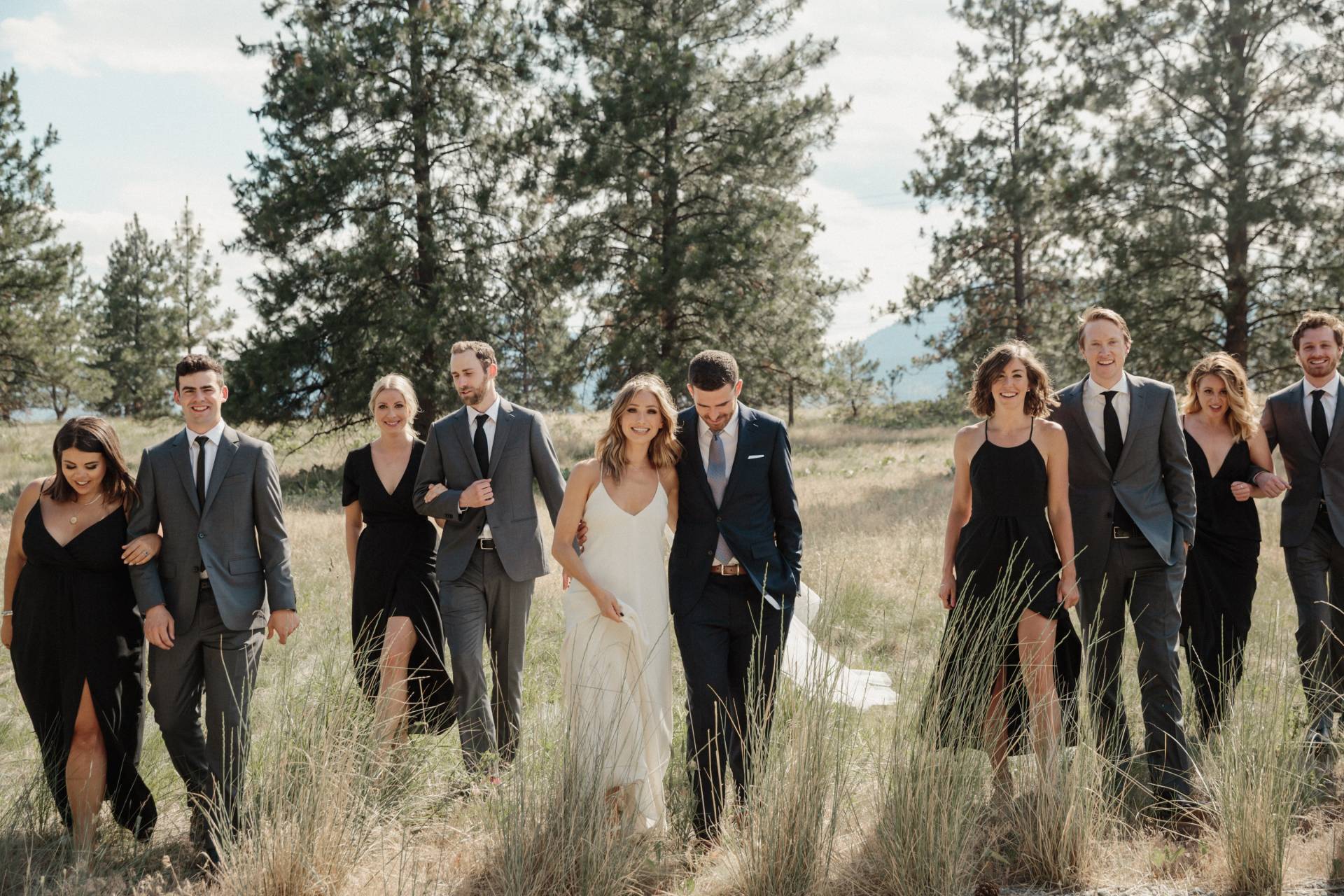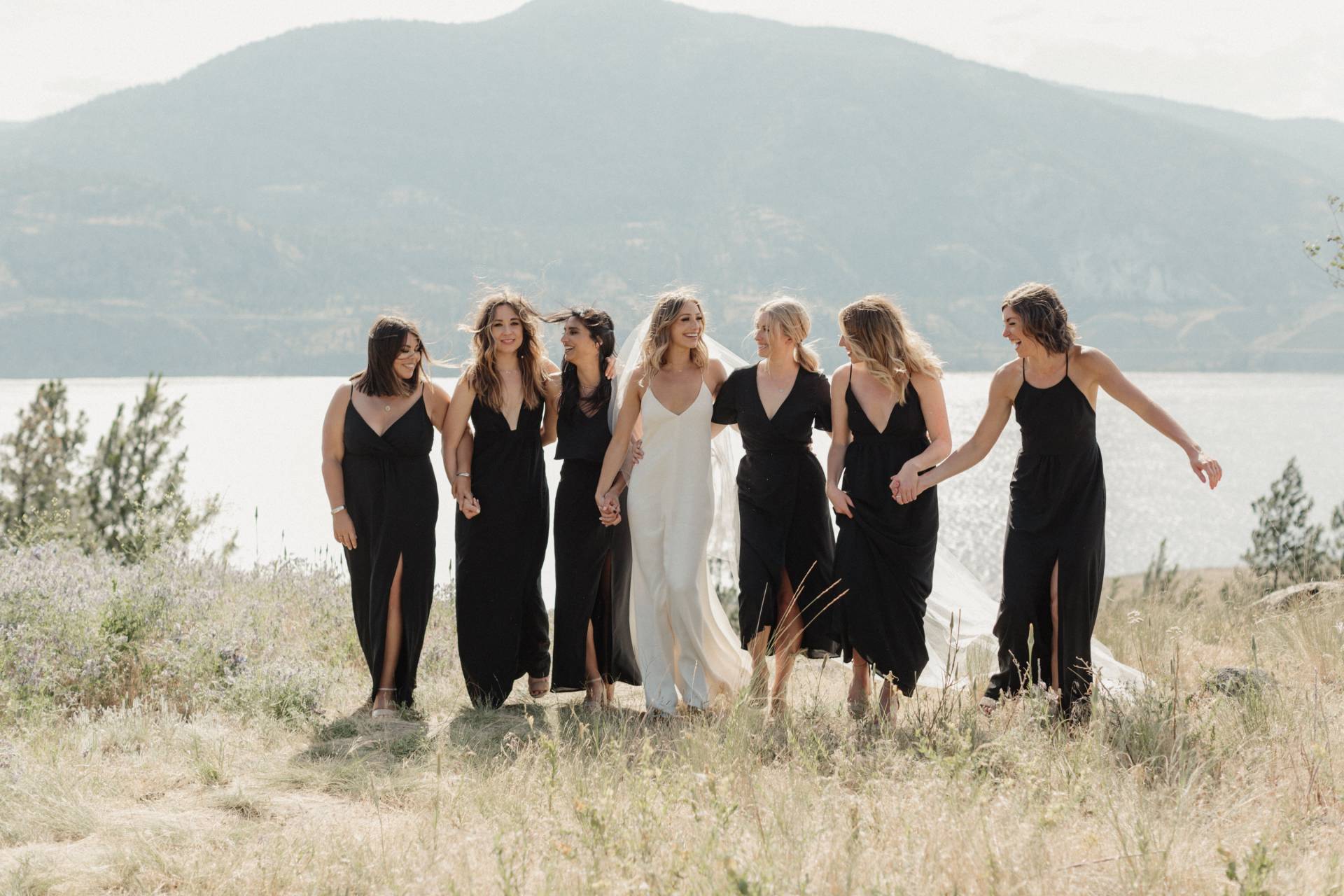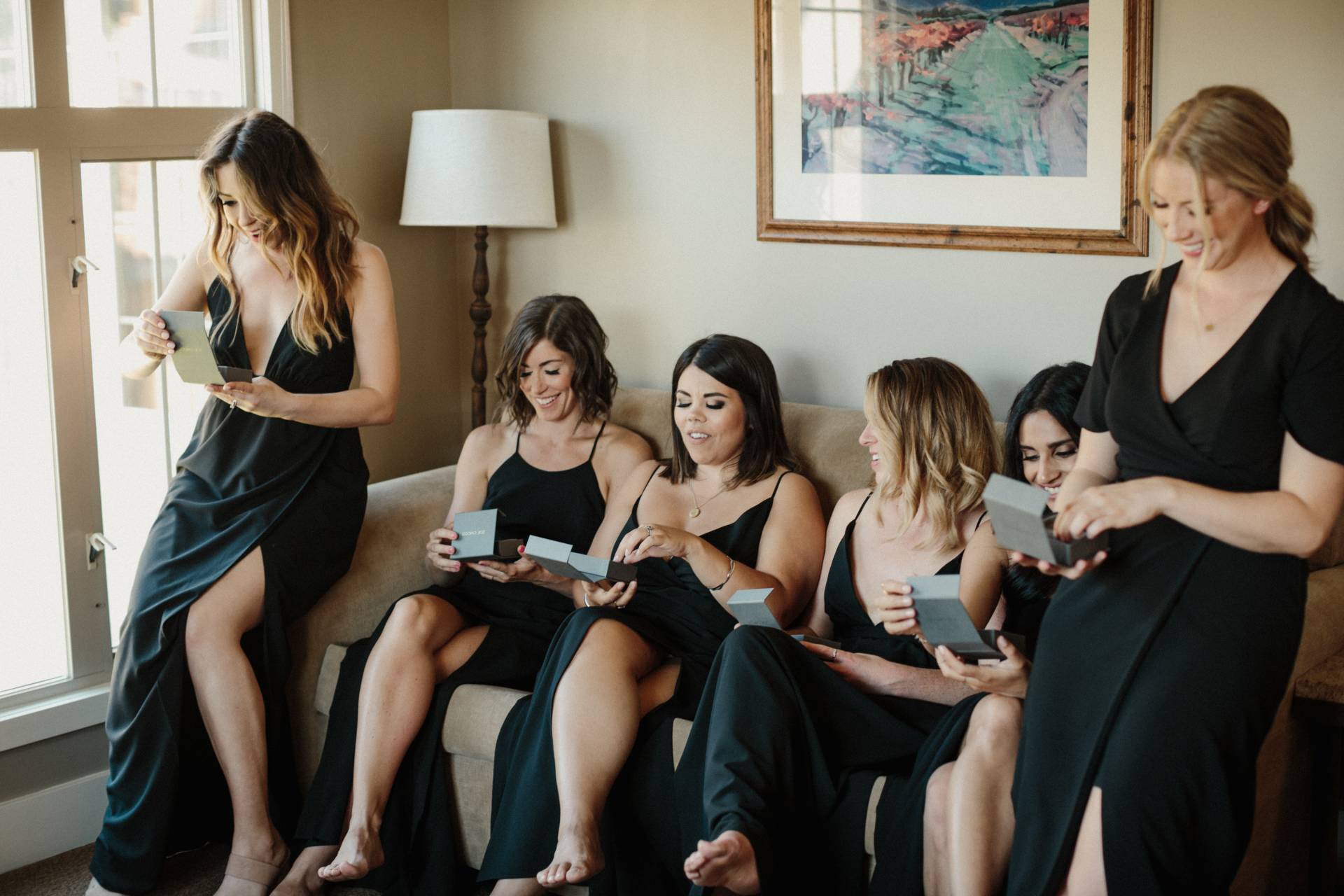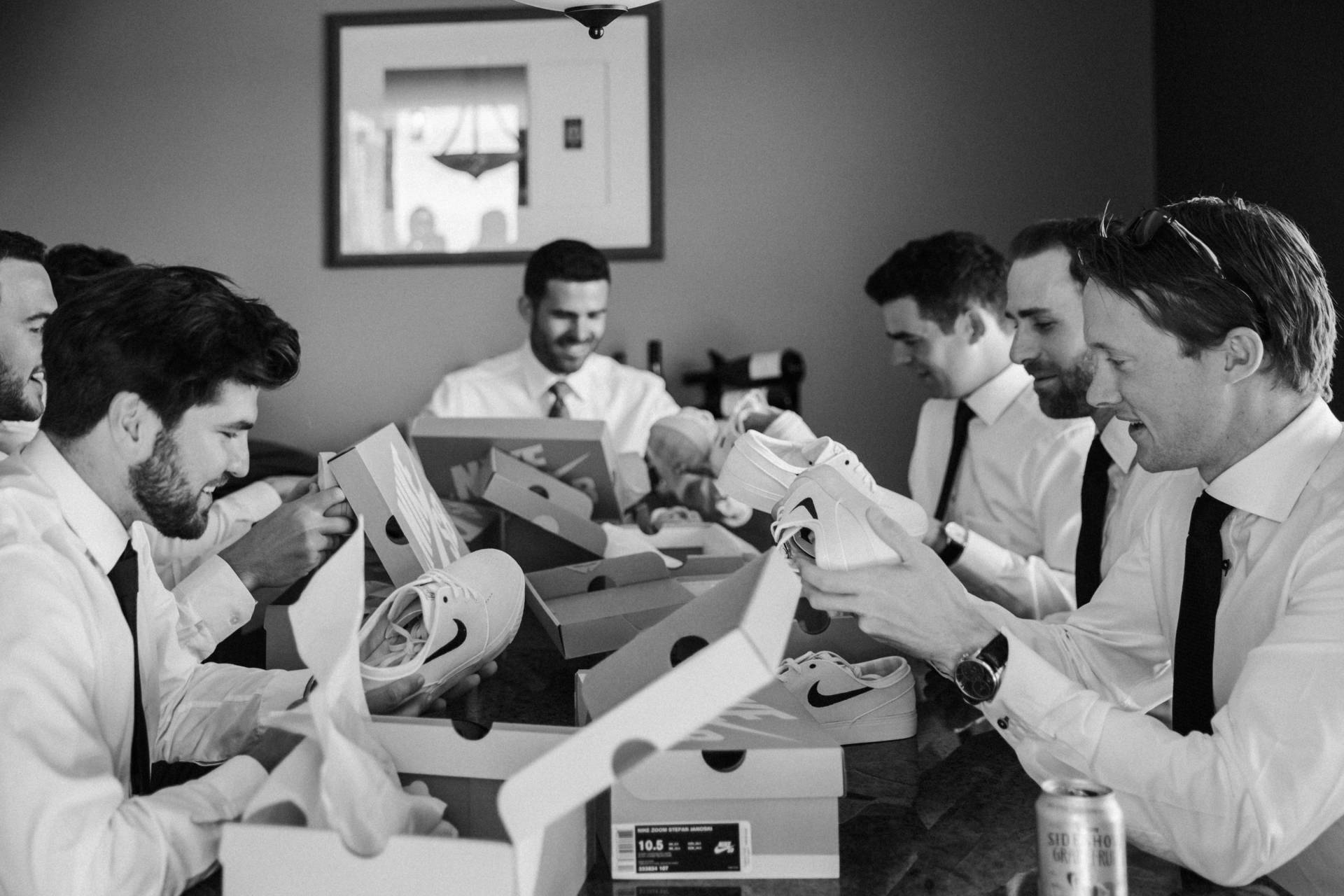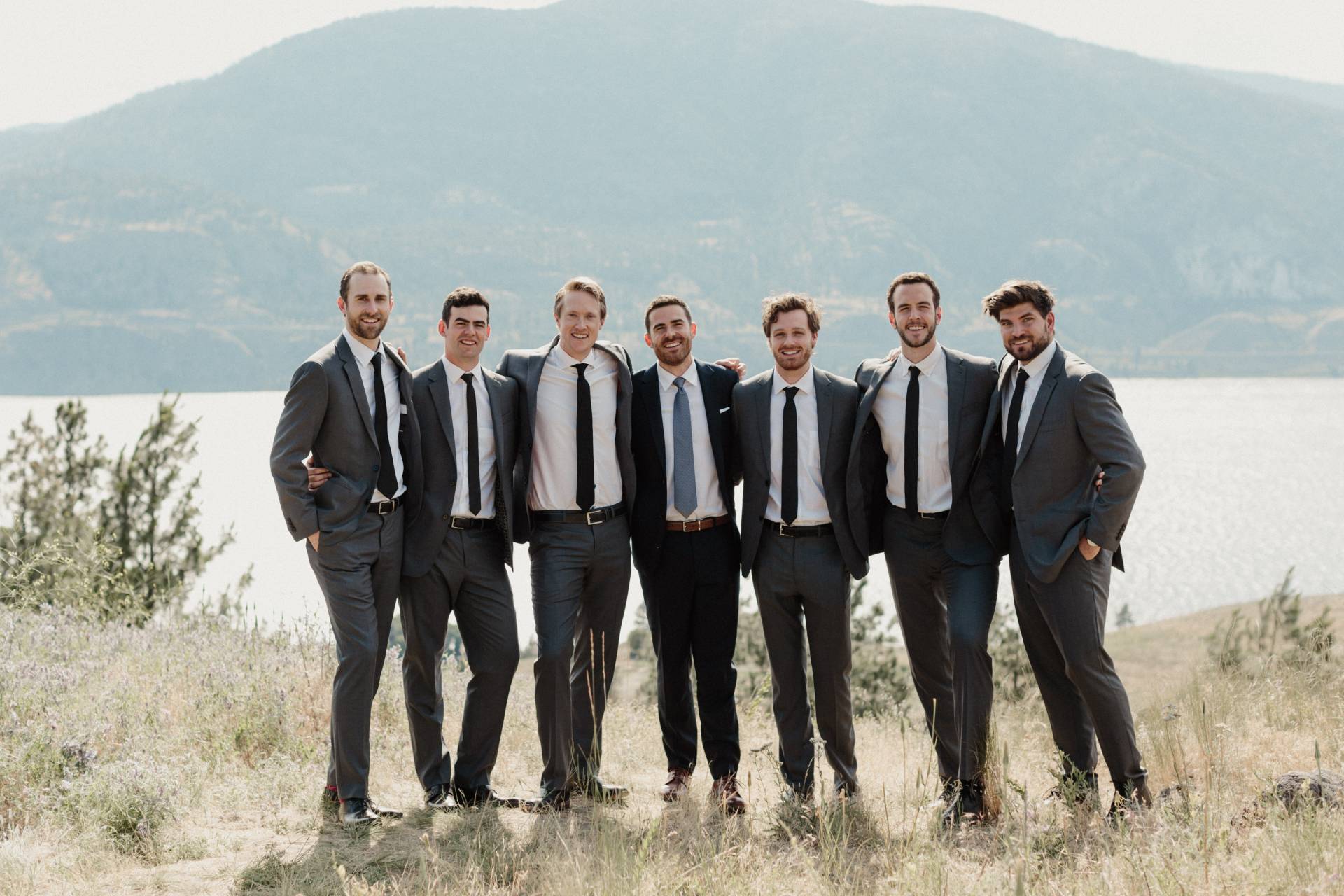 THE VENUE
Finding the venue was by far the most stressful part of planning the wedding. We originally wanted a beach destination wedding, but couldn't find the right place (and for the right price). After snagging Alicia Keats as our wedding planner (she's an old friend of mine and the best in the business), we decided on Painted Rock Estate Winery in the Okanagan. It's one of the most beautiful places in the world with an open view of the lake that gave us the expansive feel we had originally wanted with a beach wedding.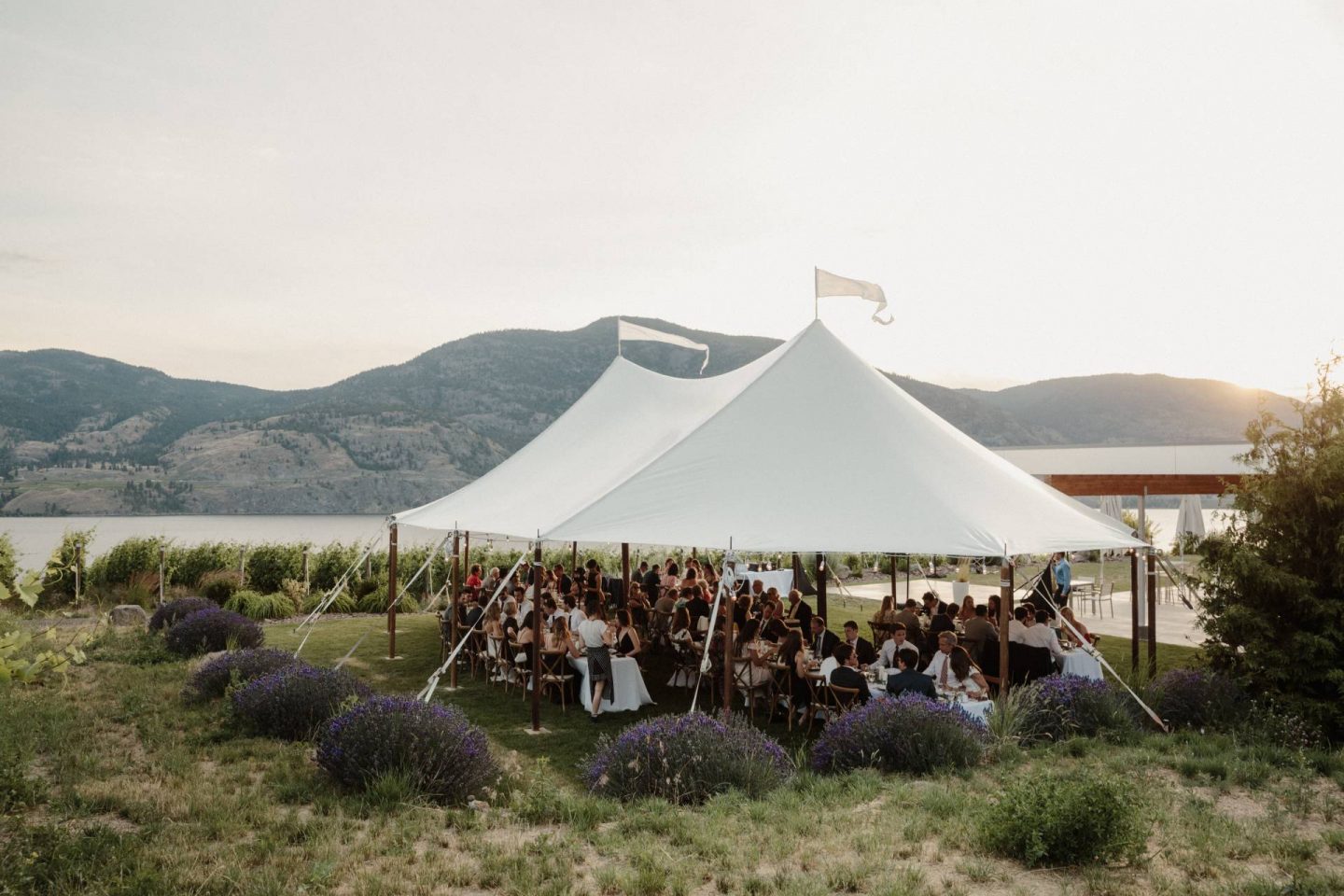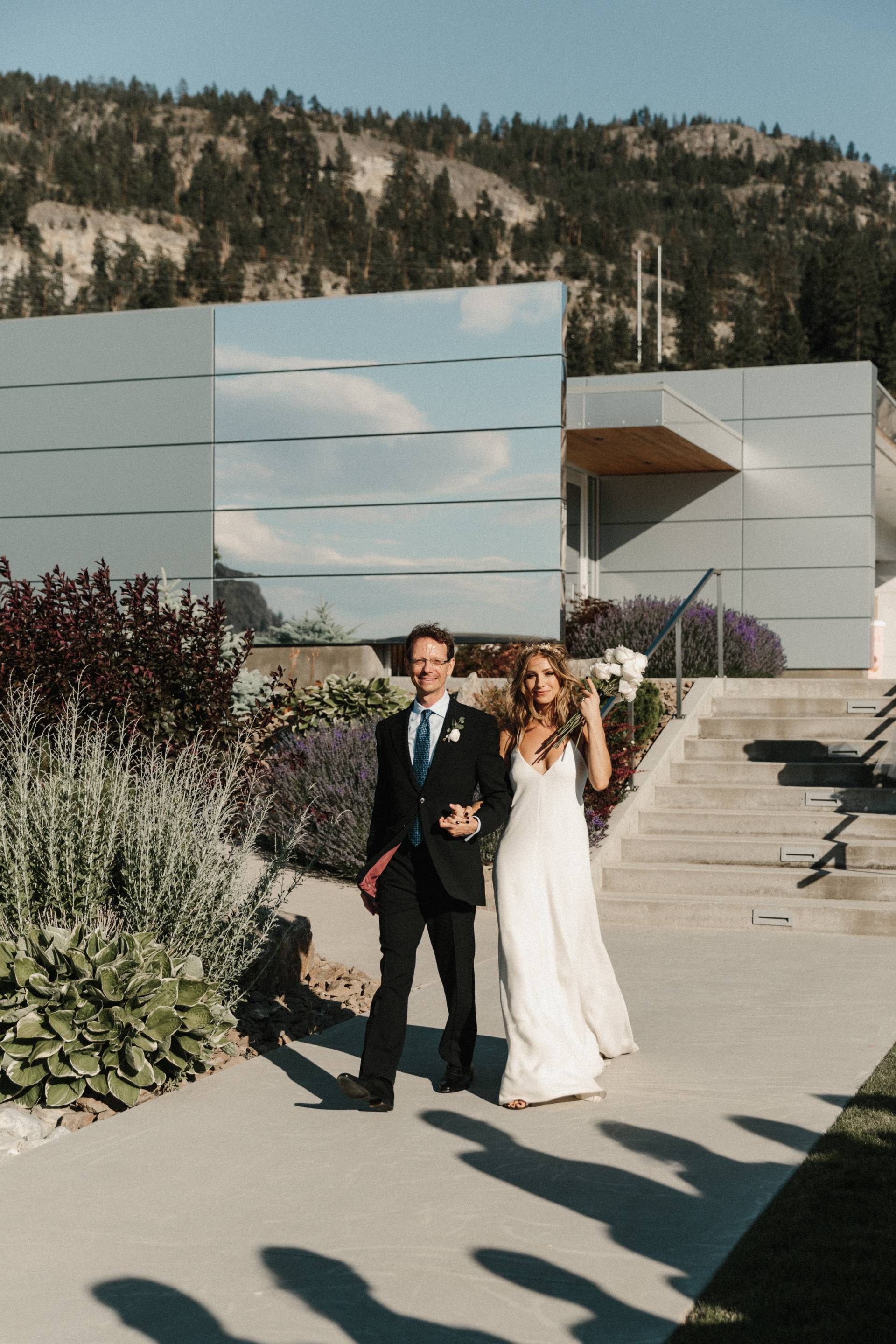 THE CEREMONY + RECEPTION
I knew that I wanted something that felt less like a formal wedding and more like a chic party. We were going for a west coast modern feel using natural colours from the surrounding scenery like greens and whites, with a bit of black (the charger plates and the ribbon around my bouquet). I had wanted to work with OLF Co. for a while and loved their whole non-traditional bridal aesthetic. They also did an amazing alter structure that wasn't too "bridal".
Our table setting was something I really loved – we went with a black charger plate and gold cutlery, with a centrepiece of simple white candles and greenery. One of my biggest requests was string lights, so we had them in the tent and above the dance floor (where I stayed most of the evening!).
Our guest book was custom made Atelier Delphine Platten, who is Montreal-based, with our names embossed on the front in gold. We had polaroid cameras and asked our guests to take photos and write something instead of the traditional guest signing book. I love looking at it!
One of my favourite moments of the whole night was being announced as married and walking into our dinner – there was just so much love and I feel so happy we could have our favourite people in the world there to share it with us.
(See black and white photo below for that moment)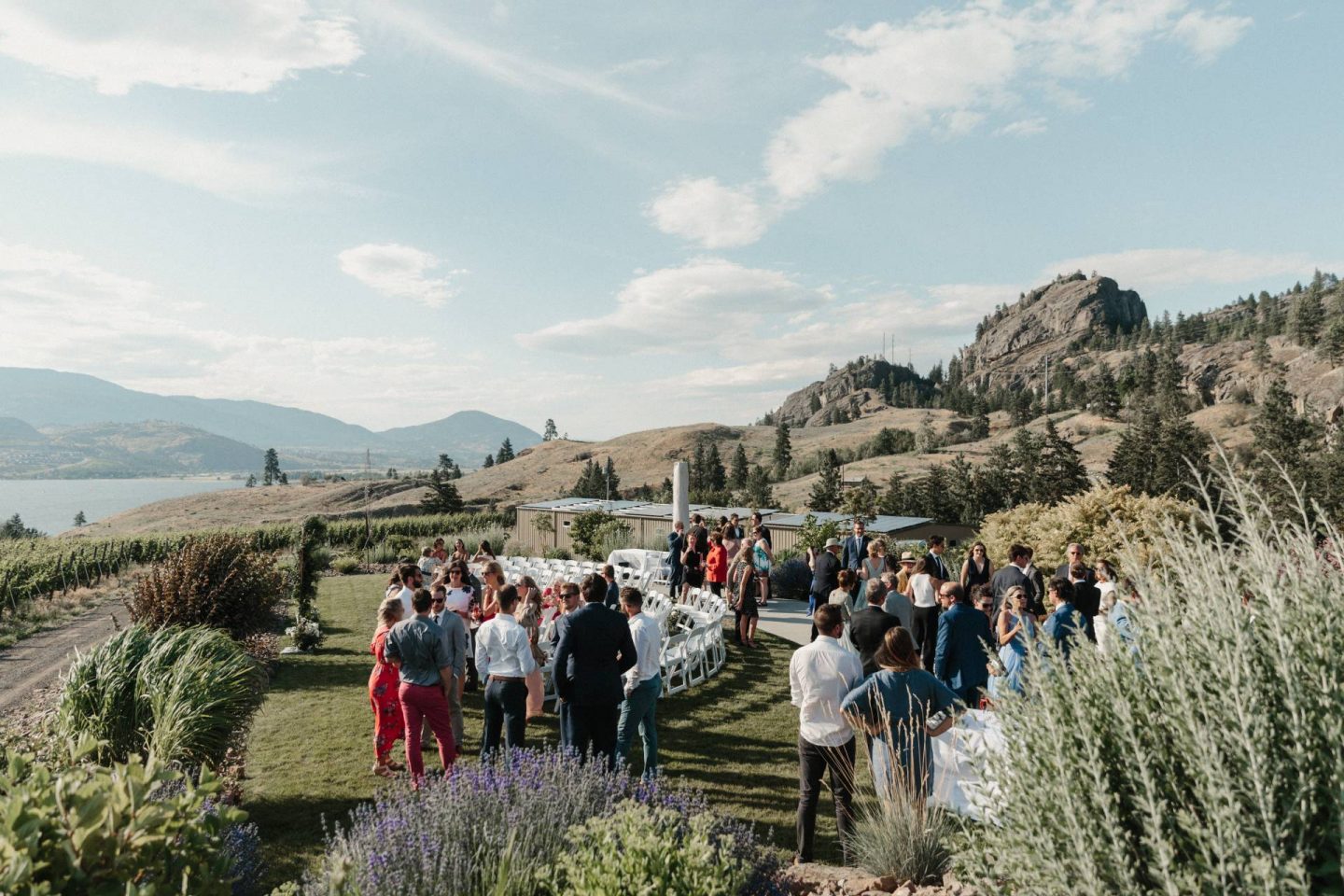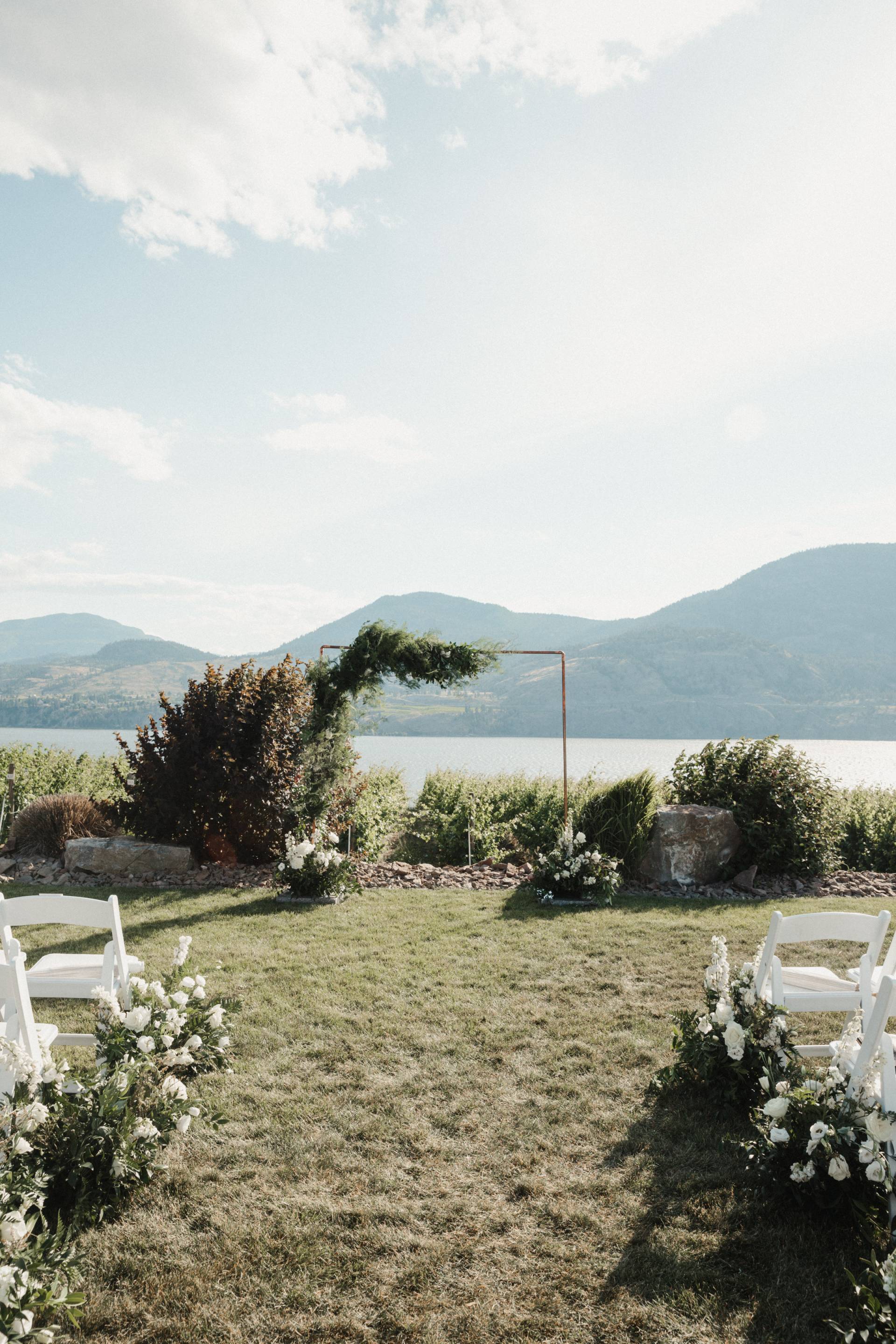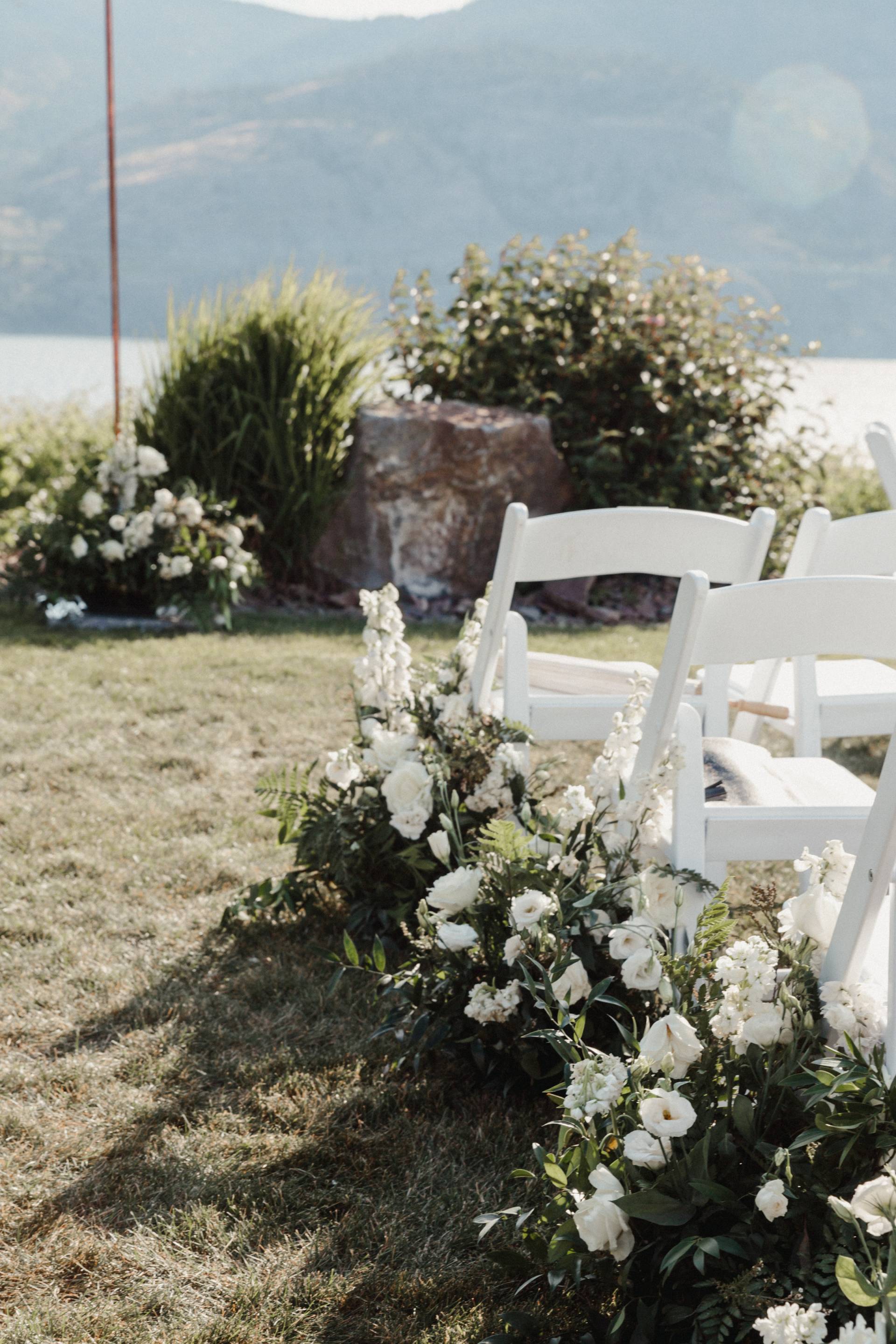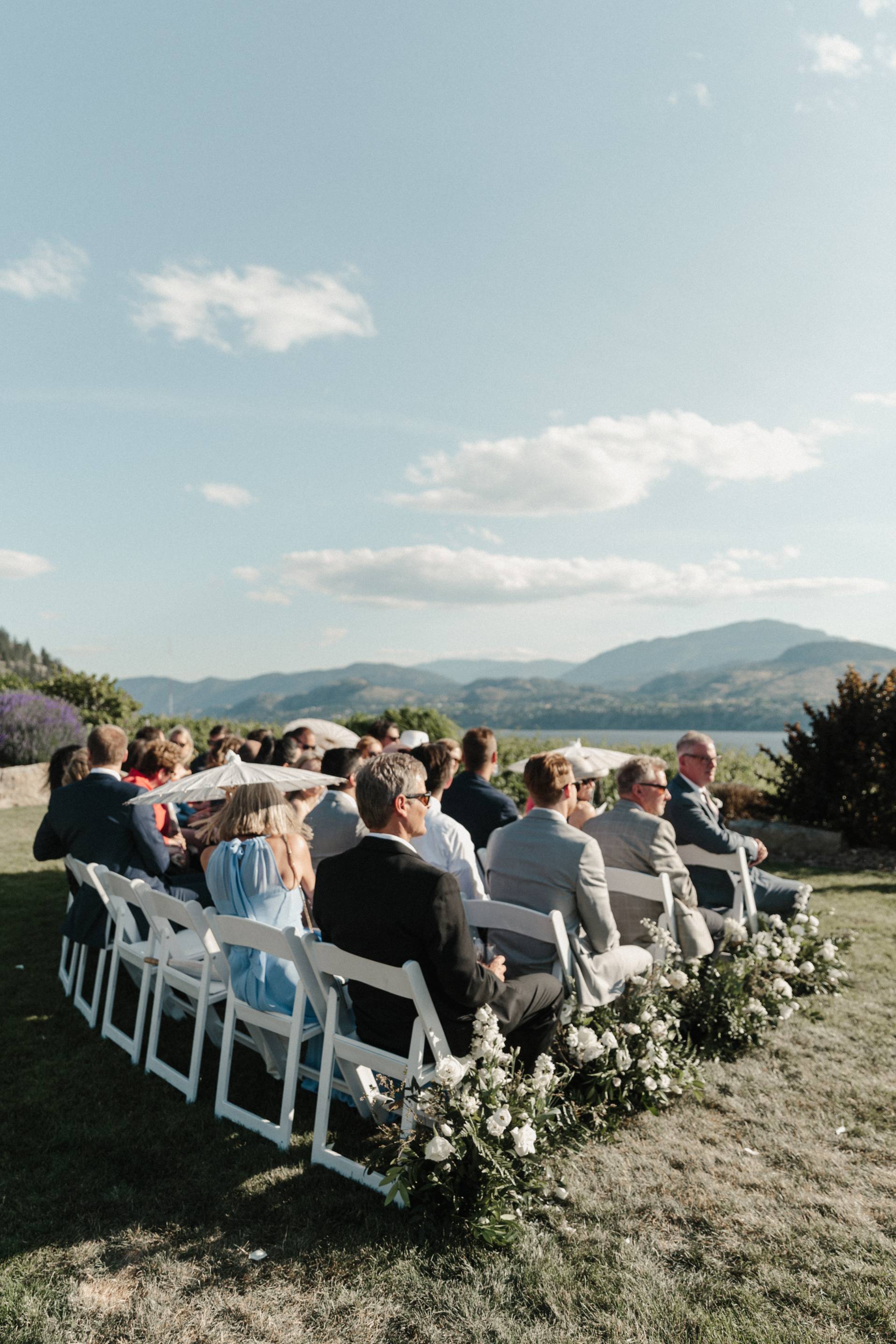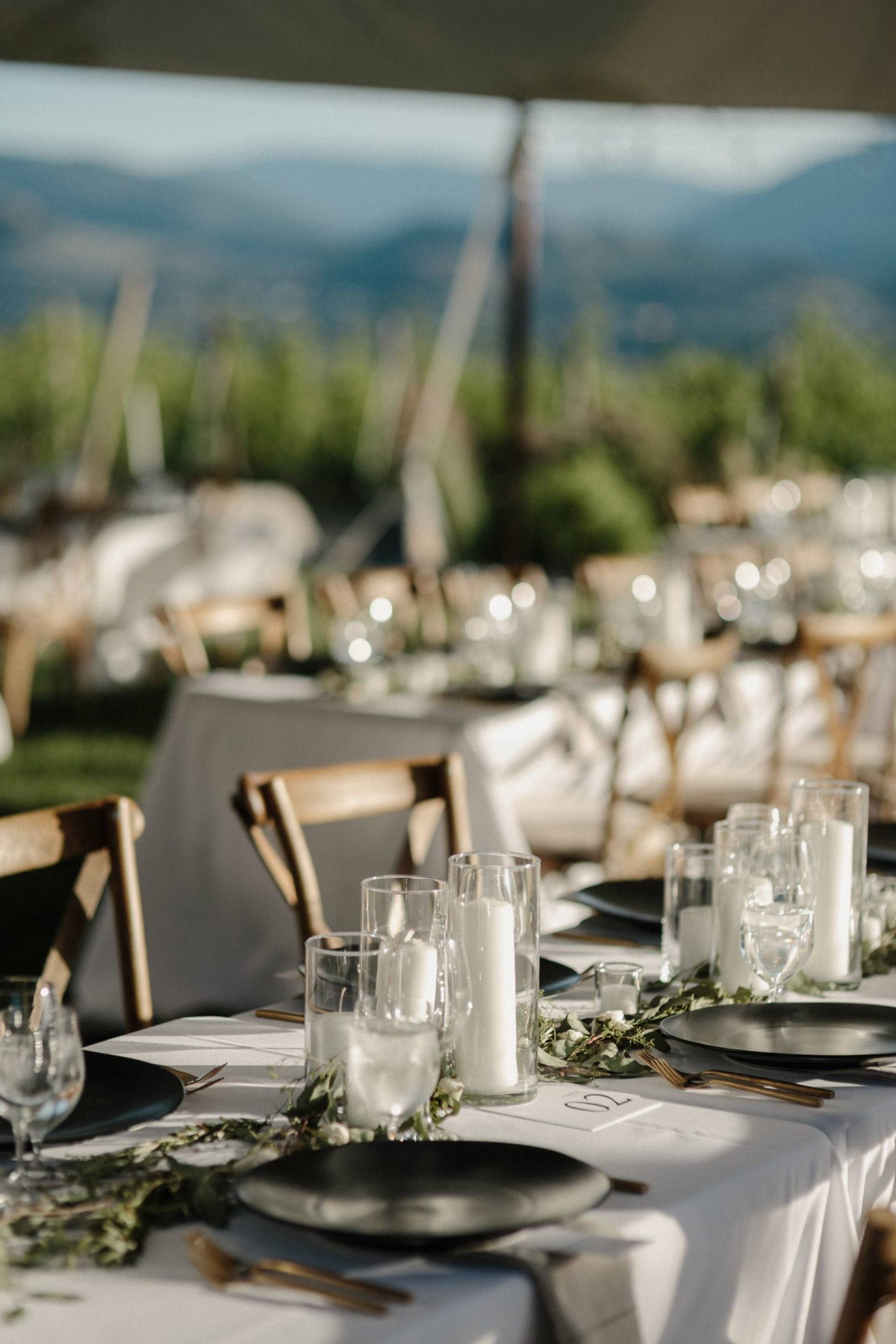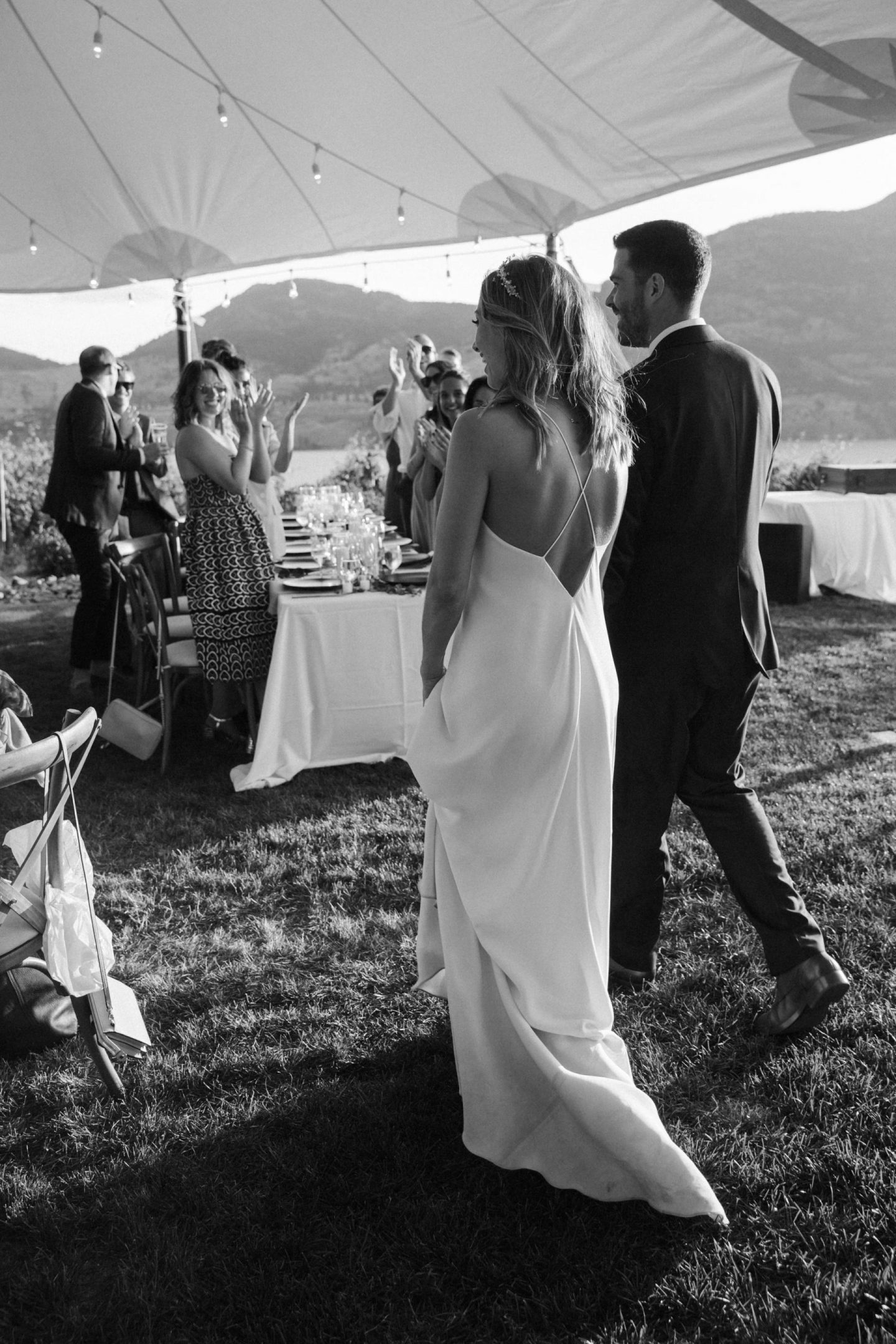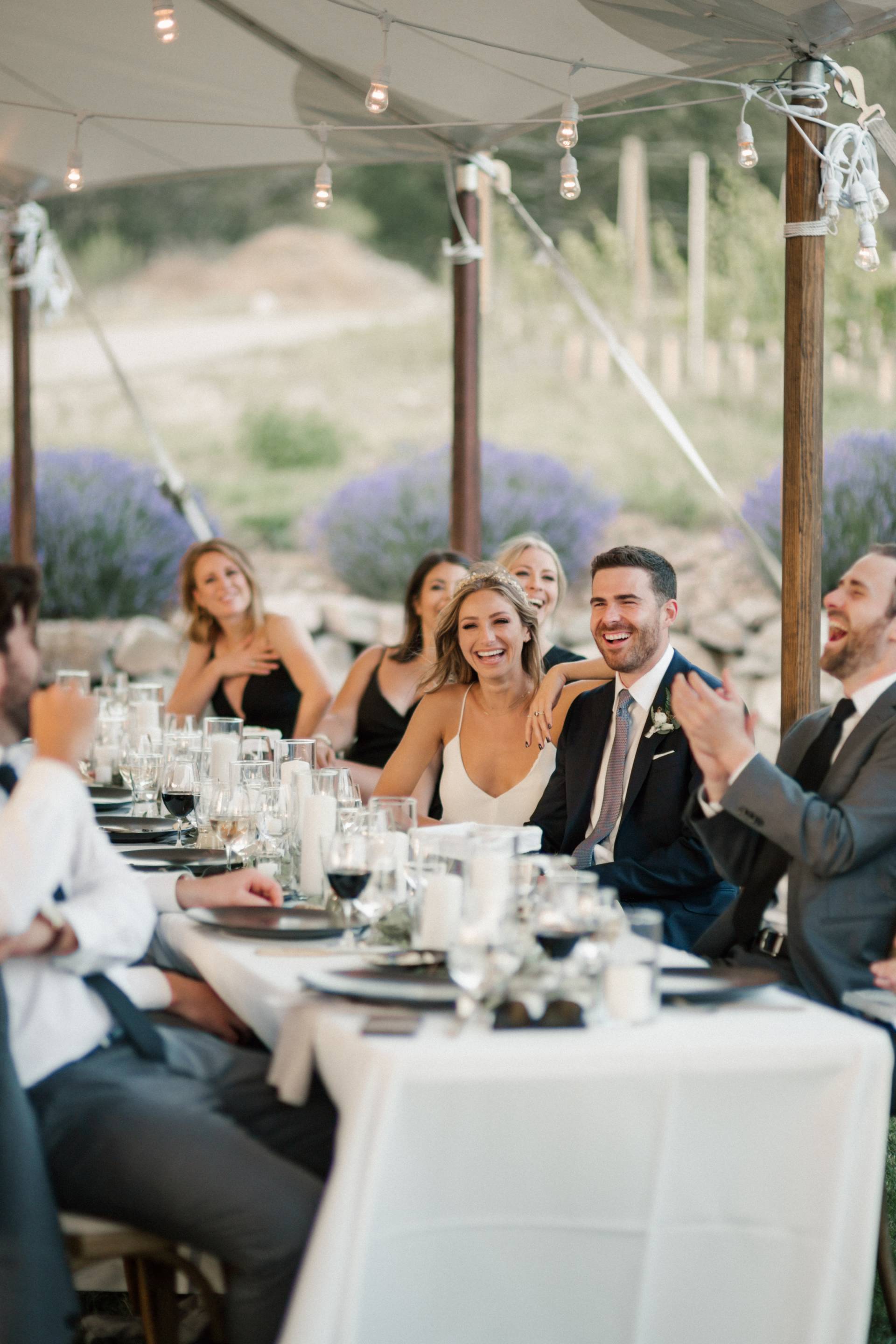 THE DANCING
After dinner, we wanted to get everyone on the dance floor as soon as possible. We decided to have a very short 30-second first dance (neither of us were that comfortable dancing in front of people for 3 minutes) for the photo and then getting the party started. We danced to Paradise by Coldplay.
As I mentioned, I changed into a shorter (and more party-friendly) dress and am glad I did, because I was sweating by the end of the night.
At the end of the night, everyone went back to our hotel to an A&W filled afterparty – this was one of my non-negotiable for the wedding. It was a late and absolutely wonderful night. I truly wish we could do it again.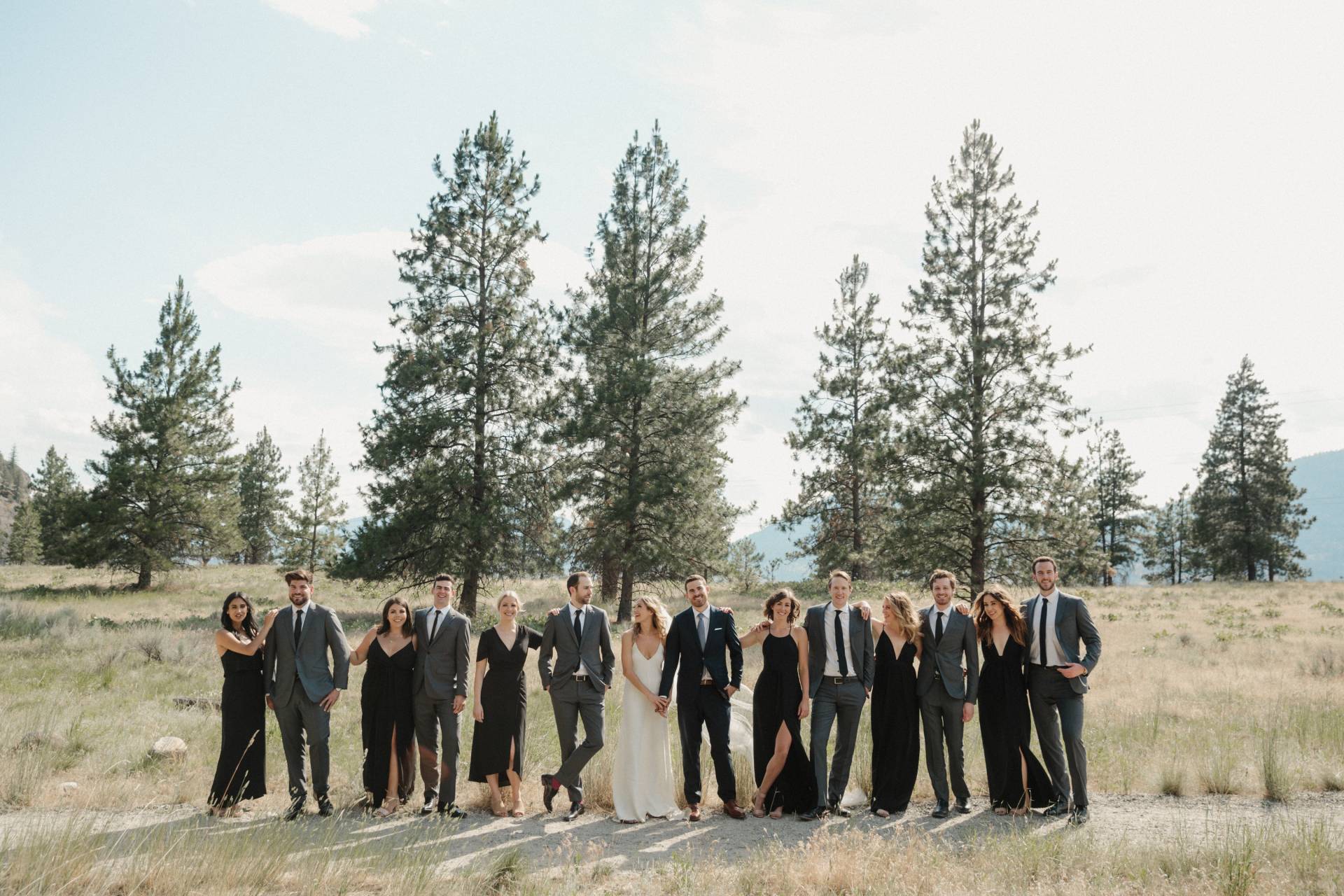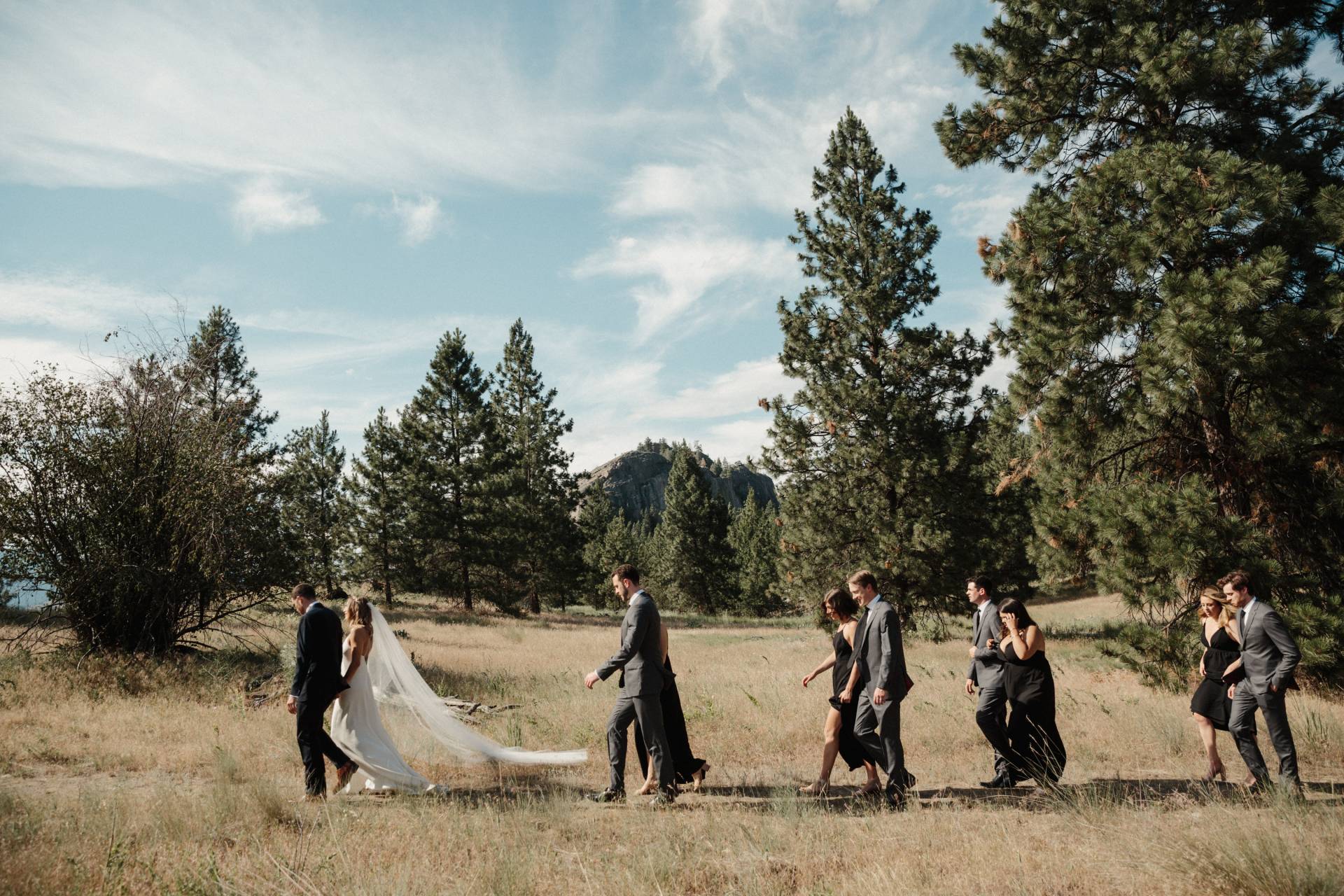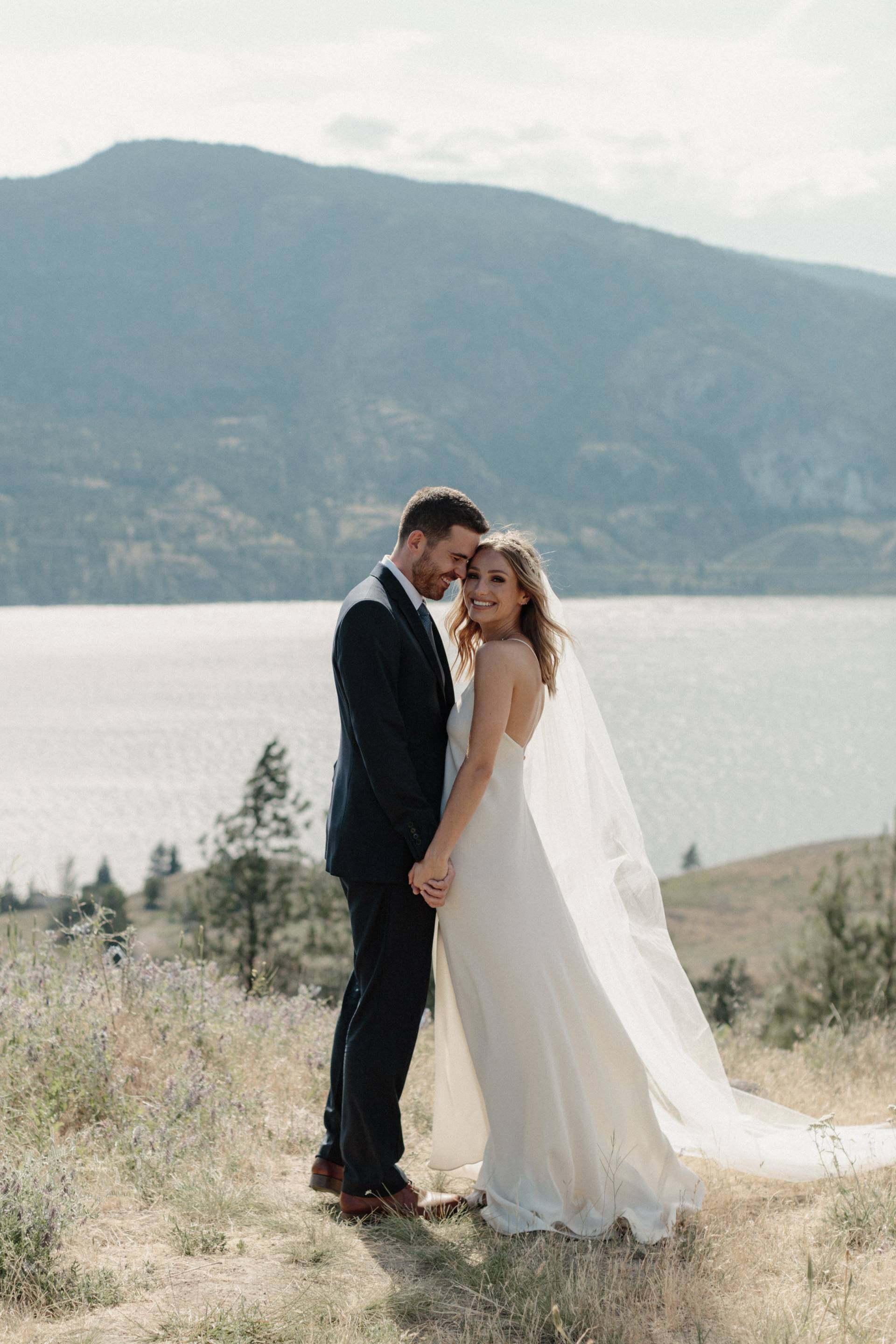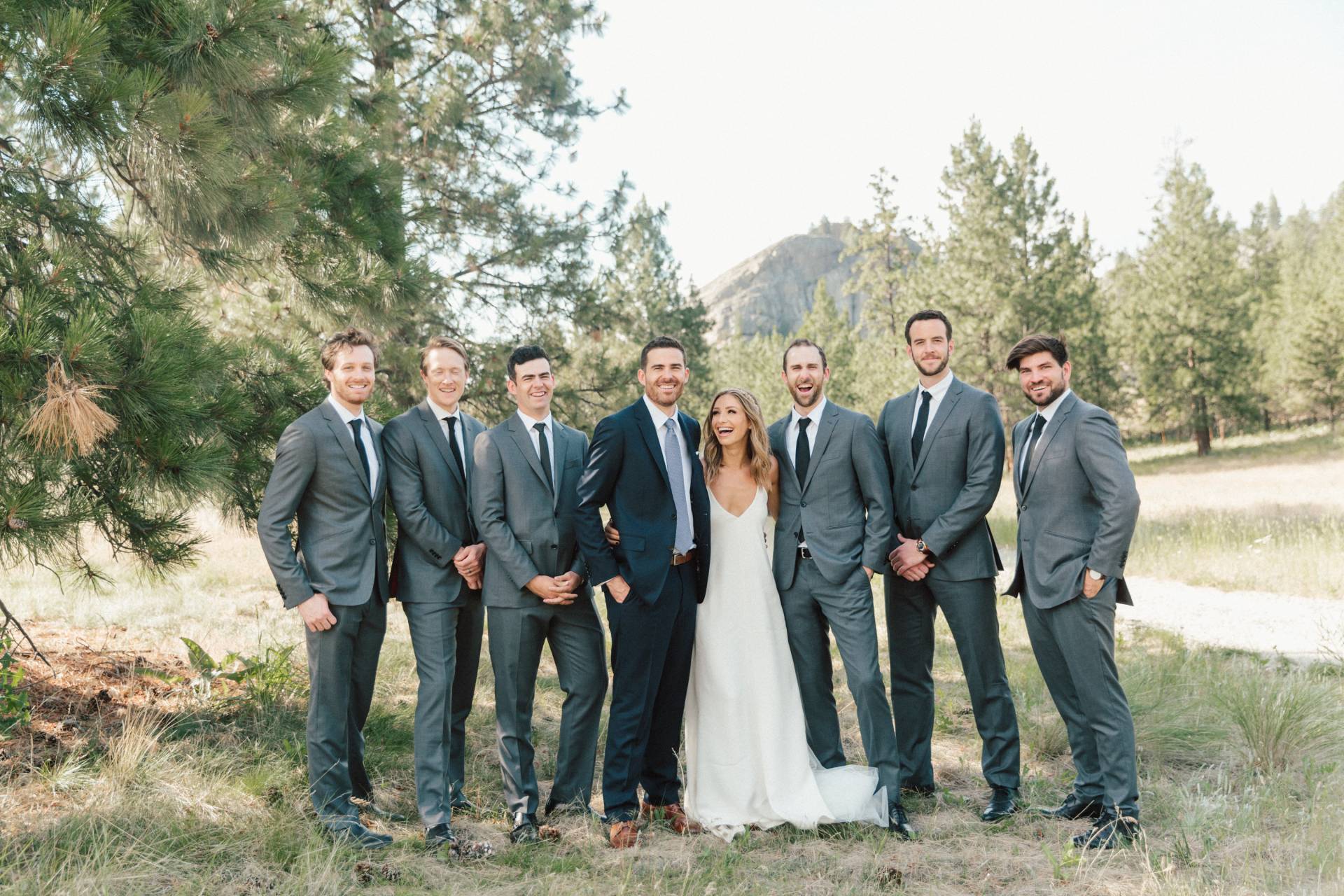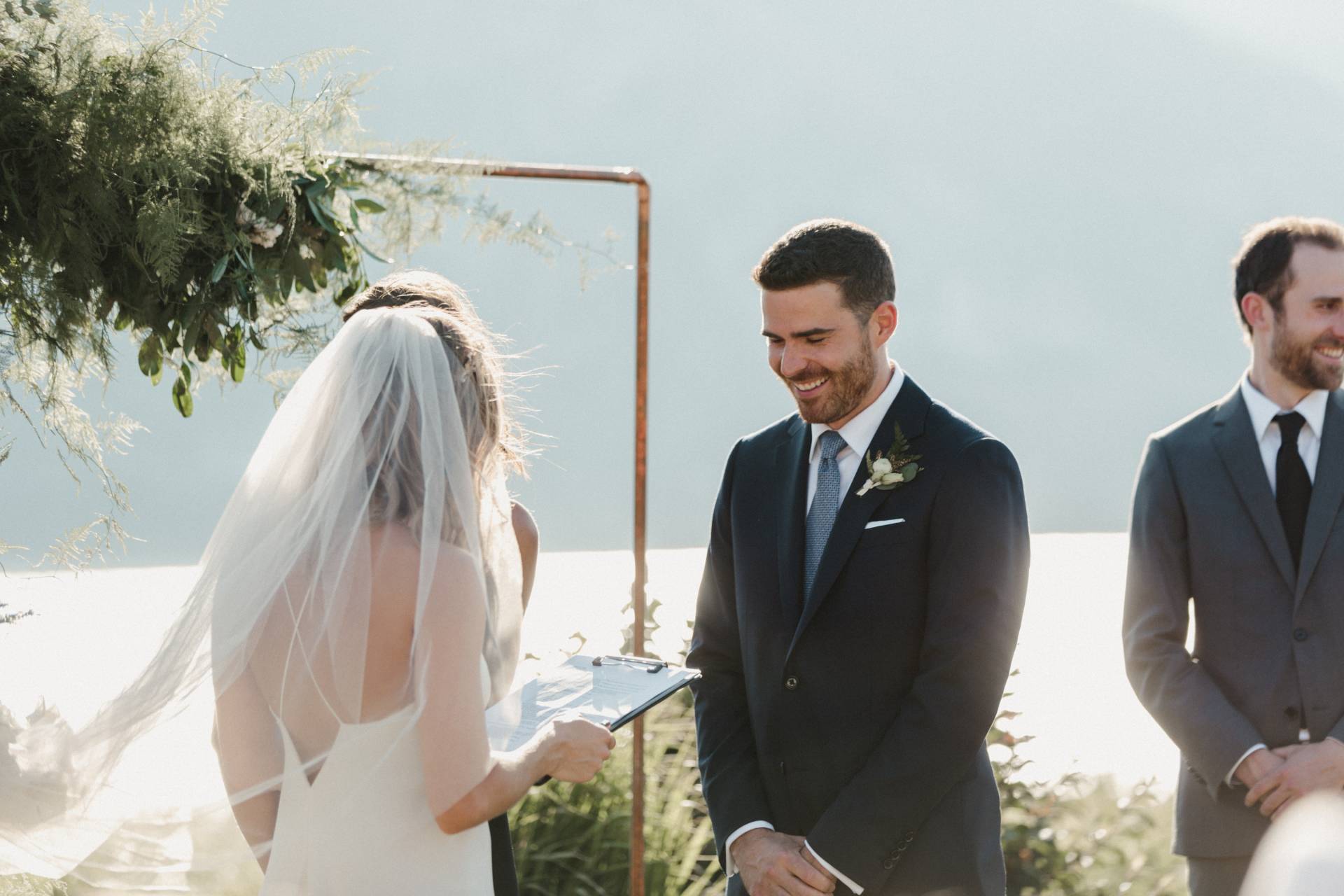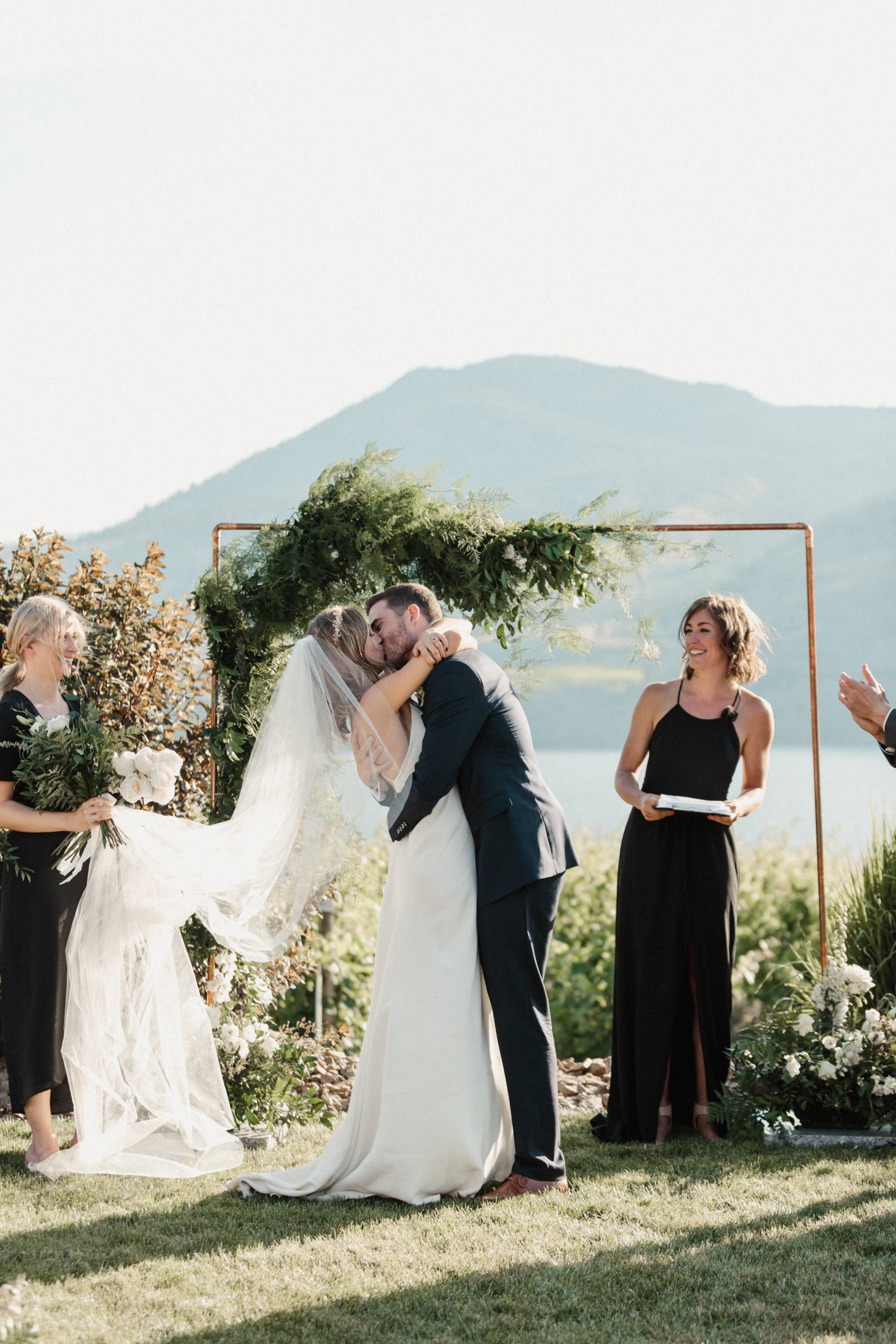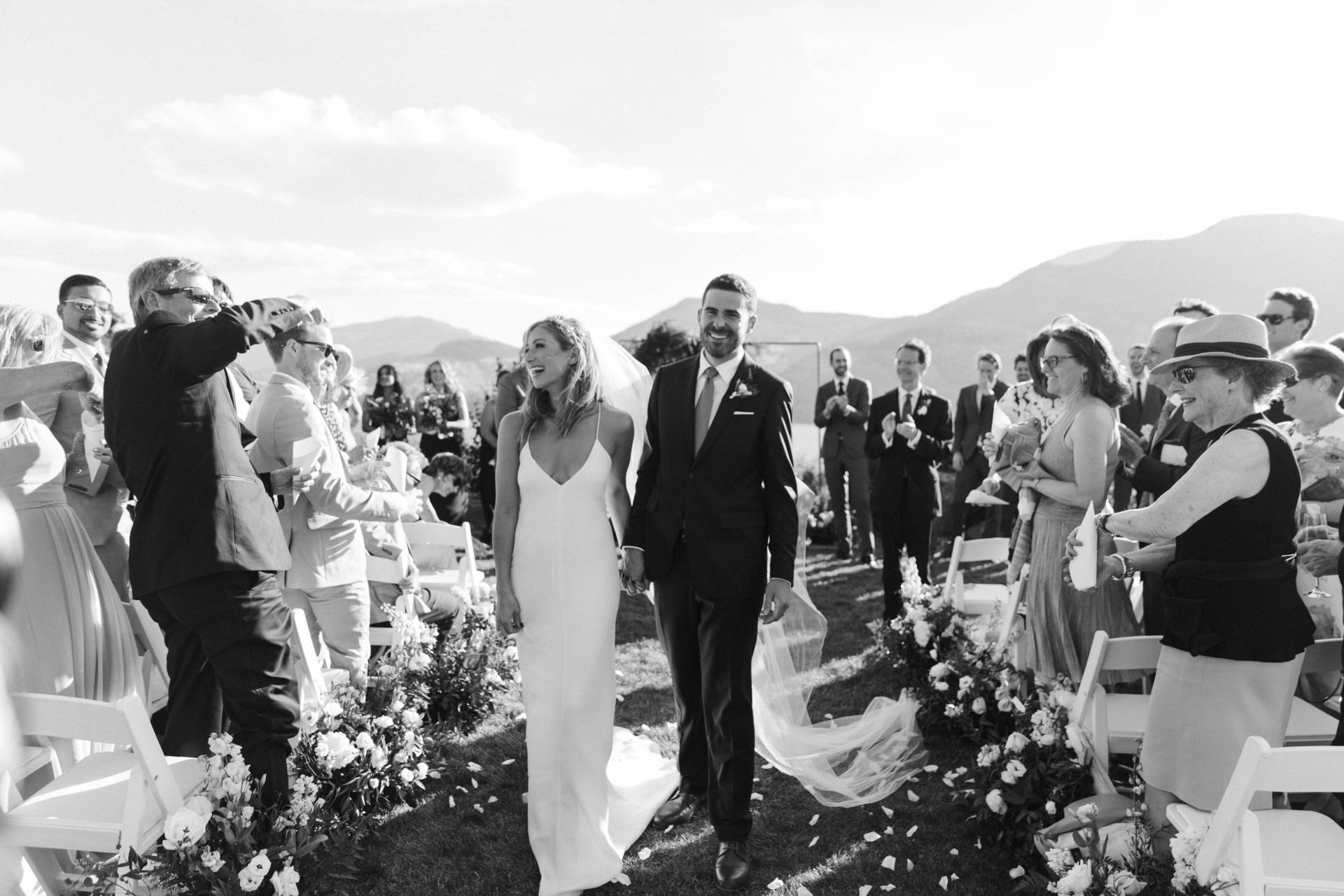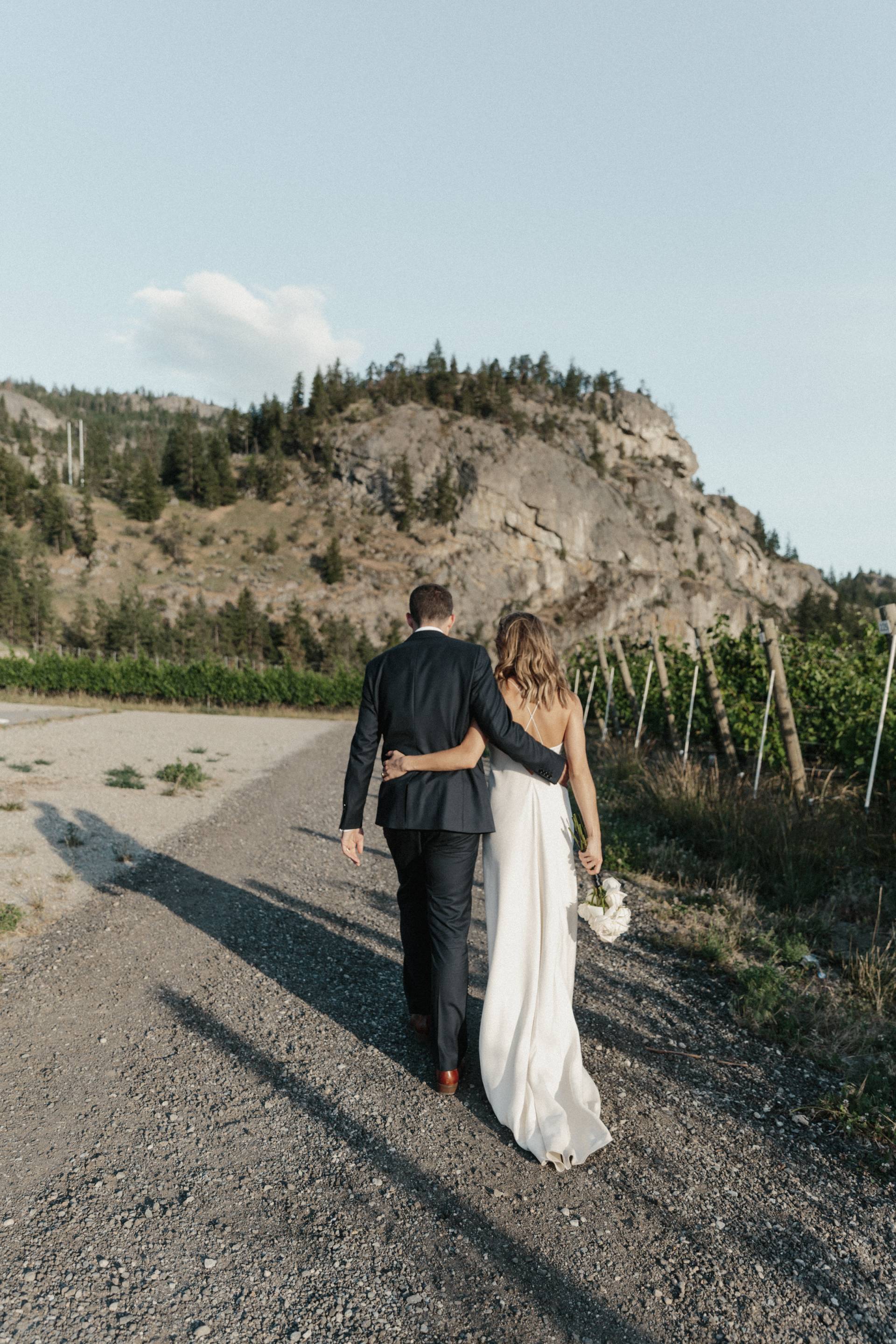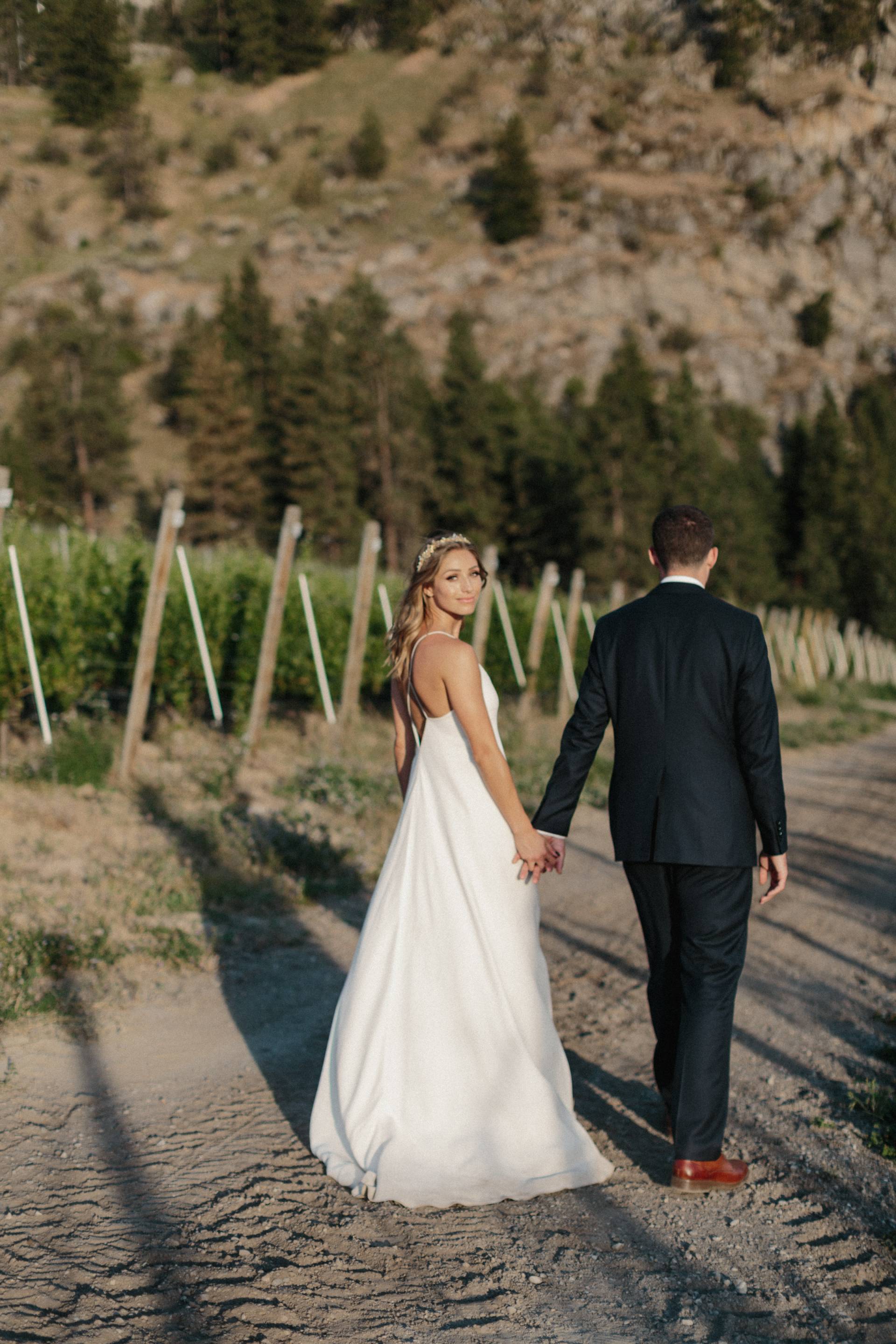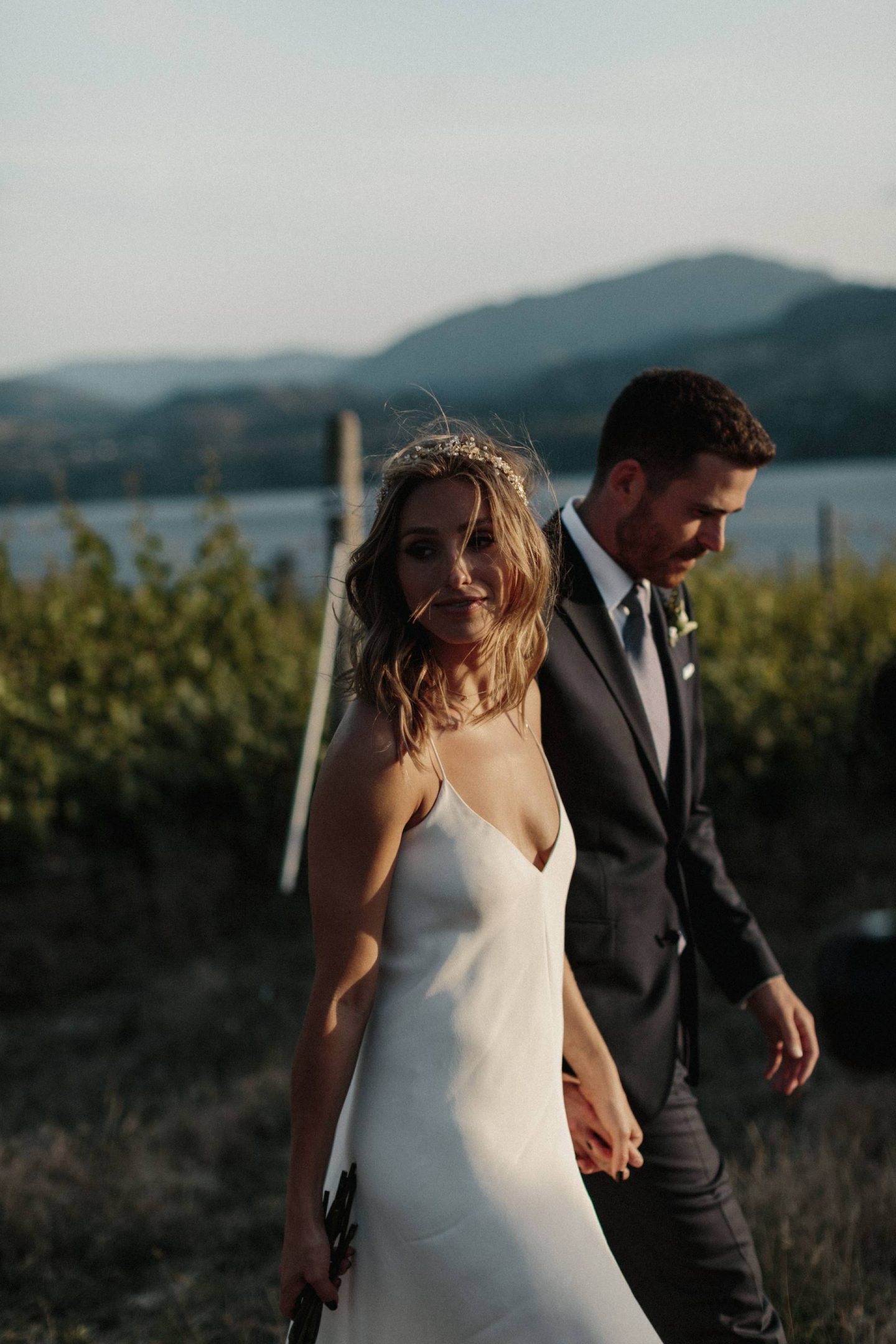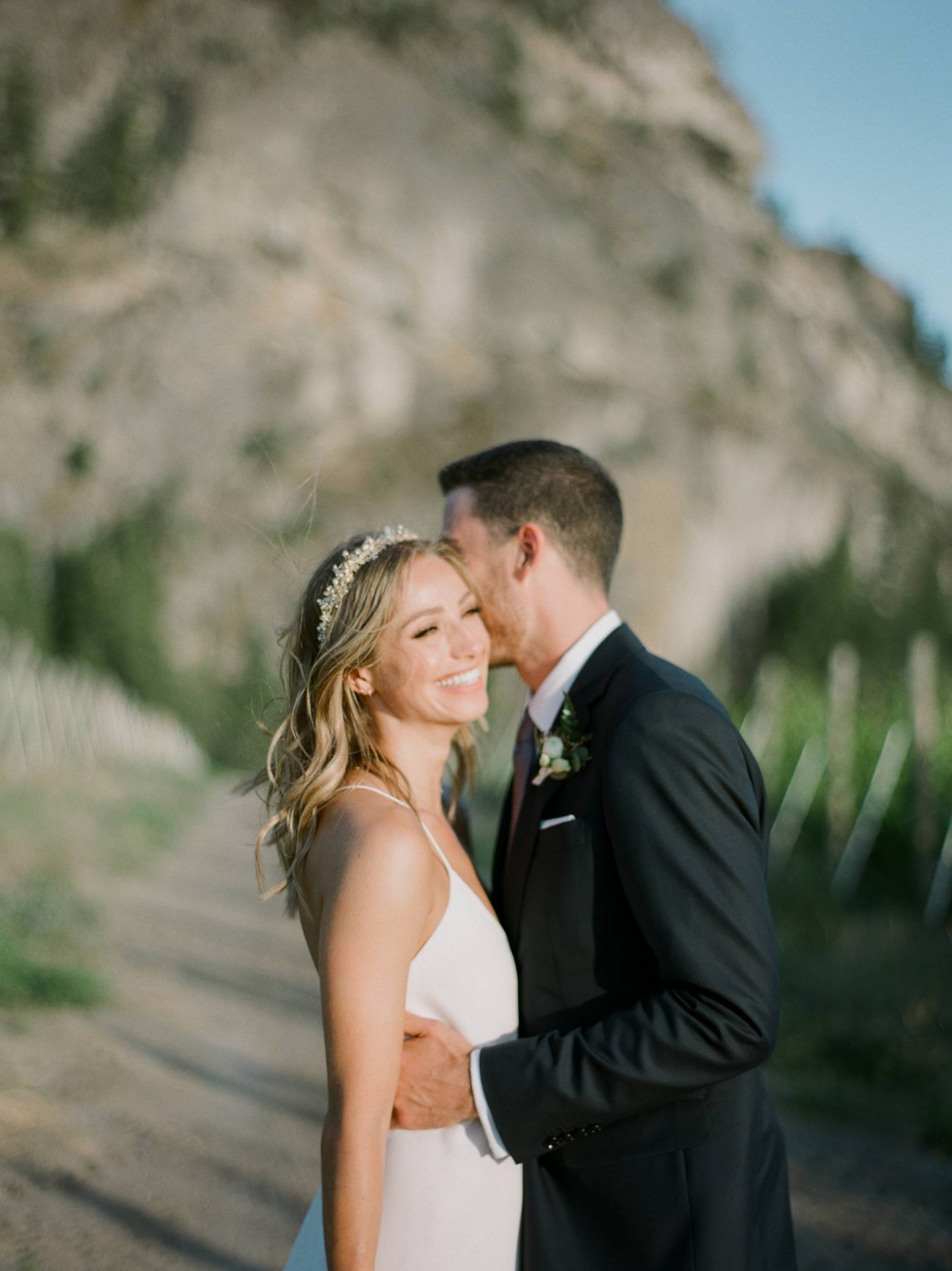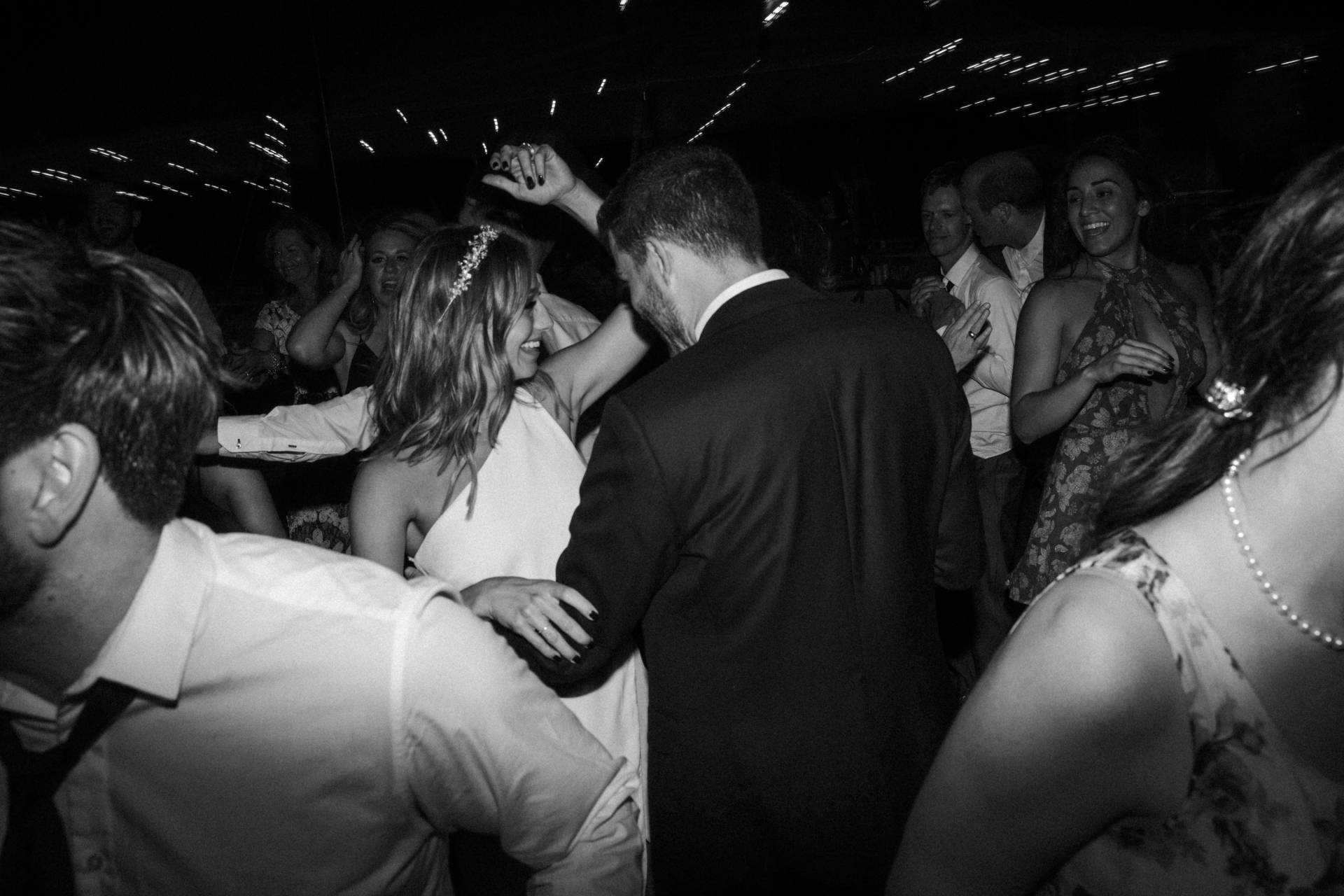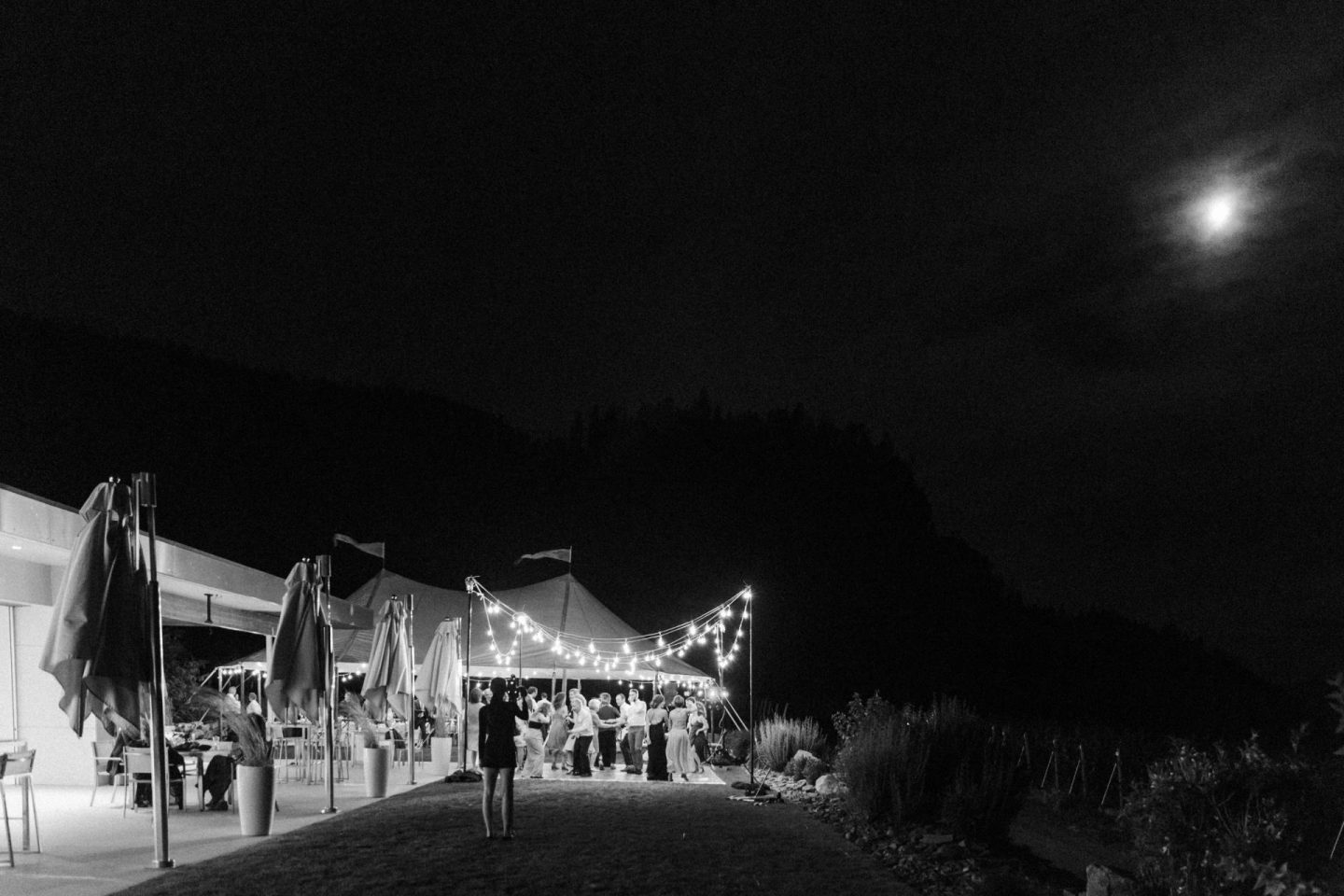 Ceremony + reception venue: Painted Rock Estate Winery
Wedding planner: Alicia Keats
Flowers: OLF Co.
Photographer: Britney Gill
Videographer: Kyla Habazin
Bridesmaid dresses: Park + Fifth
Groom + Groomsmen's suits: Indochino
Wedding bands + engagement ring (custom): Studio 1098
Wedding dress: Calvin Klein – see below for similar options
Party dress: Michelle Mason – see below for similar options
Custom bridal headpiece: Morgan Lovely
Bridal makeup: L'Oreal Paris – tutorial here
Bridal hair: Nicole from Pomme salon
Bride's shoes: Saint Laurent and Gucci
DJ: John Byrne
Caterer: Joy Road Catering
Stationary: Love by Phoebe
Candles: Yummi
Guestbook: Custom Atelier Delphine Platten
Bridesmaid gifts: custom Zoe Chicco necklaces
Bridesmaids makeup: Smashbox Cosmetics
Groomsmen gifts: Nike shoes
SHOP SIMILAR WEDDING DRESSES
SHOP SIMILAR PARTY DRESSES