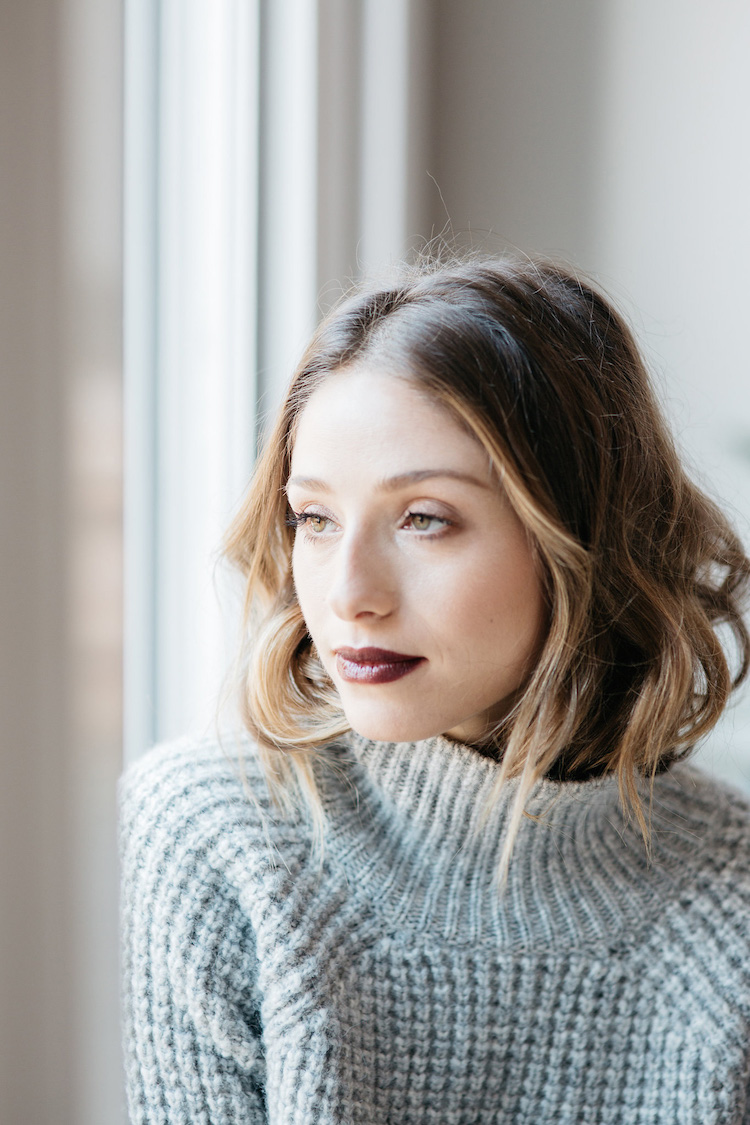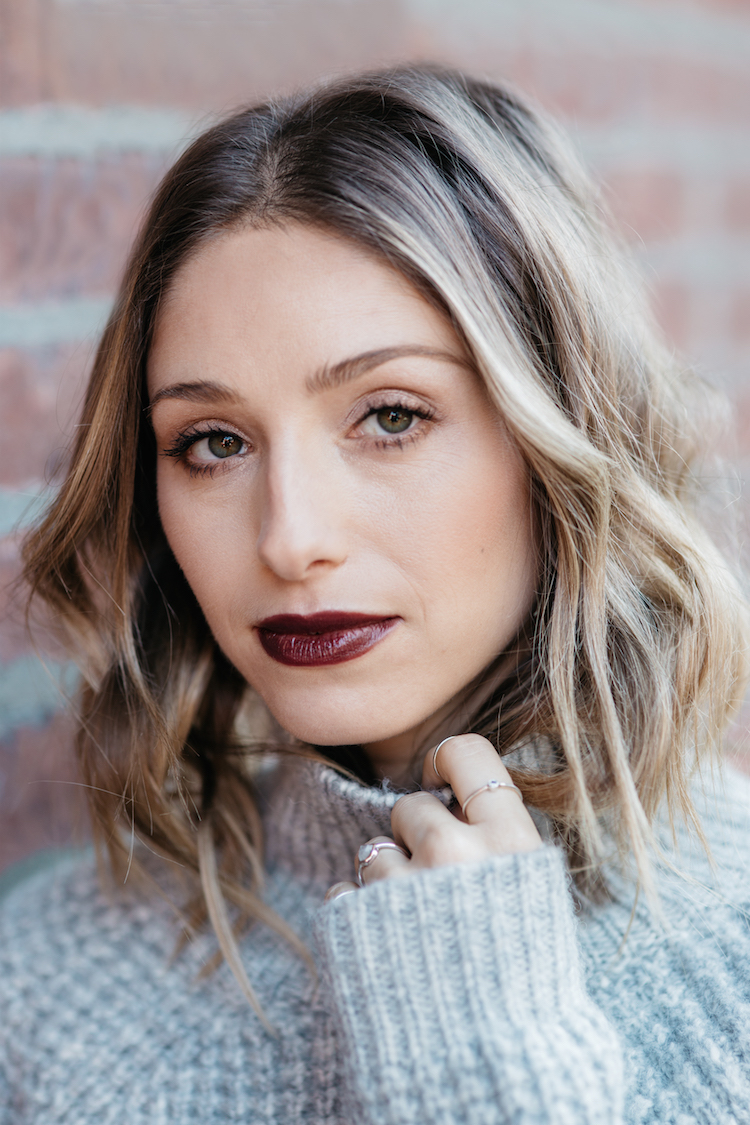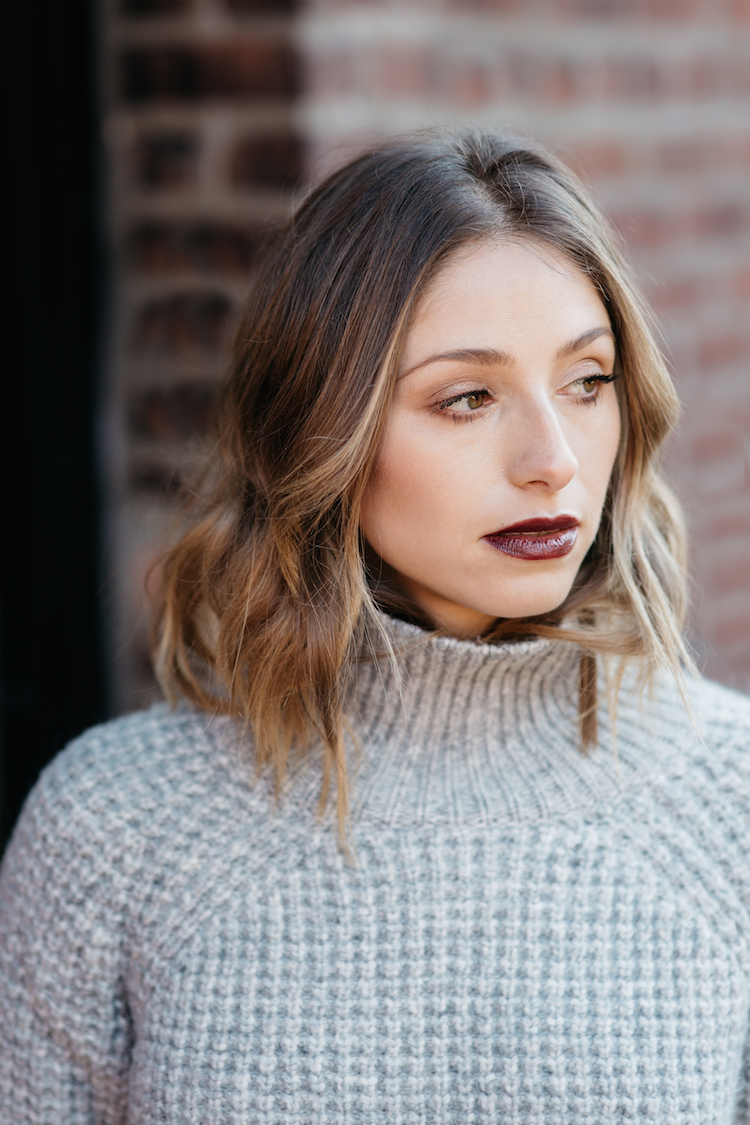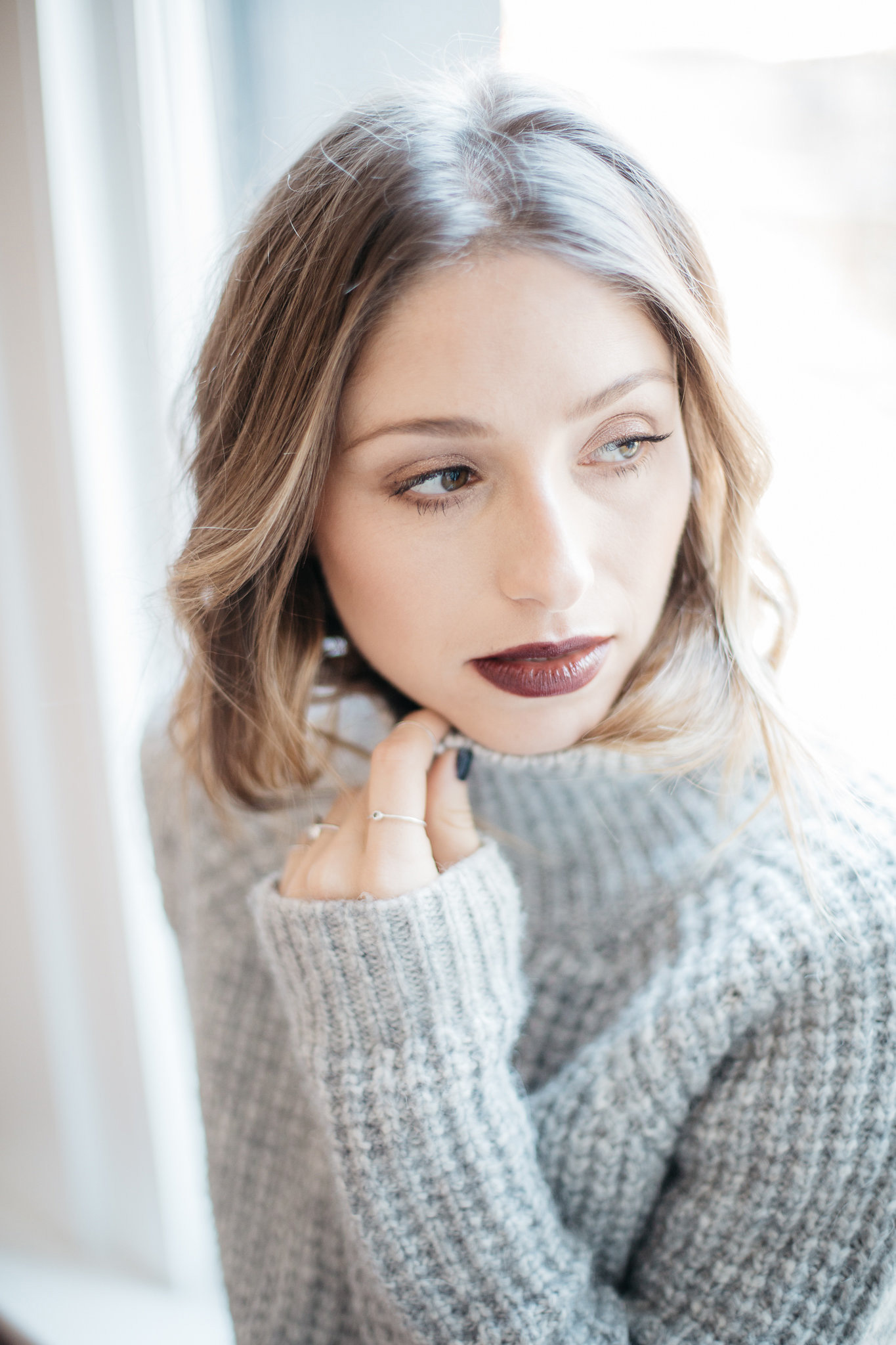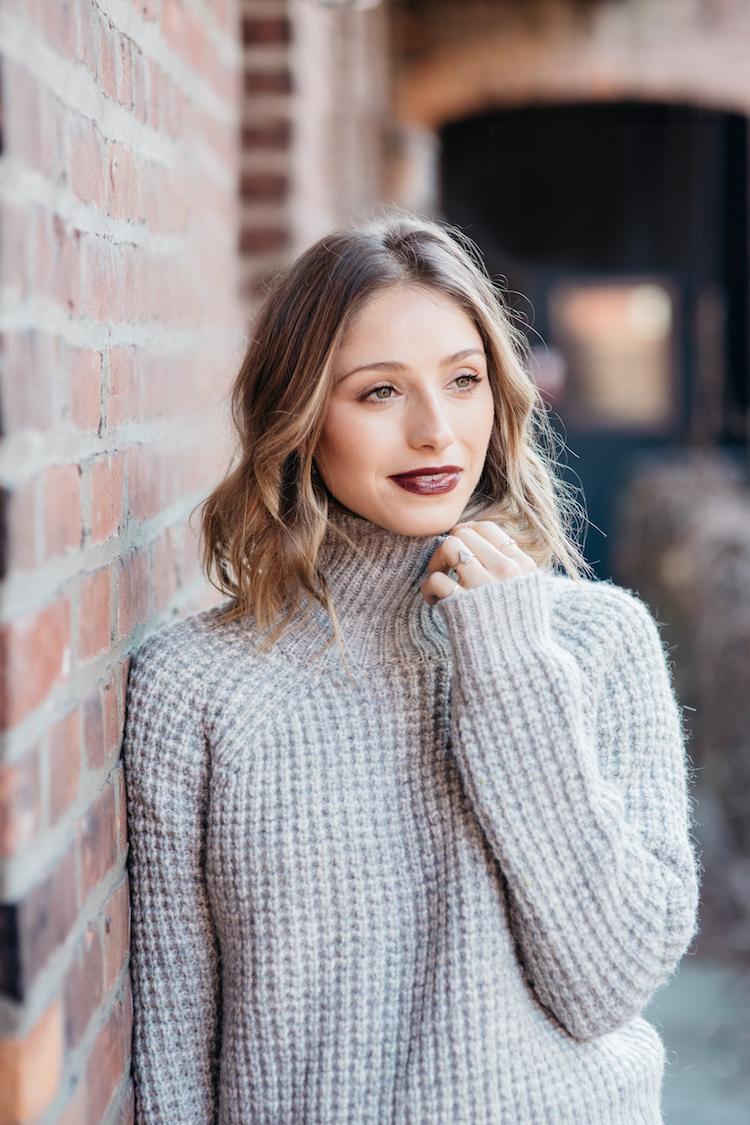 Aritzia sweater | Leah Alexandra jewelry
makeup by Katie Elwood
photos by Britney Gill
I am very picky when it comes to my makeup. I'm quite good at doing it myself and so most of the time, I do.
But sometimes you just can't capture what you want to without the help of a professional and there is only one makeup
artist who I'll use. I met Katie Elwood when she did the makeup for one of my best friend's wedding. She made me feel
beautiful and also made me look like me (or a better version). I am always afraid I'll look in the mirror and
look like a different person!
We teamed up with photographer Brit Gill to spend an afternoon shooting holiday makeup looks. I wanted to do holiday
makeup that was different and felt cooler than the usual bright red lip or smokey eye. Katie was game and came up
with this amazing tutorial for a dark red lip with bare eyes. I asked her to break down the look for you guys:
Face:
1. To start, prep the skin with skin care – this is one of the most important steps of any makeup application!
This is the foundation of all of your makeup.
2. Next use a small dime sized amount of primer. My go-to is Laura Mercier Original Primer.
3. Lightly blend on your foundation. I prefer to use the Beauty Blender for application and here I used
Giorgio Armani Luminous Silk Foundation.
4. For concealer I used Laura Mercier Secret Camouflage for face to cover any blemishes or redness
that the foundation didn't and Giorgio Armani High Precision Concealer to brighten under the eyes.
Remember with concealer a little goes a long way so when applying you should build the product, don't over apply!
5. I prefer a soft contoured look so next I softly swept the bronze shade of Charlotte Tilbury's Sculpt
& Highlight in the hollows of the cheek bones.
6. For a bit of colour on the cheeks I used Charlotte Tilbury's Cheek To Chic First Love Blusher
swept lightly outwards along cheekbones.
7. Lastly set with a bit of translucent powder in the t-zone and sweep a highlighter along the top of cheekbones,
bridge of nose and cupid's bow of lips. I am obsessed with Hourglasses Ambient Lighting Palette,
it gives the skin a beautiful soft glow.
Eyes:
1. First I always prime the eyes. Currently I am using Urban Decay's Primer Potion.
2. Next I used Make Up For Ever's AQUA MATIC Waterproof Glide-On Eye Shadow, shade Satiny Flesh-colored
Pink applied all over the lid.
3. Lightly sweep a matte taupe shade in crease. I used MAC Omega.
4. To keep the eye makeup looking light but to still make the eye pop I used Laura Mercier's "Tight-Lining"
technique with her flat liner brush and cake liner in Black Ebony."Tight-Line" with a flat thin brush
on the upper lash line under the lashes.
5. Lastly, curl Lashes and apply a few coats of mascara, I used Rodial Glamolash Mascara Skinny
Brows:
1. Jill has amazing brows so all I needed to do was lightly fill in a few spaces. I typically use
a thin pencil like Smashbox's Brow Tech Matte Pencil because I find it easier to achieve hair-like strokes,
making the brow seem much more natural.
2. If needed use a brow wax or gel to help hold the brow hairs in place, here I used
Anastasia's Clear Brow Gel (this is also Jill's favourite!)
Lips:
1. For a darker lip it is important to have properly prepped the lips, I usually do this step at the very
beginning but if you forget it is fine to do it right before applying your lip liner. To smooth out the lips
I like to use a gentle lip exfoliator and then rinse with water. Next apply a hydrating lip balm.
2. Blot off any excess lip balm and then line your lips with a deep plum lipstick to start, I used
Giorgio Armani Smooth Silk Lip Pencil Shade #11. To increase the longevity of your lipstick fill in the entire lip area.
3. Using a lip brush for better precision apply a deep red lipstick, here I used Giorgio Armani Rouge Ecstasy Lipstick,
Shade #403. If you get any smudges, simply take a q-tip with a bit of makeup remover on it and clean up around the edges.
Tip: If your current red lipstick isn't dark enough, mix a little black cream shadow to help darken it!
I have two more holiday (or New Year's!) makeup looks coming, so stay tuned!
PS I just announced the winner of my Saje giveaway!