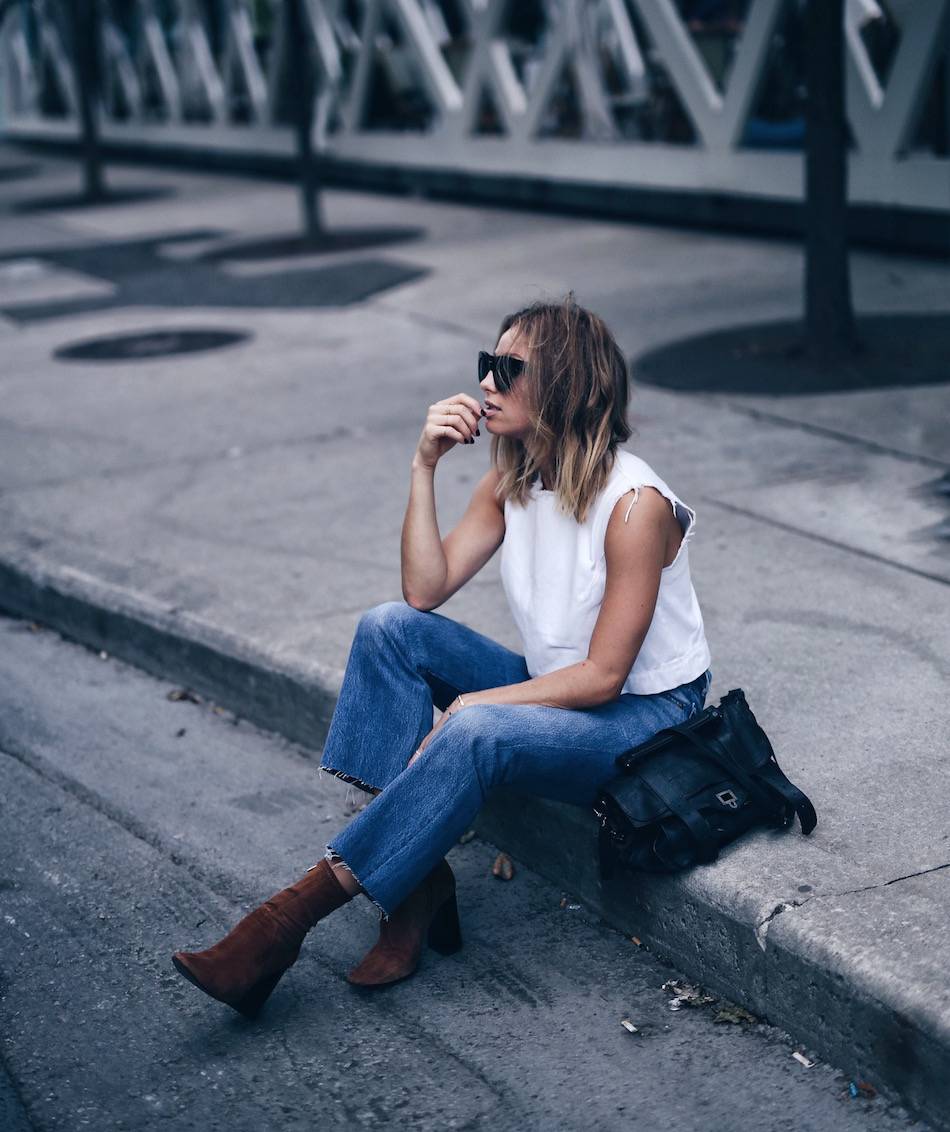 Earlier this year, I wrote a post about my #3YearGoals. Despite identifying as an ambitious person, specific goals weren't something I often thought about. Writing that post, I was glad to have the chance to sit down and really think about what it is that I wanted to accomplished. Sometimes my goals change, sometimes they stay the same. For example, my goal to move to Toronto three months ago has changed… since I now live here. CHECK! Or, on the more constant side, at this point in my life, children are not part my plan.
You know what I'm loving for fall? Vintage denim + 70's-inspired boots. You know what I won't be wearing this fall? Maternity clothes.
One my best friends just gave birth to a beautiful baby boy. We could not be more thrilled for her (I'm an Auntie!), and while it was perfect timing for her, I'm just not there yet. For all you moms reading this post, I have nothing but the deepest respect for the incredible job you are doing to raise your little beauties 🙂
As for me, I want such a massive life-changer to be on my schedule, making it critical to stay on top of my birth control. Speaking of which, September 26th is World Contraception Day. I think it's an important milestone to celebrate, especially since the birth control dialogue is finally no longer taboo in Canada (which we are incredibly fortunate about, but that's a separate topic).
The fact that women are feeling more comfortable than ever to discuss this with their families, partners, and healthcare providers on September 26th is cause for celebration. But I would argue that every day is birth control day. We are lucky enough to live in a place where we have a huge array of options that best fit our lifestyle (not to mention the financial ability to access those options). We are lucky girls, who almost don't even have to think about a privilege our fore(child)bears would have only dreamed about.
I recognize that this may not be directly fashion-related post, but with my miniature-sized soapbox, I wanted to share my thoughts on such an important issue. This fall, I plan on shopping at Nordstrom and Aritzia, not OshKoshBGosh and Baby Gap. There will be a time in my life when I am absolutely thrilled to be in mommy-mode, but I am grateful to have the flexibility to decide for myself when that time is.
Plus… I'm barely able to keep up with a dog and a boy these days 🙂
Photos by Andrew Cameron
Shot in collaboration with Bayer