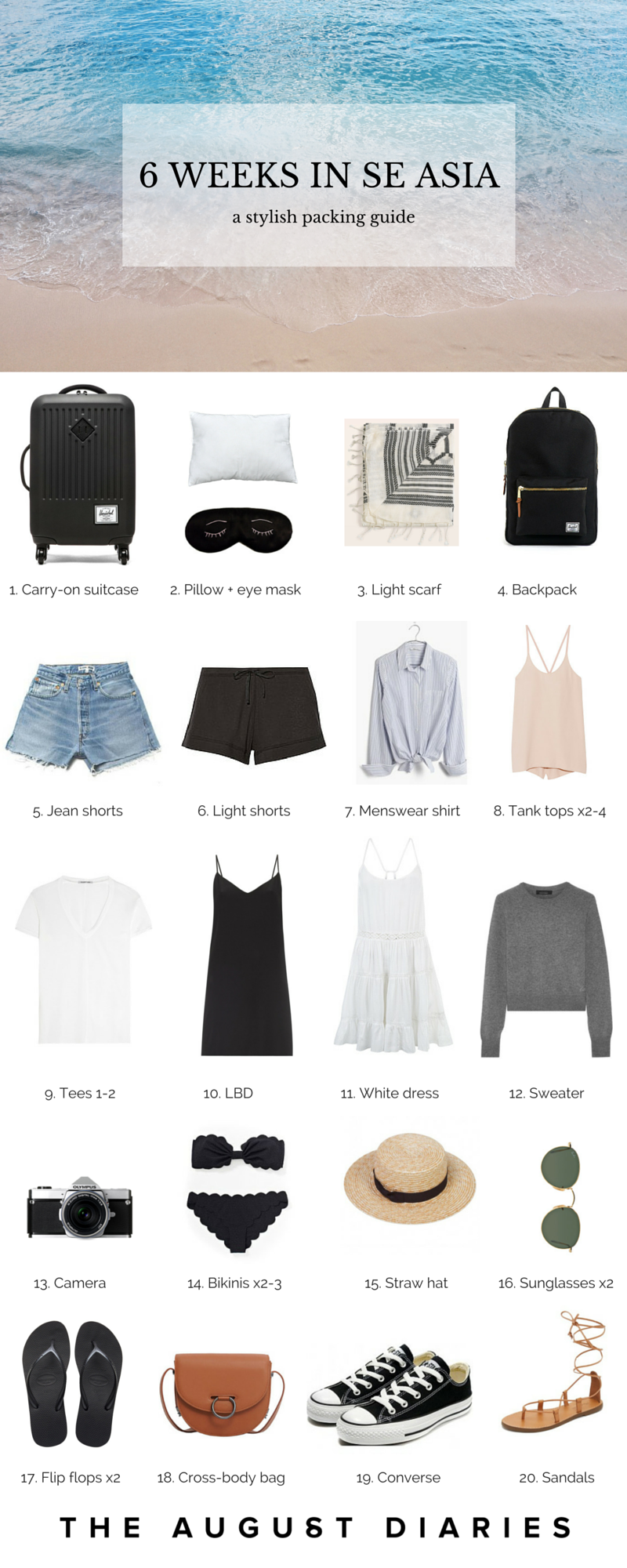 I originally was going to do a packing post BEFORE I left for Southeast Asia (first stop Vietnam)… but you know… Anyway, I'm actually glad I didn't, because there are always things I wish I'd brought or left behind on a trip and now I can share that with you!
A was quite adamant about going carry-on on this trip. Shocking, I know. As someone who constantly overpacks, this was a struggle for me. But I'm glad I did it this way, and honestly, you only wear what you really love, especially in the heat. You can also fit a surprising amount when rolling your clothes (seriously, just do it. It saves so much space). So without further ado, here is what to pack for 6 weeks in SE Asia:
1. Carry-on suitcase: Make sure you use one with a hard shell (love my Herschel one) as it will get thrown around a lot by people trying to be helpful (cab drivers, flight attendants, etc).
2. Pillow + eye mask: This saved me on flights! It wasn't bad either on luxurious naps. The Saje eye mask is my absolute favourite; it's so soft and you has a clay pouch that you can freeze or heat up. Add ear plugs if you're a light sleeper.
3. Light scarf: I always find the airplane absolutely freezing and there are definitely moments where you need a light scarf on your shoulders, especially if you're dressed for 35 celsius.
4. Backpack: I've never owned a backpack before this (go ahead and laugh), but I love the one above; it's both stylish + functional. It's also not too big, so you can't overpack it and hurt your back. Yes, this is a concern for me 🙂
5. Jean shorts: I lived in these. I brought 2 pairs, but you really only need 1 (they all look the same anyway).
6. Light shorts: I actually brought light fabric shorts to sleep in but wore them out all the time. They are super comfortable in the heat.
7. Menswear shirt: This was something I really wish I had brought as a beach cover up and to use on a cooler evening. It looks so chic with sandals for the beach and then with denim shorts + gladiator sandals for later.
8. 2-4 Tank tops: My denim shorts were high waisted, so I brought a lot of cropped tops, but bring a few different options. Again, they roll up very small and are a great way to change up your look (or at least go longer in between washing your clothes).
9. 1-2 Tees: I very rarely wore my t-shirts, but as they can be rolled up quite small, you might as well bring 1-2.
10. LBD (little black dress): I really blew it in the dress category (which is especially dumb). I brought my favourite LBD but it's almost maxi length and was WAYYYYY too hot. I ended up buying a basic little black dress while over there.
11. White dress: There is nothing better than wearing a light, white dress in the heat. In hindsight, I should have brought 2-4 mini dresses and basically lived in them.
12. Sweater: I actually wore my sweater quite a bit. You really need it for traveling and if you have AC in your room (we usually did), it can get freezing!
13. Camera: I really wanted to bring my Canon camera, but it was too big and too much of a liability. So we used our cell phones (the boy's LG phone has a great camera), but I still wish I would have brought a travel camera with me.
Note: A brought his laptop + we both brought our phones, but that was all the technology we needed.
14. 2-4 Bikinis: Bring your favourite, which are typically the ones you feel the most comfortable in. Also, if you're planning on snorkelling or adventure-ing, I would bring one that keeps things in place, if you know what I mean 😉
15. Straw hat: A non-negotiable; it gets so hot and you need to protect your pretty face. It's also a good way to make a basic outfit look a bit more stylish.
16. 2 pairs of sunglasses: Again, bring your favourites, but as there's a greater chance of losing them, don't bring anything too expensive!
17. Flip flops x2: I brought Havianas because they are so incredibly comfortable. Mine started to break by the end (they're really old) so I would suggest bringing a back-up pair just in case, as you kind of live in your flip flops.
18. Cross body bag: This is great for exploring, especially since you can keep an eye on your valuables, which you will have to do in the more crowded areas.
19. Converse shoes: At one point we were going to climb Mount Rinjani (what were we thinking?!) so I brought Nike runners, but if you're not doing anything especially strenuous, I would have just brought Converse for the plane and anywhere you need closed toe shoes.
20. Sandals: These were my version of "evening" shoes when I wanted to get dressed up (ever so slightly) for dinner or going out. They're incredibly comfortable but look a bit nicer than flip flops.
21. Undergarments: I also blew it on the underwear count (what is wrong with me?!) I would bring enough pairs for at least 2 weeks (they don't take up much room) so you don't have to be washing them all the time. And bring a few pairs of socks!
22. Jewelry: I didn't bring any of my favourite/nice jewellery as I didn't want to lose it (especially in Ubud where the monkeys will steal anything nice – more on that in my Bali post!) I basically wore the same ring every day and that was it!
Note: I brought jeans and NEVER wore them. However, you do need clothing that covers your knees + shoulders when you go into temples. I had a mid-length dress that I wore with a shawl or a sweater.
Note #2: I also brought a rain jacket + umbrella, but rarely used them. If it's raining in SE Asia, even with a jacket and umbrella, you're still going to get soaked.
TOILETRIES
Honestly, toiletries was the bigger issue for me. How was I supposed to get through 6 weeks of travel on one small bottle of face wash?! Bring only what you need (you'll need lots of sunscreen!). If you're staying in hotels (you can for quite cheap in SE Asia), you don't need soap or shampoo. I brought the following basic toiletries:
– face wash
– face moisturizer
– glycolic acid pads (for breakouts – the more you sweat, the greater chance you have of breaking out, so bring something that you trust to help you with that)
– sunscreen (if you're prone to breakouts, bring a different face sunscreen)
– hair mousse/creme (I just needed something to give my hair some grit – I didn't style my hair very much as it was so hot + humid!)
– mosquito spray
– minimal makeup
– deodorant (you'll need it)
Note: I brought a hair straightener + blow-dryer and used them sparingly. I probably would have bought a cheap travel-sized straightener and not even brought a hair dryer as many hotels have them (I didn't use it all the time, anyway).
You can always buy anything you forgot (I always forget my toothbrush!), but it was nice to have the essentials all figured out.
If you have any other packing tips or SE Asia comments, I'd love to hear them!