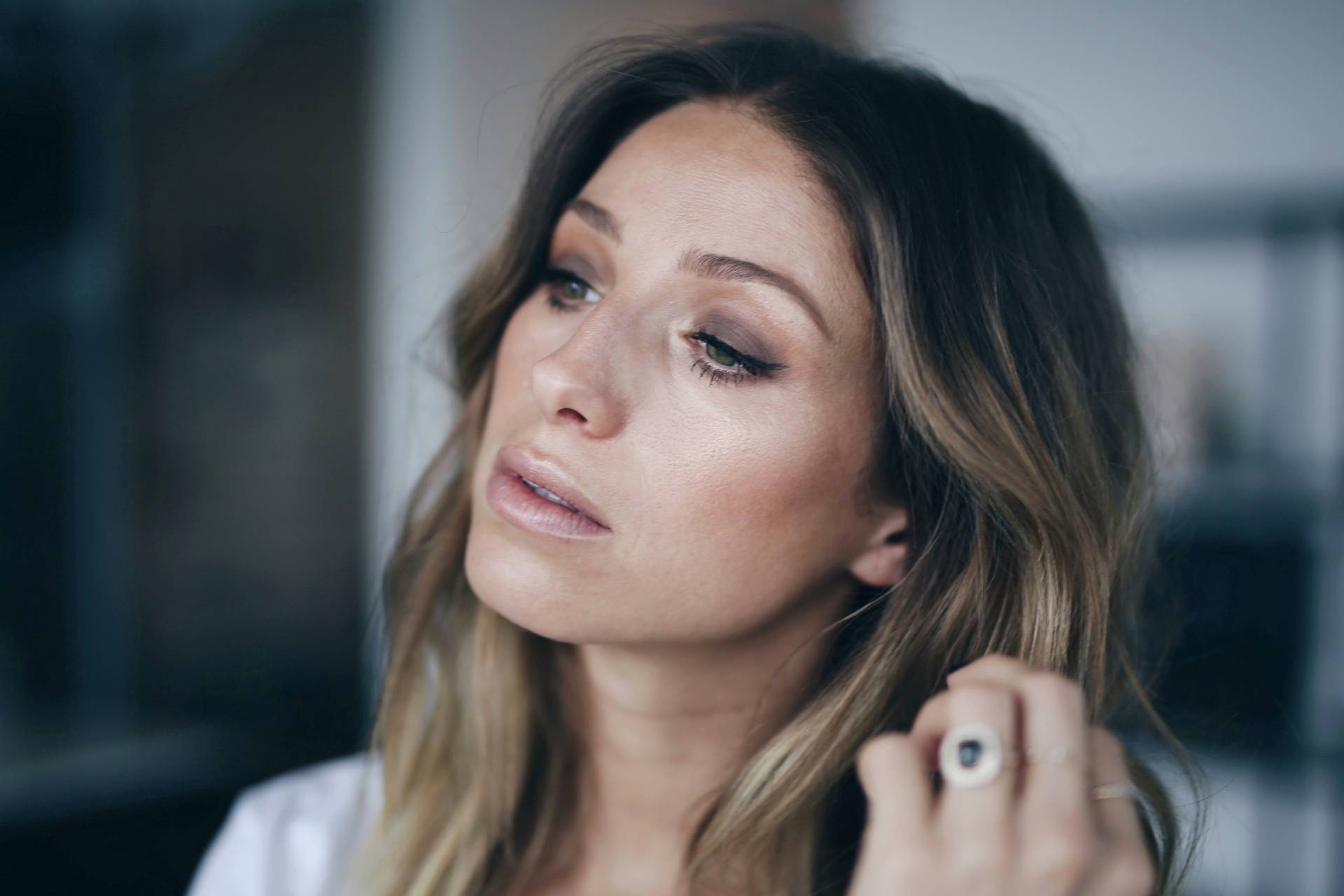 1. TOM FORD CREAM CHEEK COLOUR IN PIENO SOLE
If you've watched any of my videos, you know how obsessed I am with this product. I use it on my cheeks, as a highlight, and on my eyes for a bronzed glow. If I could only take one product with me on vacation, this would be it!
2. CHARLOTTE TILBURY FILMSTAR BRONZE + GLOW
This duo is pricey, but the quality is amazing. The bronze colour is subtle and not at all orange, and the highlighter is one of the best of the powder variety. It is also very pigmented so could easily last a year!
I'm using this product in this makeup tutorial
3. LUSH CHARISMA SKIN TINT
First of all, I love how natural this product is. I mix this is with my moisturizer (and sometimes also with a highlight) to give my skin a bit more colour and sheen. It's not at all shimmery so it looks really natural.
I'm using this product in this makeup tutorial
4. BENEFIT ROCKATEUR BLUSH
One of my current favourite blushes, I would describe the colour as rose gold – which is perfect to get a subtle glow (as oppossed to a pop of colour) on your cheeks. I like to put it along my cheekbones and across the bridge of my nose for a healthy glow.
I'm using this product in this makeup tutorial
5. MARC JACOBS BEAUTY DEW DROPS COCONUT GEL HIGHLIGHTER
A new favourite of mine, this highlighter gel is super pigmented so be careful when applying. I will mix in the TINIEST bit with my moisturizer + Lush skin tint for an extra glow (as seen here). I also use it as highlighter on my cheekbones, below my brows, and on my nose.
I'm using this product in this makeup tutorial
6. VITA LIBERATA DRY OIL SELF TAN
I'm sure you already know how much of a fan I am of Vita Liberata, but I especially like the dry oil to use on my face. It doesn't smell at all and immediately gives you colour and a subtle glow. My skin quite sensitive so I tend to stay away from oils, but this one doesn't break me out at all.
7. MUD MAKEUP SPARK ILLUMINATOR
This was a new find and it's one of the best powder highlighters I've tried. It's incredibly pigmented and glowy without any sparkle. I'm wearing it in the photo above.
8. RMS MAGIC LUMINIZER
This organic cult favourite really is as good as they say. I love that the ingredients are all natural and it imparts such a gorgeous glow. Make sure you tap it into the skin, especially if you use powder before, as I don't find it dries to a powder finish. Its counterpart, the Living Luminizer, is a lighter, cooler version of the RMS cream highlighter, and is great for those with paler skin tones.
I'm wearing this product in this makeup tutorial
My Charlotte Tilbury skincare giveaway ends in a few days, so just wanted to remind you to enter if you haven't already! I am really enjoying doing the "Best Of" beauty series that I'm publishing every Friday… and would love to know if you have any requests! Comment below 🙂 Have a great weekend!